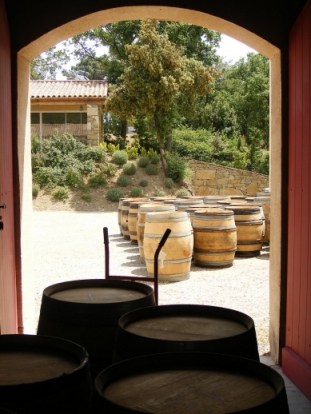 Rain and unseasonably cool temperatures ushered in the month. We are watching our vines like a hawk, but as you can see if you click here, although the grapes progressed smoothly from flowering to bunch formation last month, they did not get much further. And nor did we. So veraison, when the sugar in the grapes begins to accumulate and their skins change from a hard jade to a soft translucent green, will take place in the course of this month. This puts our harvest back a few paces � although you never know, Nature has a way of sorting things out. Most of the time. Even so, we're taking bets on how late into October we'll be harvesting. While we wait and watch with bated breath, much of Rives-Blanques crosses the Irish Sea to defend our honour in a dinghy of the Ette class, called (of course) Blanquette. All us cannot fit in, so those who cannot, cheer from the sidelines with a glass of Blanquette in hand. She may be old, she may be traditional, but she is full of fizz �
Tuesday Wednesday 3,4
If we are supposed to be on holiday in Ireland, what am I doing here pouring wine in Lille, Belgium? It is one of Wijnen Jacobs Open Door Days, with a spotlight on the Languedoc � and now I understand why I have to travel from Carcassonne to Cork to Dublin to Eindhoven and then on to Lille only to find myself standing next to a sales rep of our very own Manager�s sister, who lives just an appellation or two away from us. Small world indeed. And smaller too when one of the very jolly and jovial Belgians pouring in under pouring rain comes over and embraces me heartily, kissing cheeks three times, as they do in Belgium. He was at the vineyard a month ago. He goes around telling everyone, �Go there, go to the Rives-Blanques table, you should taste those wines�. Eric�s sister may have a salesman on hand, but we have a customer who does a jolly good job of it too �
Friday 7
The Ette Set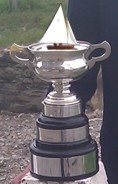 For over a hundred years people have been racing their sailing boats against each other in this peaceful little harbour carved into the rugged coastline of the westernmost outer-reaches of Southern Ireland. The sun that shone then shines now; the sea is blue, the winds are fair, and peace is dropping slow. The magic of West Cork is doing its proverbial thing – but competition is fierce and andrenaline runs high. Make no mistake about that. Even at the steady and dignified pace of an Ette, a class of dinghy which has been racing -though some may smile at the word – in these waters at least since 1918, impending War notwithstanding. But the steady and dignified Ette (with her steady and dignified crew) to finish first above all other Ettes in the final Championship race today has an unfair advantage: she is fuelled by fizz and has beautiful bubbles in her wake. Well done Blanquette!
Saturday 8
Nothing like a wedding without fizz to burst anyone's bubble. Our transporters (Ducros for everyone's information, not that that helps but it does make me feel slightly purged) could not find the destination, so they simply did not deliver. And we spent the entire day clamped to the mobile phone. Was absolutely determined to win this battle against the mindless indifference of the transporters. And failed.
Monday 16 August
Sour Grapes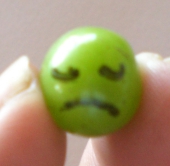 Back at the vineyard in brilliant sunshine, with a cool, fresh breeze blowing over the vines. Mountains standing to attention, and the peak called Rives Blanques smiling down on our Odyss�e field. The vines look terrific: green, robust, lively and full of grapes bursting with health. Veraison started last week on the chardonnay, but the rest is dragging its feet: the chenin grapes are still hard, green, juiceless and sour. Weather forecast is good, so perhaps things will start moving this week …
Tuesday 17 August
What ever the weather, there's no denying the fact that we are moving inextricably closer to the harvest. Today, Monsieur le Grand, a man as large as his name implies, but who is known as our 'little' cooper, arrived with some of his new custom-made barrels for this year's vintage. Our 'big' cooper (though a smallish man), Vicard in Bordeaux will be delivering next week. There's no going back.
Saturday 21 August
The First of the Wine Guides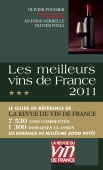 No going back? Well today we have a quick retrospective of the 2008 harvest. We thought it was pretty good. Today the respected French wineguide Les Meilleurs Vins de France 2011 comes out with its verdict on the Rives-Blanques wines of that year: Irréprochables.
It has to be said, they tasted over 10,000 wines and classified 1,300 vineyards: what you could call a methuselah-sized undertaking. Which may possibly explain why some very good producers are missing. (In fact, in Limoux only two of the independent producers are included.)
Odyssée is 'perfectly integrated', Dédicace "well-balanced", and Trilogie and Occitania 'confirm all that they promise.' The sparklers are variously described as "fine", "nervous" "delicately spicy" "fresh" … in short, just the sort of stuff you'd be likely to say about them yourself if you had the chance. And since it's such an incredibly hot and sultry day today, we have every good reason to sit under a tree with a clean, clear glass of those very same finely nervous bubbles.
Wednesday 25 August
A First for Us
Only then did we realise that he wasn't talking € or $. He was talking Kg. or Lbs. He needed to weigh his car down.
The car is 1.64 high, and they had just been told that the French railway system, which was to have transported them, car, children and all, back up to northern Europe, had arbitrarily declared a 1.62m. cut-off height earlier this week. They had to loose 2 cm. So they decided to stock up, and weigh down.
As I said, a first for us, wine by the kilo.
Thursday 26 August
Speaking of firsts, the harvest of 2010 has begun – for some. And rather close to home too; infact on our very plateau. The sound of snipping secateurs can be heard right now, right next door to our top chardonnay field, where one of the Cooperative's grapegrowers is pulling in his chardonnay. As for us, we're still checking our cooling system, dry-running the wine press, receiving the the new barrels. We're ready to roll, it's just the grapes that aren't.
Back again next month!