It has been a warm, sunny April – the warmest, sunniest first April fortnight in France since 1875. And nothing says it more eloquently than this 45 year-old chenin blanc, photographed at exactly the same time this year and last year. As you can see, we are two to three weeks ahead of schedule – which is fine: vines have a way of sorting themselves out in the end. But the trouble is this: those fast-forwarded vulnerable little embryonic grapes nestled amongst the leaves will be open to the hazards of the so-called Ice Saint Days (May 11, 12, 13), when icy winds traditionally howl down from the Pyrenees, often bringing hail with them. In which case we will all be in deep trouble. April may be the cruellest month – but May will be the most crucial.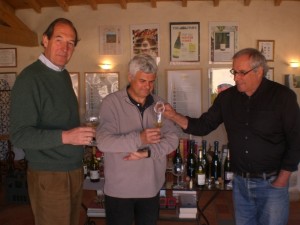 So we turn our thoughts to happier things. After months of testing, tasting, and trying, we finalised our 2010 wines this month … and there are lots of smiley faces at Rives-Blanques. The year blessed our wines with a wonderful acidity which gives them structure and longevity. And on top of that, habemus la Trilogie! Our special blend of the best barrels of mauzac, chardonnay and chenin blanc always is a cliff-hanger and never an absolute certainty. 2010 gave us what we want, so yes, we have la Trilogie… only not quite 3000 bottles of it.
On the other hand, we are happy to say that our Odyssée outperformed all other Limoux's at Mâcon, wresting two silver medals from the heartland of French chardonnay. The Concours des Grands Vins de France is reputed to be the biggest wine competition in the world; while we are not proud of having brought the jury's burden up to 11,048 wines to taste by wheeling a couple of Limoux's into Burgundy-land, we are pleased that both Odyssée 2008 and Odyssée 2009 managed to stand their ground in a crowd.
Sorry to say, though, that Odyssée is sold out, as is our mauzac, Occitania. So we are all anxiously awaiting the bottling of our 2010 wines, in just over two weeks time: the big event on the May agenda at Rives-Blanques.
On that happy note, we say goodbye to you until this time next month, unless of course you click on takemeoff@rives-blanques.com to be released
April 30, 2011