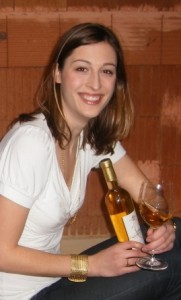 Of the thirty wines selected to represent the Languedoc vineyard in the USA, two come from Rives-Blanques: the chardonnay Odyssée, and the chenin blanc, Dédicace. These 'Ambassadeurs du Languedoc' will be presented at the Maison du Languedoc in NYC on Monday 7 April, alongside a number of wines representing the newly designated Grands Crus of the Languedoc.
White wines from Limoux are amongst the  "Grand Cru" of the region.  La Trilogie from Rives-Blanques will be one of the wines representing the Limoux Grand Cru at the same tasting.  The other Languedoc Grands Crus are La Livinière, Boutenac, La Clape, Grès de Montpellier, Pic Saint Loup, Saint Chinian Roquebrun, Pézenas, and Terrasses du Larzac.
Xaxa Panman, daughter of the house, will be pouring the Rives-Blanques wines.
From New York, the Ambassadors will tour Washington DC and Chicago, finishing up in San Francisco on Friday.