The big event this month is the flowering of the vines – an event as evanescent as our effervescents, with the smell of their blossoms floating like bubbles on the wind. Wine-vines are hermaphrodite, so good weather conditions are more important to them than wind or insects for the important business of producing fruit, and that is what we are hoping for: warm, sunny days. No cold, rainy, windy weather, please.
Saturday June 5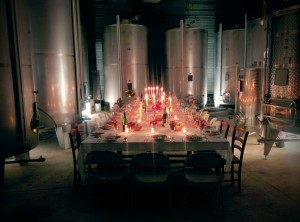 The weather forecast said Rain with absolute certainty, so rain is what we expected. How nice then, that for a reunion of his old University friends, Jan managed to get sunshine.
50 years ago 20 young men aged between 17 and 22 met up at Leiden University, and today, to mark half a century of friendship, 16 of them, with spouses, are meeting up again at Rives-Blanques. They came from South Africa, from New Zealand, from Holland, from the USA … some even came by foot, after walking 1000 km through Spain Limoux-wards — and the sun smiled on us all. Each came with a story to tell, it was a touching moment, and the table was set to tell them at.
But to be on the safe side, we moved into the wine cellar instead sitting under the old oak tree.
Sunday June 12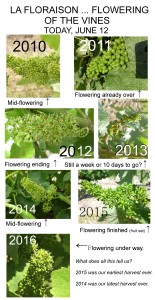 And today I entertain myself by counting the flowers. We seem to be exactly spot-on, this year. The old-timers say 90 days from flowering to harvest, but what vine has ever listened to anyone? The weather so far is holding out well, it all looks good.
Monday June 13
Oh no it doesn't. Heavy downpour. Torrential.
And heavy wind too, ripping branches off the vines, complete with flowering clusters.
Tuesday June 13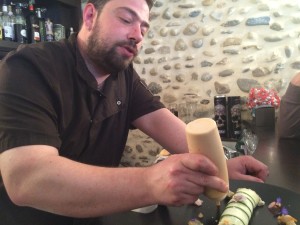 Three easy steps to making a truly delicious lunch dish, or a first course for dinner, perfectly designed to match any of our three Limoux whites: the chardonnay, the chenin or the mauzac. And dead simple too – if you have our local chef Sven Choplin from the restaurant l'Odelisque showing the way, and also doing all the cutting, chopping, cooking, preparing, and leaving us just with the job of putting it all together.
So, first prepare your crab-claws, cook them, open them, mix them with minutely chopped parboiled veggies such as carrots, and something green, a bit of lemon, some homemade mayonnaise, and a bit of raw finely chopped onion to give crunch (or ask a Chef somewhere near you to do all that for you).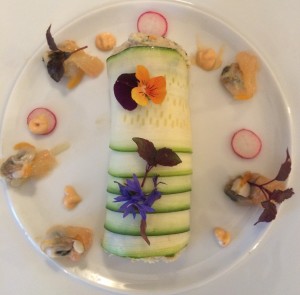 Then thinly slice your courgette so that it looks like cannelloni.  At the same time, or before probably, make a delicious bisque from the clawless crab, thickening it with lots of cream (ditto).
At this point you roll in and roll up your sleeves … if your favourite  Chef has kindly done all the above for you, that is.  Roll up the crab mixture in the cannelloni.
Then delicately dab little dollops of bisque in artistic abandon on the plate.
Decorate liberally with elegant slices of grapefruit and some clams (which have all also been prepared in advance, of course).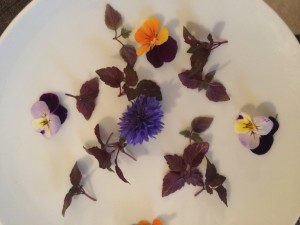 And finally, strew some edible flowers over the whole.
It's actually rather delicious, and gives you a nice warm Cheffy feeling all over.
And very nice with a chardonnay, or a chenin blanc or a mauzac.
Monday June 20
First day of summer today, and the sun came out on cue.  About time too.  We had the open fire going last night and were wearing our winter woollies.  So what a relief to step out into the blue day and walk among the vines under the ripening sun.  The chardonnay has basically finished the job of flowering; the chenin blanc and mauzac are following hot on its heels.  And it all looks brilliant.
Still early to talk, but we're feeling very smiley about it all.
Tuesday June 21
"Mouth-filling … thrilling … hard to spit": who would have thought Jancis Robinson's Tamlyn Currin is writing about a fourteen-year old white wine from the Languedoc, still "so surprisingly fresh" ?
Her tasting notes are always a delight to read -perhaps the most poetic around – but this really strikes a particular chord with us.  She's talking about our Odyssée 2002, a chardonnay to convince even the most skeptical that Languedoc-white-wines-can-age-very-well-indeed, thank-you-very-much. In fact, it's "very exciting to see how these wines age and how much complexity builds with age".   Her tasting notes right here on JancisRobinson.com
Wednesday June 22
It's summertime!  Two days of blazing heat and brilliant sunshine confirm
what the calendar tells us.
After a non-winter and a non-spring, it's good to be back on track again.  The vines need it, and so do we.
Saturday June 25
While the world reels under the shock of the results of the British referendum, another referendum has quietly taken place, in which less than 10% of the population actually bothered to participate … and that is, for the new name of the new region we find ourselves in. The old name of our region, Languedoc Roussillon, was a bit of a mouthful even before we were appended to the neighbours last year (or vice-versa), and were provisionally renamed Languedoc-Roussillon-Midi-Pyrenees:  not so very zippy.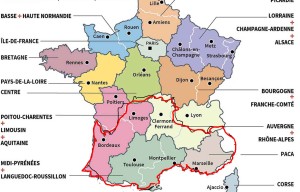 And now, unless the French State overrules the result of the referendum, the new region (in green, with its twin competing capitals Montpellier and Toulouse) is to be called Occitanie,  as from October, with a nifty little subtitle:  Pyrénées-Méditerranée.
Already petitions are flying about all over the place, largely from the Catalans in Roussillon who were sleeping  while supporters of the Occitan movement came out in large numbers to vote and effectively hijacked the results of the € 500.000 Referendum.
The truth is, the Catalans never were part of what was historically considered to be Occitania (roughly outlined in red).  And what about Occitania itself? Well, apparently it never has been a legal or political entity; it's been more of a cultural identity defined by the language and the civilization of an area covering the southern half of France – including Monaco and spilling over into bits of Spain and Italy… but absolutely and always excluding all of Roussillon.
So they have a point.  Personally, I would have called us Sud de France, but then, who am I?  And besides, we have a vested interest in the name Occitania, to which one of our best known wines, the mauzac,  answers.
But if we're forced by the region to drop that name as a consequence of it adopting it, then we'll be signing the petitions too – and like Nicola Sturgeon, I would caution anyone against forcing us to do that …
Monday June 27
Ever thought about being a winemaker?  Anyone can do it.  But first read today's Jefford on Monday in Decanter about why you really don't want to be a vineyard owner, right here.
…./to be continued next month.