By the end of May we felt as if we might lift anchor and gently go off drifting over the Pyrenees into Spain.  It's cool and  wet, wet, wet – and so is the vineyard.  Wild flowers are lapping it all up and blooming in profusion … but the vines have come to a sulky standstill, kicking their heels and looking a bit yellow around the gills.  Normally, as May passes into June, there is the ephemeral smell of flowering vines in the air, but this year, nothing.  No sign of flowering.  This is historic, unheard of, record-breaking – but nothing to really worry about (at this stage).  As long as the sun comes out.  (Which it will.)
Monday 3 June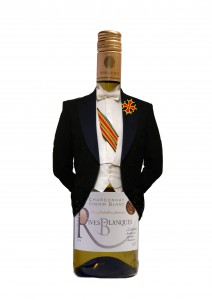 Our chardonnay-chenin blanc country wine (vin de pays d'Oc), the first of our 2012 wines to be bottled, hits the hot spot today.  Yes!: a gold medal at the IGP Collection competition, and  now officially one of the 16 Ambassadors representing the world's biggest wine region at home and abroad.
Well, that is  a good start to the month!
We'll have to get used to calling it "Your Excellency", instead of saying that it is "simple but not stupid": a country wine that is fresh, clean, pure, uncomplicated and aromatic.  We have always worked hard on the quality of this wine, and how wonderful that it is recognised.
Tuesday 4 June
Good News Week
La Revue du Vin de France is the world's oldest wine magazine, which doesn't necessarily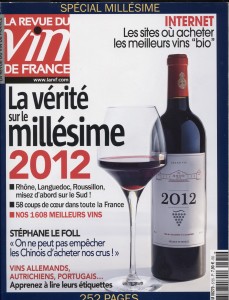 mean it's the best, but we think it is.  Their wine critics are excellent, so it's especially satisfying when they endorse our efforts.
Their annual roundup of the best wines of the vintage has just been released in the June issue, after a marathon tasting of the wines from all the regions in France.
Vintage 2012 was especially good for the white wines of Limoux, they said.  And leading the list of the white wines from Limoux was … Rives-Blanques.
In fact, it's the 12th consecutive year we find ourselves included amongst the great and the good.  And we feel hugely encouraged.  And very happy about the 2012 chenin blanc and mauzac, the two wines from our range they liked the best.
Wednesday June 5
Sunshine!
Monday June 10
Another dire, dour day in Limoux.  Vines are dripping, drooping … and have come to a standstill.
So have we.
Tuesday June 11
The weather is becoming an obsession.  They say that if it rains on St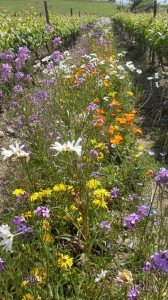 Médard's day (last Saturday) it will rain for another 40 days.   Well, it rained on St Médard's day, and our state of mind is such that we are quite prepared for it to go on raining for another 40 days.
But then they also say, if there's sun on St Barnabé's day (today), then everything changes and we won't get all that rain.  Our state of mind is such that we are quite prepared to believe in St Barnabé as well.  Particularly since it hasn't rained so far today.  Infact, the sun is out!
The wildflowers are as tall as the vines, while the vines themselves are still no where near flowering.
Historic. Interesting. And all the rest. But our obsession with the weather continues, and we continue praying for sunshine.
Tuesday 18 June
A brilliant weekend that gave us hope … followed by more of the above.  Today: overcast, heavy, muggy, rain impending, gloom descending.  I've been going through our records, and never, ever have we been so far into the year and the vines so far behind.
Saturday 22 June
Flower Power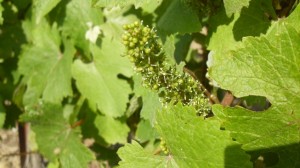 I turn my back on the vines for a few days, and what happens?  They burst into bloom. Late bloomers, but blooming none the less.   And they are moving very fast, making up for lost time.
Met one of the local producers, over 80 years old. In all his life he'd never come across a year like this one.  He reminisced about a 'bad' year, perhaps it was 1963? Or '67?  That was the year the people were out in the streets protesting in favour of a process called chaptalisation, whereby you add sugar to the grape juice before fermentation begins;  the same process which, some sixty years earlier, people had rioted against… with loss of life and property.
"Is this going to be a bad year, do you think?" I ask.
"The year is made in August" he replies, laconically.  "Everything depends on what we get in August".
There is no doubt of the truth of this statement.  It's just that for the past decade and more, we have had nothing but good years, it seems inconceivable there could be a bad one.
And we know how vines can adapt and adjust and catch up when they need to.  Which is clearly what they are doing right now.
Thursday June 27
On the oth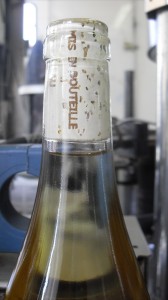 er hand, we seem to get nothing but bad bottling days.  No matter how well prepared, how many times we have checked and revised, no matter how many guarantees there are of on-time delivery of corks and capsules and bottles and labels.  Always but always something goes wrong .
But today, so far …. I hardly dare say it.
We've bottled the 2012 Dedicace, and it is spectacular.  We are now bottling the 2012 Occitania, which is going round and round the bottling line as we speak.  The weather is cooperating. It is almost too good to be true.
Just one more day to go, and then we can say it.
…/to be continued.