Flowering's finished!  Plummeting temperatures at the beginning of the month were too late to nip our grapes in the bud, and torrential downpours only helped to fill up our reserves of groundwater.  The flowering of the vines is really, really important, and it went off without a hitch.  Textbook perfect.  Now we can set our watches to a mid-August start to the harvest.  In the meantime,  the vines go through their paces shaping tiny embryonic berries into recognisable grapes, while we count up how many new barrels we need to order and start checking our winepress equipment.  There's no going back now.  June will be busy – but the highlight of its calendar is the most important French wine 'salon', Vinexpo in Bordeaux: an event to be dreaded and looked forward to in equal measure.  It awaits us – and we it – on 20 June, when we join the Wine Women of France in its Palais du Congres.
Wednesday 1 June
Well-dressed meets well-pressed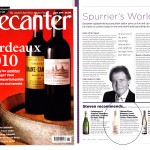 The sartorial Steven Spurrier sets the tune for our June: the latest edition of Decanter carries the iconic winewriter's recommendations for the month – and he recommends … our mauzac, Occitania!
This wine is our labour of love, the ugly duckling of the house that no one would even taste, let alone buy, a few years back. It took alot of perseverance to keep going with a historic grape variety that is so unknown.  And now the primer inter palatum has spoken.  Music, or rather, mauzac, to our ears!
3 June 2011
Celebration!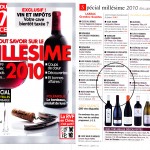 Say that in any language!  We are over the moon!  The world's oldest and France's most important wine magazine, La Revue du Vin de France has published the findings of its nation-wide tasting of the millésime 2010, as they do every year.  Every year Rives-Blanques has been included, for nine consecutive years in a row.   Every year Rives-Blanques worries that it may not be included this time.  After all, even the stellar Hester Blumenthal may lose a star.  And this year … fingers crossed, breath bated  – we're there!  Yes!  One of the six top "exceptional" white wines of the Languedoc.  That's the tenth year in a row.  What terrific encouragement.
Saturday 4 June
Rain keeps falling.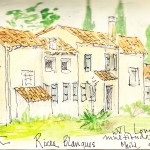 Too wet to work in the vineyard so we take our visitors to Rennes le Chateau to find its hidden treasure.  But even its spectacular view is hidden from sight, not to mention its treasure.  Instead we  light upon the haunting tone of medieval instruments warming up for a troubador music session in its church, so all is not lost – a real gem of sorts uncovered and discovered, so to speak.  When we come home it is raining still, and the vines are looking a lot happier than we do. Our friend sits under an awning and sketches the back of the house – minus the rain.  That does the trick.  The rain stops.
Simply painted out.
Tuesday 07 June
Counting Raindrops
Can this go on?  Yes it can.  Rain just keeps on coming down.  And there is more of it on the way.  Great for the vines, which are perking up and looking leafier and greener by the minute.  Less so for us, looking wetter and more bedraggled by the minute
A truckdriver coming in to collect wine looks at the rain, looks at our narrow road and refuses to take another step forward.  Simply says no.  Never mind that the customer is desperate. He phones, says he's not coming, and that's that.  We rant and rave and say this is ridiculous, two trucks have already been our way today, but to no avail.  Nearly 100,000 bottles are transported down this road by trucks likes yours every year! but still he refuses to budge.
Another truck finds itself marooned in our courtyard because the internet has crashed and we can't do the new electronic customs' forms.  Without a customs form, you can't move, and nor can your wine.  Without a customs form you may as well sit in your office, or in your cabin, counting raindrops.
We're desperate. Phone the Customs, but they're all out having lunch.  Which is just about the only thing to do on a day like today
Monday 14 June
Rosemary George came to lunch last week, a cold, wet, windy day without a trace of  our magnficent skyline in sight.  No wonder she writes about Limoux as 'the coolest part of the Languedoc'.  Cool it was.  But what this historian turned Master of Wine writes about Rives-Blanques in her blog is warm enough: http://tastelanguedoc.blogspot.com/2011/06/limoux-part-2-chateau-rives-blanques.html Very nice tasting notes that brighten up the gloomy day today.  Hot on her heels, Leon Stolarski comes by, a small man with a big palate, and tastes through our 2010 wines: his excellent tasting notes are on his blog http://leonstolarski.blogspot.com/2011/06/visit-to-chateau-rives-blanques.html
Monday 20 June
"I'd rather two ProWeins every year than one Vinexpo every second year" our Swedish importer confides.  It is hot.  It is always hot.  It is always terribly hot.  Vinexpo 2011 is no exception.  And the traffic is as bad as it was two years ago, four years ago, six years ago …  So we are sitting here in the Restaurant de France sweating, trying to catch a passing breeze, and telling each other how horribly hot it is.
But business is done.  Business is being done all over the place.  Everyone rushing back and forth across the immense length  of France's most important wine fair – perhaps even the world's most important wine fair – doing business. The air positively resounds with the buzz, as they say in French,  de bizness.
Five days long, this marathon!  But for us, only today, which is more than enough. In the afternoon we peel off across the lake for the Vinifilles 'off' Vinexpo tasting with the Wine Women of France, where it is only marginally cooler.  85 women and lots of wine.  Cool?  No, the place is quite hot …
Tuesday 28 June
The hotspot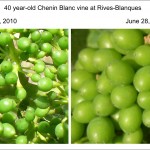 Talking about hot.  The vines are marching ahead at great speed.  Here we have a bunch of embryonic grapes as they were exactly today last year on the left, and as they are today this year – same vine, same time.  But note the difference!  2011 is rushing headlong into the harvest, a good two and possibly three weeks ahead of last year.  Which means our only two week break in early August will undoubtedly be interrupted …
Thursday 30 June
Close of Month
Zoom in on this picture and you can marvel at the march of the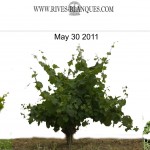 Mauzac towards the harvest.  Steady, infallible, unstoppable.