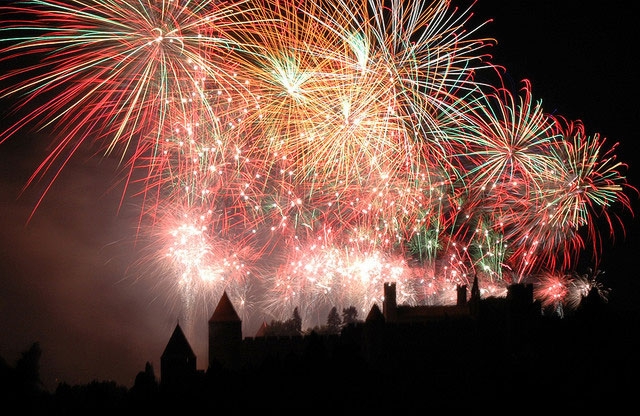 July brought  its usual distractions to Rives-Blanques: the Festival in Carcassonne, Wimbledon (won by Frenchwoman Bartoli while all her compatriots were glued to the Tour de France),  and the absolutely stunning display of fireworks over the medieval City marking the glorious Quatorze de Juillet.  All this, of course, not a patch on our own private distraction: the weather.   We applauded the soaring temperatures and blazing sun that broke over us at the beginning of the month as if they were as dazzling and awesome as the fireworks.  By the middle of the month we were sweltering, but too afraid to complain – so we suffer in silence.  The vines need this to put the latest flowering date in history – or at least, in our history – behind them, with enough time left over for the grapes to mature slowly and evenly, before autumn is upon us.

Tuesday 2 July
Inside chez les Outsiders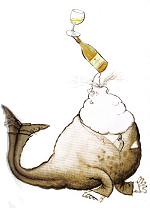 The Outsiders get together at Sainte Rose in the Herault today. A mixed bag of wine producers we are: all has-beens, in the sense that we have all been something else somewhere else: top sommeliers, IT specialists, bankers, marketeers, buccaneers and some of us even … winemakers, but in different climes and different times. The lingua franca really is: frank. Partly French, partly English and the message is always clear. Right now we're talking about circuses, and how wine really is a balancing act. Manu is really in to balance. He gets a misty look in his eyes when he talks about balance. Balance has the advantage of being balance in both languages, no matter if it's pronounced 'ball-aunce" or "balans", and nothing can be lost in translation. The Simpson's, our affable hosts, put on a lovely lunch and the balance shifts to the Outsider wines lined up for tasting with it. Manu is right, it's all about balance.
Wednesday 3 July
A novelty for us: some people phone months in advance from another country to book a tasting. They come and taste and talk and taste and talk. We are extremely busy, but then, if people are kind enough to phone and come and visit you, you  taste and talk some more. Two hours long. Being winegrowers themselves, they are quite knowledgeable and interested. They have heard/read about our wines, which is why they wanted to meet us.   But the interesting thing is, they don't  buy a single bottle. Not because they don't like the wine, but because they are on holiday and have no where to keep it. It's not as if there's an obligation to buy a bottle, even if our entire morning has been taken up – but what is astonishing is that they don't even offer a bottle of theirs to taste. Or talk about.  It's not upsetting, it's not even annoying – it's just very surprising.
 Monday 8 June
Paul Strang, not the cricketer from Zim but the author of a pretty definitive book about the wines of South West France, comes by today. He has a photographer in tow, which is why the mountains turned shy and silently slid out of the picture. Not a peak in sight. The air is hot and threatening. The sky is scowly. We are not a pretty picture.
Tuesday 9 July
Terra Vitis Visit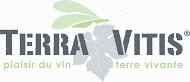 Rives-Blanques takes a reasoned and ecological approach to viticulture.  Not surprising really: we're in a nature reserve, and protecting the biodiversity of flora and fauna is something very close to our hearts. 
 We have had all sorts of eco-friendly accreditation at one time or another: Terra Vitis … Organic Viticulture … Agriculture Raisonnée … and now we're back to Terra Vitis.
 (Terra Vitis hails from the Beaujolais region, where a group of like-minded wine growers banded together in the 1990s to establish an approach to viticulture that is both respectful of the environment as well as financially viable.)
 But it isn't as simple as all that. To be accredited by Terra Vitis, even if it's the second time round, you have to be audited, in two parts. 
Part One:  the pre-audit, done by the local representative of the Chamber of Agriculture, who may or may not recommend you to the Terra Vitis auditor. Our pre-auditor consecrated an entire day to Rives-Blanques , establishing targets to be reached and problems to be solved before the next step. A huge hassle, l'administration in its element. But not a patch on what was yet to come.
 We passed reasonably painlessly, and were slotted into Part Two: the Terra Vitis auditor's annual visit to the Languedoc's 'Atlantic corridor'.
 Trouble is, Part Two is too exhausting, even for the auditor herself, so it's been divided in to two parts: the fields and the winery.
The auditor took her seat in the office today and for the following two hours followed her checklist that called for the presentation of a dizzying array of documentation: forms, health and safety notices, bills, delivery dockets, bulletins, spreadsheets, identity cards, product labels and maps.  Midway through the session we left the office to inspect the phytosanitary storage room, and check that the physical stock of products corresponded with the theoretical stock in our records.  We then returned to the office to continue rummaging through the filing cabinets.  By the end of the meeting we'd had most of the boxes ticked, and those that hadn't been were put on the to-do list to be done before the second half of the audit.
 The auditor, who is used and perhaps immune to the strain of all this administrative detail, disappeared down her Atlantic corridor with a sunny smile and a bottle of Blanquette under her arm.
 But we were completely wiped out – and still have the second half to go.
Friday 12 July
Digging for gold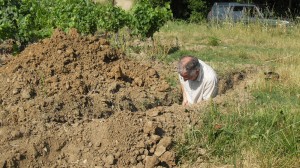 Today we dug 10 deep holes in the vineyard. Jan-Ailbe on the digger, Pierre Roque shoulder deep in the holes taking pictures and talking into his Dictaphone, and Jan and Eric hovering around offering advice and instruction. We wanted to see what our subsoil is really like, instead of what we think it is like.
Or at least, that was the general idea.
My own specific idea was to find some Roman coins or remnants of temples.
All we found was a lot of subsoil.
And it was pretty much as we thought it was.
Tuesday 16 June
It's been hot, hot, hot. And now suddenly it's cold, cold, cold. Thunder rumbling overhead, a steely grey sky drawing over our plateau like a tablecloth. Hail? Oh no, please no.
Thursday 18 July
And this was fun for us. A certain alter Jan Panman visits the vineyard. He talks to our Jan Panman pere, and Jan Panman fils, and the two Mrs Panmans talk to each other. Unlike the other two Jan Panmans who are tall, silent types, this Jan Panman is a short, bubbly type. Turns out that they really are related too, all these Jan Panmans,and quite closely too. Wine brings strange coincidences our way.
After the departure of the alter Jan Panman, we did a vineyard inspection. All the experts say, helpfully, that this year is unlike any other they have ever seen. It's true that every year is individual, but this one is shaping up to be even more so. So nobody really knows where we are going. Science tells us that in terms of heat-per-day figures, we are two weeks late. Reality tells us we are about three to four weeks late. Intuition tells us it will all work out in the end. We shall see.
But in any event, the mauzac is magnificent. So is the chenin blanc. The chardonnay has suffered a bit of millerandage in one of our top fields, which means the grapes are ripening unevenly within their bunches – not what we want.
And the harvest will be …? Well, who knows.   Not before mid September, that seems pretty sure.
Monday 22 July
The heat is on.
Tuesday 23 July
Hail!
Oh no! Great big marbles hailing down on our heads. There is nowhere to hide.  Jan-Ailbe valiantly runs outside, risking life and limb to park the car of some visitors to the tasting room under cover, but there is nothing we can do about the vines.
Except keep our fingers crossed.
Thursday 25 July

40 degree temperatures.  We pick ourselves up, shake ourselves off, and go around the vineyard again.  Chardonnay has definitely been badly hit; we may have lost as much as 30%, though it's still early days to be completely sure – and  not a patch on what they lost in Verzailles just down the road – 90%.  But there's no comfort to be drawn from that: if you loose 90% you are truly snookered.  Insurance can never compensate in real terms, and certainly not in terms of lost market share,  or the awfulness of not being able to supply your buyers.  And they are forecasting another storm for Sunday.  That would be the end of the world.
Tuesday 30 July
But no.  No hail, no storm.  The month ends with a string of magnificent days, righting all the wrongs …
…/to be continued.