July presented itself on our doorstep wearing an inscrutable face: do you read sunny weather in it, or something scowly and stormy? Either seems possible; both seem probable. However, the growth of the grapes tells us that we are pretty much marching to the tune of 2010, the coolest vintage in a decade for us – and in that we are lucky: if the grapes had been as advanced as they were this time last year, the short, sharp hailfall we had last month would have been a major problem instead of just a minor inconvenience. In the meantime, the wild flowers have really taken off, spreading like wild fire through the vineyard …
Monday 2 July
Biodiversity again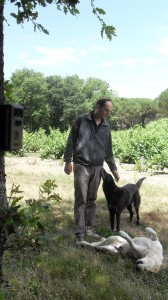 It's something we can't get enough of. As one of the Chamber of Agriculture's working partners for its BioDiVine programme, an EU initiative, we're really putting a lot of time and energy into the question of biodiversity. That's why  for decades crops have been planted between the vines at Rives-Blanques. But the advantage is that nature itself helps this great push forward, by being all around us: so much woodland, so much fallow land, so much flora and fauna inhabiting it all. We're constantly finding birds nests in the vines, putting up families of hares as we plough, meeting wild boar and deer while we're pruning. But what else is there, lurking in the dark woods tonight? The Chamber of Agriculture came around today to find out: they've put up a camera with an infra-red trigger, and every time anything passes it, it will be recorded. Like this wild life here, out for a stroll today.
Sunday 8 July
Back at work again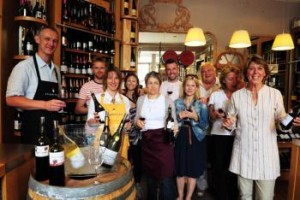 Bounded out of bed like one of Snow White's dwarves: hey ho, hey ho, it's off to work we go though ironically, in the car driving down to Limoux, the radio had moved on to Doris Day : but never, ever on a Sunday, a Sunday, a Sunday, cos that's my day of rest
Pouring our wines at a very nice wine shop on one of the four cardinal points of Limoux's Place de la République. What makes it different from any other town square is that Venus is plonked in the middle of it, ambling over a half shell, even though she is miles removed from sea and shore, and Boticelli, who first painted her thus, has absolutely nothing to do with Limoux, as far as I know. It gives me something to think about as we kick our heels, waiting for the first customers to arrive.
Nice shop, this Atelier des Vignerons, great atmosphere, lots of people. Good Languedoc wines too. The crowd thickens, and the funny thing is, most are British. There is a couple of French couples, but the rest, pure Brit, to a man. Like Venus in her half shell, unexpectedly and inexplicably at home far from home on the main square of a small town in the South of France.
Wednesday 11 July
Vinifilles on stage again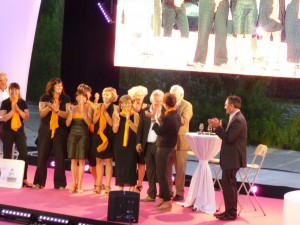 The cohesion, the solidarity, the passion, the committment, the energy, the esprit de corps … just some of the reasons why the association of 19 female winegrowers from Languedoc and Roussillon are pulled up on the stage yet again to accept more plaudits from the pundits: this time, Vincoeurs. Nineteen women proud to be vigneronnes, nineteen vigneronnes proud to be Vinifilles. One Vinifille at Rives-Blanques proud of the other eighteen.
Thursday 12 July
A couple of wine educators/communicators from the USA come to us today to be educated and communicate about Limoux.  They are the source of the news that Burgundy is 're-branding' itself: Burgundy no longer calls itself Burgundy.  It is now Bourgogne.
Sunday 15 July
Pedal Power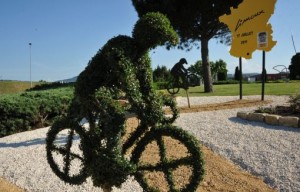 Tour de France pedalled in and out of Limoux today, consigning yesterday's magnificent Bastilles Day firework display to the graveyard of burnt-out memories.  All attention is on the bikes and their riders: Limoux has gone Tour de France mad.  There is nothing on earth that matters more – and makes me realise how a boules player must have felt in Wimbledon last Sunday.
Wednesday 18 July
A Work of Art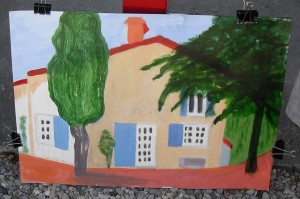 A group of artists came around today, and painted a beautiful day into Rives-Blanques.  What magnificent weather!  The sun is shining, the mountains smiling, and the cerulean sky  overhead is made of  hard blue cyanic ceramic.
And here is the side of the house, as seen by one of them on the hottest, clearest day of the year so far.  And in the vineyard, you can hear the grapes singing their hallelujahs.
Monday 23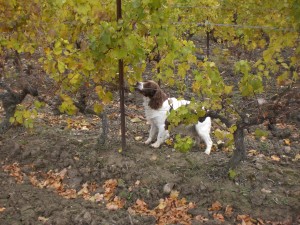 A vineyard inspection shows that the grapes are moving forward pretty slowly.  We're taking bets : mine is that we won't start harvesting until mid September.  But we all know it's a pointless exercise: the vines, the times and the weather will all do whatever they want to do whenever they want to do it … and it all usually works out quite well in the end, even if they haven't read the text book.
So today we spread out a beautiful day all over the vineyard to impress a newsman from NBC, Edward Deitch, who twitters under the name @VinDeitch.  He was, I hope, suitably impressed by our stunning views – not to mention the wines, of course.  But we all know that if he does eventually write something  about Rives-Blanques,  it will all be centred on Bruno.  We know that because that is what always happens; the wines take the back seat.  It is just as predictable as the  harvest is unpredictable.
Wednesday 24 July
The heat is on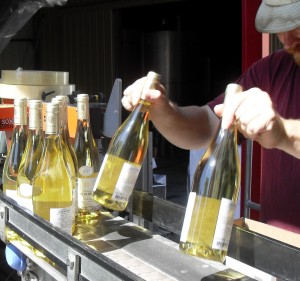 A blistering hot day today, and we are bottling the sunshine.
This is the last of the 2011 wines, just before 2012 makes itself felt.
Like bars of gold, Occitania goes round and round and ends up in a bottle, in a carton, on a pallet, under wraps.  You know everything that has gone into making this wine.  You remember the day – the heat! – when we harvested it, the experiments with the fermentation (some natural yeasts, some commercial yeasts), stirring up the lees to give more complex flavours to it, the tasting of the barrels prior to blending them, the blending itself … and now here it is, in the bag, so to speak.  Going round and round like rays of sunshine,  ingots of gold.
Friday 27 July
Hildegard's place really does look like this.  Idyllic.  A piece of paradise down some long-unused Roman road, where once stones were placed upon stones by the Knights of Malta – or anyway, by people of their times or those working for them – and still stand there, supporting a flower pot or framing a long-lost long-forgotten door.  Peace comes dropping slow here.  And it smells of verbene, lavender, lemon grass, thyme, and rosemary.  The wind susurruses, ducks make calming, quacking noses: it's awfully quiet and incredibly peaceful.
Hildegard was one of the first foreigners to move to the Languedoc and start making wine, nearly 40 years ago.  They bought an abandonned derelict grange, moved the massive stones by hand, put on a roof, and created something that would one day become one of the Languedoc's most iconic "wineries".  Though inspite of the pristine cellars polished to high standards of Swiss cleanliness, "winery" somehow isn't the word to use.   It's too zen, too caring and contemplative for that.  "Cocoon" is the word: a cocoon of calm.
And then the Vinifilles arrive.  That puts an end to all zen thought.  Now it is all about action; watch this spot.  Coming up next: Vinifilles in Paris, Vinifilles in Holland, Vinifilles in Germany, Vinifilles in Montpellier … Vinifilles all over the place, spreading the good word about Languedoc wines and vineyards like these, making fabulous wines down long, lonely roads.
Saturday 28 July
Dutch Treat
Now here's a surprising visitor standing outside our tasting room.  We don't recognise him behind his dark glasses.  He takes them off, and it turns out he's the personification of our only outstanding bad debt.  He owes us € 500 from about five or six years ago. To be honest, we'd forgotten about it … and him.  And today he has come back to pay it back.  And to buy some more wine.
Sunday 29 August
Full of Bounce and Bubble
Should be pleased to see our Blanquette de Limoux making such a splash in today's Sunday Telegraph in the UK.
"French sparkling wine is not all about Champagne" their wine writer Susy Atkins rightly says. We all know that good Champagne can be absolutely great, but cheap Champagne can be "wincingly acid and sour", as she puts it.   So why not a Crémant de Bourgogne or something from Limoux?
Like the Blanquette de LImoux from Chateau Rives-Blanques, for instance?
Why not indeed, even if the sad conclusion is, better a good Blanquette than one of those horrible cheap Champagnes currently flooding the market.   But the argument is fair enough.  What leaves a 'wincingly acid and sour' taste  in my mouth though is something else: it is that she says our Blanquette is "full of big bouncy bubbles".
Big bouncy bubbles? If there's one thing that characterises our Blanquette, it is its very fine bubbles.   Fine, lively, little bubbles, like a rush of shooting stars.
"Don't take it to heart," Jan says.  I don't.  But I can't get over it, and keep repeating "big bouncy bubbles " to myself.
"What really isn't good," he says, "is that they say here that it's "not the Champagne method".
When of course both Blanquette de Limoux and Champagne are made by a second fermentation in the bottle, excepting that Blanquette was doing it over a century before champagne got into the act.
All publicity is good publicity, they say. But even so.  Big bouncy bubbles …
However, you have to be pleased that two of the Sunday Telegraph's three chosen alternatives to Champagne are from LImoux.
Tuesday 31 July
Peddling wines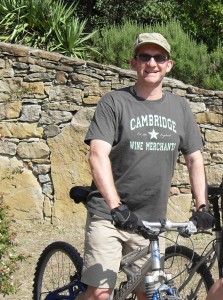 Our importer in Cambridge surprises us by arriving on a bike. Peddling his wares, er, pedaling his wines, so to speak.
He tells us the story that when he first started Cambridge Wines, one of the most successful and respected wine merchants in the country,  in the early '90s, he sold a Blanquette that was then ten years old.  "I can still remember that taste" he says, wistfully.
So we open a bottle of our oldest, a 1990, and hold our breath.
No big bouncy bubbles.
Just a fine, subtle mousse, a 14k Victorian gold colour, and still some refreshing acidity behind that faintly oxydised old-age smell.  It's actually quite interesting, a good wine for food.  "Not many champagnes" he says, "would stand up that well after over 20 years in the bottle."
…/to be continued next month.