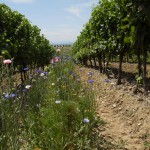 The weather continues erratic, one day hot one day cold, one day clear one day cloudy, and the wild flowers are spreading like wildfire.  More important, the grapes are perfect.  Beautiful, big, fat, bountiful bunches hanging like fresh laundry on the vines.  The vines themselves are lush, verdant, even edible to look at.  So far so good.  In fact, so far, so brilliant.  The harvest approaches rapidly, and the phone rings constantly with harvesters putting their names down. New barrels have been ordered, the wine press checked.    Yes, we all know where we are going. The question is, when?
Saturday 2 July
Vinfilles come to town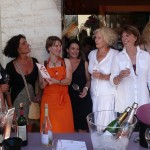 The local Indépendant and Midi Libre newspapers, which echo each other faithfully, both make a big splash of the Vinifilles making a big splash  in Limoux tonight.  The Dépeche goes positively poetic.
There are seven of us here representing the female winegrowers of Languedoc Roussillon : Fabienne so blindingly blonde you can't see anything else of her; Sévérine, the quiet pretty brunette with a surprisingly wicked sense of humour; Katy the artistic wayward one;  Francoise, always a hoot and a half with a room-filling voice and unerasible smile; Véro in a hurry; long tall Gaby,  filling in for Francoise Antech; and yours truly.  Quite a disparate desperate bunch, you might say.  You might indeed.
We're here to pour our wines at the Atelier des Vignerons in Limoux's main Place de la République, a really nice wineshop run by another woman in wine, Laurence Turetti.  It's hot, the sky is still silky blue, there are lots of people… and there's lots of wine too: Faugeres, Limoux, Pic Saint Loup, Cotes Catalanes, Rivesaltes – more than enough to keep the crowd moving.
But what I am thinking about is the Jan Trio, a jazz trio that will be playing for our supper in the Place.  There is something so promising about its name, something so familiarly conforting to my ear.  Tables have been set up under the shade of great Plane trees, and Limoux's two top Young Chefs have prepared a meal to accompany our wines.  What they've created for our mauzac, Cuvée Occitania is gratinated oysters with foie gras.  Hmm. Unsual, that.  But what music will the Jan Trio set to  our mauzac?
Shock, horror!  All further thought erased from mind as a microphone is thrust infront of me.  "Tell the crowd about your wine" I'm instructed. "In French".  Oh great.  Suddenly tonight's not so much fun after all.
And then the musicians pick up the note.  Funky Jo is what it's called. Not at all the Occitan song I'd hope they'd sing.  Does the music go well with Mauzac?  Haven't a clue. Still too worried about my stumbling incoherent speech.
http://www.midilibre.fr/2011/07/04/les-vinifilles-veulent-que-le-vin-soit-une-fete,348702.php
http://www.ladepeche.fr/article/2011/07/07/1123421-limoux-a-vous-faire-tourner-la-tete.html
Wednesday July 6
An Inspector Calls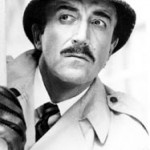 The amiable, affable, thoroughly likeable head of the Syndicat of Producers of the Cru Limoux turns up on our doorstep.  But it's not a social call.  This is business.
He's doing one of his random spot-checks on the vineyards in the appellation.  For over an hour he inspects Rives-Blanques, counts the number of vines per hectare, checks  the number of grapes per vine, looks at how the vines are pruned – in short, makes sure there's no hanky panky going on.  There isn't.   We know there isn't, but isn't is amazing that you feel a bit of trepidation?
The inspector himself will be inspected by an even higher-placed spot-checker.  All for the good cause of the good name  of Limoux
Thursday 7 July
Hej Sverige!

Even before the office opens, there's a traffic jam in the courtyard.   Eric, who has been spraying against oidium since daybreak (sulphur for the organic field, synthetic mollecules for the sustainable fields) is washing down the tractor.  A big truck marked RTM Sweden is loading pallets for Sweden.  Another truck hovers hopefully in the wings laden with brand-new barrels for our rapidly approaching harvest.
We wave off our first shipment to Sweden and watch the truck disappear off into the horizon.  Quite a good morning's work, even before our breakfast croissant.  And then we contemplate the new barrels and what they mean for us…
The harvest approaches.  Friends from Bordeaux tell us their vines are blocked, simply refusing to take another step forward until they get some water.  Here in Limoux all still looks good.
Friday July 9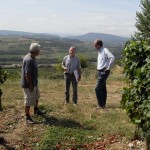 "Why do you use this field for the Crémant?" Pierre asks us.
"Well … because …. well, we always do, it seems to be the right one to pick at the right time."
We're out inspecting our vineyard with a new consultant.  Someone we employed to challenge our ideas, and that is exactly what he is doing, turning all our assumptions on their heads and throwing them out the window.
Tramp the fields for four hours, the whole morning long; it's hot dusty work.  You see your vineyard with new eyes, look at the soil afresh, begin to contemplate the idea of perhaps using the Crémant field for the Odyssée instead, and the Odyssée field for the Trilogie instead.  Or maybe we should take half of this one and half of that one together, use that low-lying bit there for the Crémant …
Tuesday July 12
Vinfilles out on the town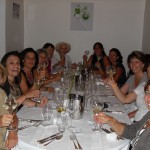 We've all been behaving ourselves rather well, but then this is the AGM of the Vinifilles, the female winegrowers of the Languedoc, which like an orchestra full of soloists,  can either make marvellous music or a horrible cacophony.  Today we're making music, but by 7.30 pm the sommelier Jeremy threatens to take away the baton and lock the door.   "Dinner is served and aperitives await you downstairs" he says, firmly.  Well, it was the third time he'd said this….
So we troop downstairs to the garden of the Table St Crescent, a michelin-star restaurant in Narbonne, and then into its sedate and quiet dining room for a fish-centred meal.  It is not sedate and quiet very much longer.  The other guests seem a bit bemused by a gaggle of women talking (loudly) about vats and barrels and how best to clean them and preserve them, interspersed with weak jokes that leave us all crying hysterically  (What do you call a deer with no eye?  No idea!! get it? )
Jeremy  pours the wines and contrives to bring order to the affair.  The wine is very good.  What a privilege, at a single sitting, to sip on Mas Champart, la Grange de Quatre Sous, Chateau de l'Ou, la Dournie, Clos des Nines, Ollier Taillefer, Chateau de Rey ….  really the cream of the Languedoc, if cream is the right word to use .  As Francoise says,  we do like to 'drink dry and eat fat' … whatever that may mean.
And then a huge thunderclap announces the end of the AGM, and a welcome 15 mm falls on us as we head home.  Good news for the winegrowers.
Wednesday 13 July
The righter sense of Twittering
Pouring wine for some people who come by to taste them. Suddenly my eye falls on a parcel sitting innocently on the chair outside the tasting room.  Funny?  So I go and open it and cannot believe what I see there:  neat rows of beautifully packaged cheese … XO, VSOP, and one-year old Goudas, and goats cheeses from the Dutch producer Reypenaer.
A present out of the blue from @CheesemasterRon who came to us through Twitter last week.  Friends for dinner are the first to taste the VSOP, thinly sliced, with our late harvest – just fantastic.  Velvet.  Bless you Twitter.  Bless you @CheesemasterRon.
Friday 16 July
More food for thought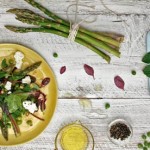 Food on my plate and in my mind.  And in the British Guardian newspaper.  Today, its wine writer, the famous Fiona Beckett, choses our Sauvageon to accompany a delicious asparagus summer salad.  Recipe looks reasonably simple too.
We've got the Sauvageon, just have to find some nice fresh asparagus. http://www.guardian.co.uk/lifeandstyle/2011/jul/15/goat-cheese-asparagus-mint-recipe
Monday 18 July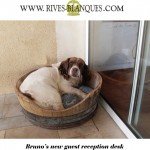 More new barrels arrive for the harvest.  Bruno finds a good use for an old one …