The month freewheeled in on a slipstream of unreasonably unseasonable  weather, easing us into Vintage 2014 with a warm, deceptively gentle little shove.  Pruning the vines is moving at a fast pace, as we make hay while the sun shines, so to speak.  Silence reigns in the cellars, thank goodness.  Last month Eric roared at the barrels "I want silence!" … and he got it.  Dutifully the last one finished fermenting on the last day of last year, like a good New Year's resolution.  Finally, with the dawning of 2014, the 2013 wines are on their way…
Saturday January 4
Magnifique!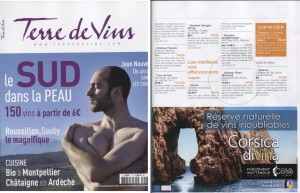 Got to say, the front cover of this month's Terre de Vins has an unusual edge to it, definitely  not your traditional Languedoc winegrower standing there, flexing his muscles.  The coverboy is Gauby le Magnifique, of the iconic Languedoc winegrowing family, distracting us from the content.  But the content is magnfique too: our Blanquette de Limoux selected by the famous French duo of winetasters, Bettane and Desseauve, amongst the Great Wines of the South.
Tuesday 7 January
On the road to St Jacques d'Albas 
It's always a treat to visit the Minervois vineyard Saint Jacques d'Albas, on the old road to Santiago de Compostella.  It's a beautifully restored old Languedoc vineyard,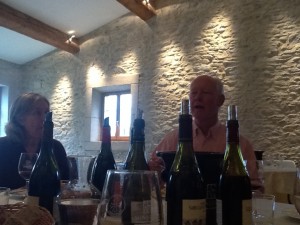 complete with a lovely chapel and a cellar to die for.  But it's also always a treat to meet up with the Outsiders, of which Graham, the owner of Saint Jacques d'Albas, is a good example: someone who has come in from the outside and chosen to make wine in the Languedoc.  (Rather good wines, actually.)   Outsiders, by virtue or defect of being outsiders,  often have a slightly different view on life and how to do things.  Today's meeting and lunch proved the point.
"This wine" says Louise, who started it all, "This wine is Michael Jackson.  It is a put-together product.  It has no authenticity.  It is completely made up and made over.   But it's smooth.  It hangs together."  She considers the glass in her hand, and concludes: " People like it!"  She was just giving an example of the tasting theme of  an upcoming Outsider happening,  in Montpellier the night before the big trade fair, Vinisud.
Too bad for Graham that the wine in her glass  happened to be one of his.
But before then, we have a big Outsider tasting taking place in Montpellier on 26 January.  A serious one.  No Michael Jacksons present.  Not even Beethoven.
Just a big birthday cake.
Typical Outsider, you could say, to sabotage a serious wine tasting with not one, not two, but three birthdays all on the same day …
Thursday 9 January
We're still in holiday mode.  Very quiet. No one comes, no one goes.  We start late. We leave the office early.  Why, it's almost like Christmas.
So what a surprise this morning, when the Dutch importer who had a 9 am appointment arrived with two busloads of 14 people.  And then our Houston importer arrives with another French winegrower, both  swamped and heavily outnumbered by the Dutch crowd.  And then a large and long articulated truck appears on the scene,  taking up all the remaining space in the courtyard,  to collect a pallet for Belgium.  Then of course both telephones start going.
"Is it always like this here?" asks the Frenchman.
Mais oui … toujours …
Monday 13 January
The proof of the pudding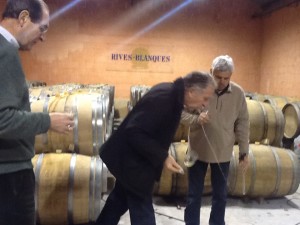 Really big day today.  We've got a dozen or so bottles lined up on the table, each one containing samples of a batch of barrels.  It's the first serious tasting of our 2013 wines.
It's been difficult, this harvest: late flowering, late picking, hail damage, slow fermentation, stuck fermentation … we've had it all.
We look at the bottles a little suspiciously, wondering what surprises they've got in store.
Of course we've been tasting the wines before this, but you can't really tell what you've got until all the natural sugar from the grapes has fermented itself dry.k at the bottles suspiciously.  What sort of surprise is in there?
Well, it was a happy day.
A very happy day.
We seem to have something very good on our hands.
Oh happy day.
Then we go down to the cellars to check on some of the barrels.  For the first time ever, we've got some malolactic fermentation going on.  That is when the really sour malic acid – what you get in a tart Granny Smith apple – is converted to a softer lactic acid, what you get in butter and cheese, for example.  It's a process that nearly always happens in red wines, but less often in white wines.  It can happen spontaneously, or it can be helped along by adding some bacteria.
Or you can just suspend a granny smith apple in your barrel and watch this spot.
Thursday 23 January
Most of our importers are very precise: they  demand exact information on vintages, size of cartons, weight of bottles, confirmation of orders, confirmation of prices,  times of pickup and so on.  One or two  just send a laconic little note saying, "Can I pick up a pallet a pallet next week?" and Bob's your uncle.  But never have we had the transport company phone us and say, "Can I come tomorrow to pick up three pallets for so-and-so?" when the wine merchant himself hasn't told us what he wants.
"Well, fine" says Jan, "but I haven't received an order yet.  Besides, I don't know what wines he wants."
"I do!" says the transpoter, and reels them off ….
Sunday January 26
Hip Hip Hooray!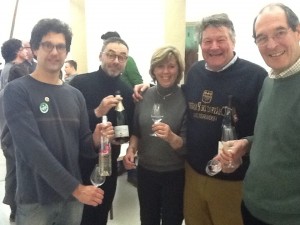 We are in the Panacée in Montpellier, and it is pretty spectacular: right in the old part of the city, a lovely place to hold a wine tasting.  It's the Outsiders little fling before the organic Millésime Bio trade fair starts tomorrow.   The party before the fair.  Or tasting before the testing.  Or the fair before the party, what ever way you want to look at it.
A lot of people are coming through the doors, which was the general idea, but is nice none the less to report.  Trouble is, we haven't brought enough wine with us, and it is flowing fast and furiously.
One of the first at our table is our Canadian importer, Benoit – very well known to Jan-Ailbe and Xaxa, but not to us.  And from then on, all the Outsider winegrowers are kept busy until late into the night. And then a birthday cake is wheeled out and the last two bottles of fizz are cracked open.  Happy Birthday Caryl of Rives-Blanques!  Happy Birthday John of Clos Gravillas!  Happy birthday Rutger, of Chateau Pannery!
…/to be continued.