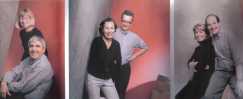 Rives-Blanques wines will be poured alongside those of Domaine de Calet (Costieres de Nimes) and Mas du Soleilla (La Clape) at Prowein in Dusseldorf ,  at the end of March.
This means our stand will have a complete range of  award-winning red, white and rosé wines from the Languedoc: still and sparkling, dry and sweet. … all in Hall 4, Stand D 50.  La Clape and Limoux have recently been classified amongst the Grands Cru du Languedoc.
The Rives-Blanques wines include the two white Limoux's that have been appointed official Ambassadors of the Languedoc (the chardonnay, Odyssée; and chenin blanc Dédicace) as well as the mauzac selected as The Special Wine of KLM's World Business Class, Occitania.
Three sparkling wines and a dessert wine complete the Rives-Blanques range, alongside its two award-winning Pays d'Ocs: a chardonnay-chenin blend, and a barrel-vinified sauvignon blanc
We will be on the stand of the leading Swiss/German wine publication, Vinum,  with our friends Peter and Christa Wildbolz of Mas du Soleilla, and Yvon and Anna Gentes of Domaine de Calet, and anyone who would like to taste our wines – including three of the 30 wines selected from the length and breadth of the Languedoc to be the region's best 'Ambassadors' – will be most welcome.
.