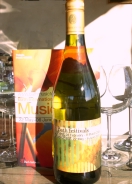 The Bath Festival is the highlight in the cultural calendar of this beautiful UNESCO-protected city in England, famous for its Roman baths and a rich literary tradition – personified by the internationally celebrated and universally loved Jane Austen.
Bath is currently celebrating the 61st edition of its hugely ambitious music and literature fests, bringing together artists from all corners of the world.
The Rives-Blanques chardonnay-chenin vin de pays d'Oc is honoured to have been chosen as the flag-carrying wine of this internationally renowned cultural event. The Great Western Wine Company in Bath (greatwesternwine.co.uk), who import the wine into the UK are selling it at a modest £6.95, donating 10% of the proceeds to the Bath Festival.
This wine was recently chosen by the winner of 'The Best Sommelier in the World' award as one of his top country wines from the Languedoc.
For tickets and information on the Bath Festival: www.bathmusicfest.org.uk