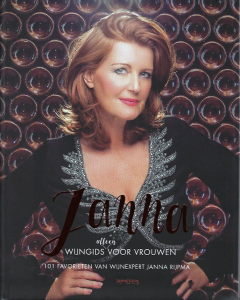 Wednesday November 1
Never judge a book by its cover, they say,  but I don't think they thought that  when they put together Dutchwoman Janna Rijpma's selection of her top 101 wines in her new  guide written for women (only).  Pretty spectacular, have to say.
Contents are pretty good as well: truly wonderful bottle shots, possibly the best I've seen.  (And there is just so much, and not much more, that you can do with a bottle, after all.)
On page 39 she reminisces about the freezing day she came to visit us (a day rather like today) and had a lesson in pruning.  Our chardonnay, Odyssée, « completely defrosted me », we now learn.
It's "a homeric beauty … the subtlety of the wood gives this wine an elegant,  feminine touch … you seldom get them so clean and pure.  To be compared with an expensive Burgundy", she says.
Well, that is very nice indeed.
« It's a Doetzen Kroes of a wine, » she continues .
Doetzen Kroes?
We check Wikipedia, having again dutifully paid our € 20 support for this service.  For those of us who don't know, Doetzen Kroes is a famous Dutch model for Victoria's Secret underwear.
Hmm
But on further investigation, a very beautiful actress, and a top model as well.
Janna's musical pairing for Odyssée is « Kissing a Fool » by George Michael, so we check the lyrics on the internet as well.
Hmm again.
But then, the music's great: rich, full, mellow and slightly jazzy.  Quite Odyssée-like, actually.   Though the question still remains:  who's the kisser, who's the kissed, and who's the fool?
Judging from the cover,  we should have known there'd be some interesting things inside.
Sunday 5 November 2017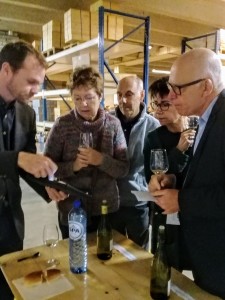 Ian realises, too late maybe, that he has taken our daughter on lock, stock and barrel (so to speak) for today he finds himself pouring our wines with conviction and enthusiasm at a Portes Ouvertes tasting organised by our Dutch importer, Colaris.  It's his first outing under the Rives-Blanques hat, and he's clearly doing splendidly!
Monday 6 November 2017
A journalist-sommelier for a cheffy magazine comes by to interview us.  I'm showing off shamelessly about our late harvest, Lagremas d'Aur, which amazingly won the top accolade from the Guide Hachette – if you get three stars from the Guide Hachette, then you're entitled to some shameless showing off.  But you have to temper it a bit, so I add, « for what it's worth. »
« What do you mean, 'for what it's worth'? » she asks.
« Well, you know, it's a lottery really.  I don't hold much truck with these competitions and tastings, and so on »,  say I.
Her face seems to have hardened somewhat.  Her eyes take on a steely glint.
« Oh, how so?' she enquires cooly.
« Well » I say lamely, « Ive seen good wines get nothing, and mediocre wines get too much  …. »
She interrupts me.  « I'm on the tasting panel of the Guide Hachette, and I assure you, we take it very seriously indeed. Very seriously. Very seriously indeed. »
I backtrack.   `'Oh yes, I know, I agree (nodding my head with violent enthusiasm).  My son is also on the tasting panel, he tells me it's very serious… »
Too late.  Interview ends.
Friday November 10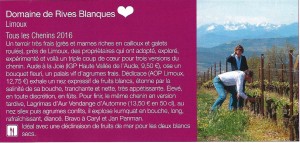 Well speak of the devil.  A copy of the glossy wine magazine Terre de Vins lands on the desk with its November-December selection of the best wines for the festive season.  To our great pleasure we see our vineyard splashed across the selection, with not one, not two but three coups de coeur.
So a Coup de Coeur is like an Editor's Choice or it would be if this were an American magazine.  But this is a French magazine, so it's a coup de coeur, which sounds a lot more passionate.
And each of our chenin blancs gets a coup de coeur: Lagremas d'Aur, Dedicace and Aude à la Joie, with a big Bravo! from the Editor tucked in at the end.
Now this really is worth a bit of shameless showing off….
And forget all that rubbish about the luck of the draw.
Sunday November 12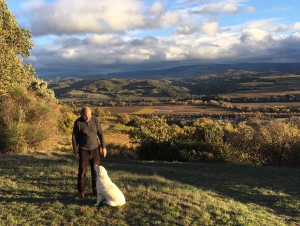 Autumn is such a beautiful time at Rives-Blanques.
We go for a late-afternoon Sunday walk.  The colours are marvellous.  We admire the work that's been done in the vineyard, very pleased that Jan-Ailbe has done everything that had to be done: we're right on top of things, and that's a great  feeling.  The last golden leaves still hang tenaciously on  the vines.
A chasseur comes along with his dog, and Jan asks if he's bagged anything.
« Mais oui! » he says with undisguised satisfaction, « a snipe and a pheasant! »  Both the dog and the owner look very pleased with themselves.  His hands illustrate how he's gone up and down, and into the woods and out of the woods, and around the woods, and into the dale and up the hill ….
We walk a little further. Suddenly Jan says, « Damn it! I'm going to get another dog to train.  Another Springer Spaniel… »
And poor Bacchus looks at him reproachfully.  Lovingly but reproachfully.  He can't go up and down hill and dale.  But for that matter, can Jan?
Wednesday November 15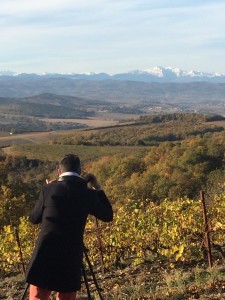 Jan looks gloomily at the bright blue sky and complains.
« It just doesn't rain!.  It's been raining everywhere, and it just won't rain here! »
It's a worry, because  winter is when the soil stocks up on its water, and it's clear that winter has arrived.
Freezing cold.  Icy wind blasting down from the Pyrenees.  A wine writer and reporter called Fabrice Tessier, who is here to do a feature on Limoux's wines,  has really struck gold.  Literally.  The leaves are glowing,like lanterns.
There's no denying that this is a most photogenic day.  And a most photogenic place, in our chenin field marvelling at the golden valley below.
« It's always like this » Jan says … but what he means is, where's the rain?
Saturday November 18
We spend a large part of the morning preparing for a wine club to come for a tasting this afternoon: 20 glasses, spittoons, wines in the fridge, everything ready for them.  And then we wait.  And wait.
And wait.
Caryl agrees that she must have been the idiotic one who can't get the date or the time right.  It must be next week, of course.
Monday November 20
So we take the polite way out, and phone the secretary of the doctor who arranged the wine tasting, saying « Just wanted to check that there are 15 people coming for a tasting next Saturday at 3 pm? »
(No possible mistake this time: very clearly enunciated date, number of people, and the hour.)
« Yes » the secretary says, « I'm part of the group, and we'll be there on Saturday at 15h00″.
So you see, Caryl was that idiot.
Wednesday November 22
This is most extremely interesting.  We meet with our neighbours and all our respective consultants and advisers, to see how the way we each played the vintage this year has affected our wines.
And we played it very differently.  Normally, Rives-Blanques is the last white wine to be harvested in Limoux.  This year we harvested around two weeks before our immediate neighbour, which is a first.  In fact, it was our earliest harvest in history.   He held back, wanting the acidity to drop a bit.  We barged ahead, afraid of increasing sugar levels.
So now we had all our chardonnays on the table, like a big pudding waiting for the proof of its tasting.  Unsurprisingly, ours were  leaner, his fuller. In fact, although different, they were all pretty good, and it wasn't difficult to say polite things about the others' efforts.
And even though it's possible that the best wine might have been the one in the middle, we could close the session with a degree of satisfaction, each of us safe in the knowledge that we had actually done the right thing …
Saturday November 25
Spend this morning preparing for this afternoon's  tasting for the doctor's wine club: glasses, spittoons, wines in the fridge, etc. etc.
And then we wait.  And wait.
And wait.
…./to be continued.