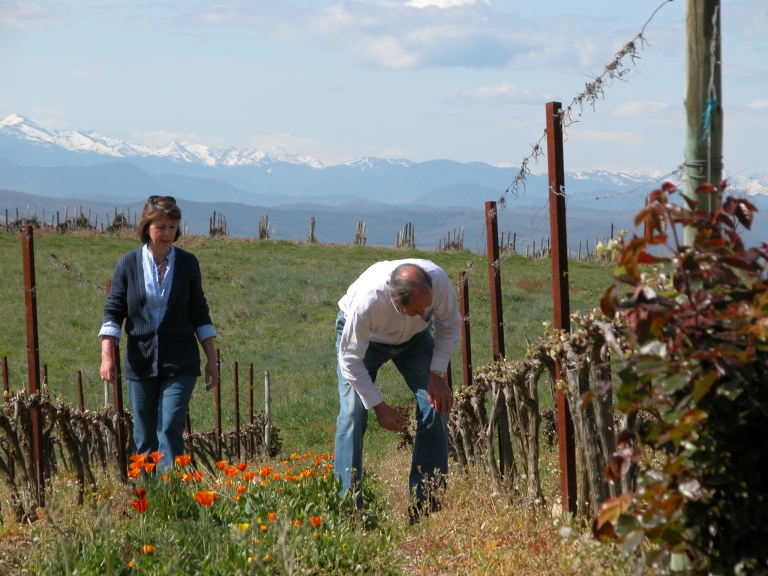 Wary of what we ask for, we say cautiously at the beginning of this month, « Rain, please ». A burst of brilliant and uncharacteristically warm weather last month pushed the vines into overdrive, and where two weeks ago there was not a leaf to be seen, May day brought with it the first sightings of tiny little grape bunches. It will be harvest time before we know it. All hands are on board in the vineyard now; there is much to do: cleaning around the vines, weeding, hoeing, dropping and then raising the supporting wires, ploughing … oh yes, ploughing. We can't do any more of that until we have more rain and the ground softens. Indoors things are flat out as well, as the Limoux wines are pumped out of the barrels and into tanks, the barrels are cleaned and stored, and we prepare for bottling in June. People often ask « When is your quiet time? ». Will someone please remind me to hire a brass band the day we have a « quiet time »? Our wines will be working hard as well this month: first the mauzac Occitania, in London's Maison du Languedoc in the first week of the month; and then the chardonnay Odyssée and the chenin Dédicace in New York's Maison du Languedoc the week after. After that, we follow on in tandem, first to the UK to pour our wines for the Bath Literature Festival and at the Great Western Wine Company on the 8th, and then to Washington DC and New York at the end of the month. There is enough to do, but just not enough of May to do it in …
Saturday 1 May
Waving the Baton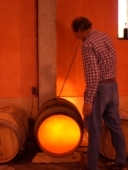 This is probably the last time Jan will stir the lees of the 2009 harvest, before the wine is taken out of the barrel and pumped into a tank, there to await bottling. These are the AOC Limoux wines, wines which by law have to be fermented and aged in oak barrels. We find that stirring the lees adds richness and complexity to them. It also has the added value of acting as an antioxydant, reducing the need to add SO2. So here goes: if you click here, you will see what it's all about when the lees go into action …
Monday 3 May
Big Blending Day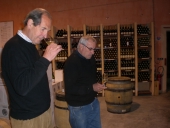 Very cold in the cellars today. We move slowly from barrel to barrel, tasting each one in turn and noting our comments. We use three different coopers, but that is not the only reason why wine from one barrel can taste different from wine in another barrel. Like two children from the same parents. Georges Pauli, friend but more importantly master blender par excellence joins us and we spend several happy hours smelling, swirling, spitting, tasting and thinking. It's actually really exhausting. Palates get tired, feet get tired, and we get cold. But a 'false friend' wakes us up again, a single barrel that has turned against us, like a deliquent daughter. Or son, for that matter. And then things get really lively when it comes to blending barrel 4A with 22C, for instance. The surprises we get! Two brilliant barrels don't necessarily give you a brilliant wine but a clever barrel combined with a more modestly intelligent one can produce an Oxford Double First. Just like some families we know …
The funny thing is that after all that, we end up with exactly the blend we loved at our third blending session last month, and if you want to know the secret of La Trilogie 2009, then please click here.
Tuesday 4 May
Snow!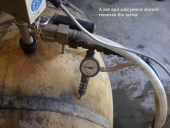 It's not true! Snow falling fast, fat, fluffy and furious. Everything white. An icy winds whips up from the Pyrenees and howls over the vines. We cross our fingers for the burgeoning bunches. It is cold, very very cold. A group of restaurateurs from the UK comes to admire our sunny southern French view. There is none. In the cellars, work continues relentlessly, as we clean out the barrels and pump the wine into the tanks. The visitors stand watching, transfixed. The truth is, there is nothing else to look at. But our minds are fully concentrated on what's going on outside; May is shaping up seriously to be a series of May Days.
Thursday May 6
Beware of What you Ask for
Well, we asked for water, and we got it. In bucketloads. Here are two tiny vines, planted just last month, quietly drowning. But we're counting our blessings: the snow didn't cause too much damage. Just in one part of the vineyard where a wind tunnel allowed icy winds to do their worst. The so-called « Ice Saints » days of Mamertus, Pancras and Servatius, days when bitter winds traditionally whistle down from the Pyrenees, killing burgeoning bunches in a frozen embrace, are not scheduled until next week, but then perhaps the calendar wasn't consulted. Or if it was, the days didn't recognise themselves, for the Church renamed Mamertus's day into Estelle, gave Pancras' day to Achille, and left Servatius vacant for Ascension. The idea was to discourage 'pagan' famers from praying to those Saints to keep the fatal winds away – but the trouble is, now we don't know who to ask …
Sunday May 9
Back in the Lap of Literature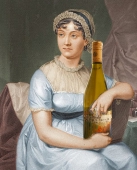 Right now I'm praying to get out of here and back home: Bath in the UK is beautiful, populated by an unusually high proportion of very, very nice people, and it's been wonderful to be here, brilliant infact. But now I want to go home: Bristol airport is not the place to be spending Sunday, looking deep into the depths of a genuine Somerset cider while volcanic ash decides where to spread itself. But all things considered (while contemplating the cider's fine golden bubbles), it's been a good visit: first to talk to members of the Bath Literature and Music Festivals, who have taken the Rives-Balnques Chardonnay du Domaine as the Festival's house-wine. The links between Literature and Wine are many (not least, Bath's own daughter Jane Austen, who said « I shall be above Vulgar Economy and drink French Wine »), and the language of Music and Wine is also intimately related, so this is a lovely thing to be associated with. Then to pour our wines at the Great Western Wine Company's shop yesterday, who are returning 10% of the profit on the 'Festival Wine' back to the Festival Trust. That gives a nice finish to the chardonnay's long aftertaste.
Monday May 10
Hail!
Oh no!
Tuesday May 11
Song & Dance
While we're making such a song and dance about the Bath Festival wine, a well-known winewriter has decided it smells like and tastes like a Macon on http://www.simonwoods.com/2010/05/11/six-southern-french-wines-from-james-nicholson/. The Rhinegold's Festival guide has also picked up on it, advising festival-goers who picnic and do their culture at the same time to pack a bottle in their wicker hampers:
« Clean, crisp, refreshing and dry », their writer wrote, « This unoaked style allows the citrus and honey flavours of the chenin-blanc to really sing ».
Like that, the singing bit.
Thursday 13 May
Gold is Good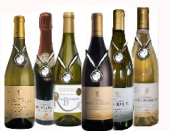 Wine competitions are a waste of time … if you don't win any medals. Funny though, how when you do, they suddenly become important. Everyone has stories about how the same wine can win absolutely nothing in one competition, and then go and walk off with a gold medal in another. Or even lose and win in the same competition, but under a different label. Anyway, we can't complain that Vintage Rose, our brand new Rosé sparkler, was commended by Decanter in its very first outing, or even that Occitania also got a commendation from Decanter this month – mauzac just is not the sort of wine that's going to wow! the tired palates of exhuasted juries. We're also (moderately) pleased about the bronze medals dished out to Dédicace and Odyssée by Decanter in what is trumpeted to be the World's Biggest Wine Competition. But gold is definitely much better – so today's gloom has been somewhat lifted by news of a gold medal for Dédicace and a gold medal for Sauvageon from the competition of the Great Wines of Languedoc Roussillon. And a silver for our Chardonnay du Domaine, just to keep things balanced … and leave us undecided if it's all actually just a waste of time or not.
Saturday 15 May
Flat Out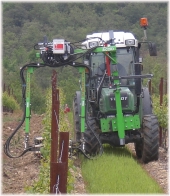 Strong wind, scowling view, menacing clouds: May is just not getting any better. The vineyard is a hive of activity. First the ground was too dry to plough, then too wet. Now, like Goldilock's soup, it's just right. So Ahmed is carpeing the diem and out there, ploughing. The vines are shooting up, and so are the suckers and unwanted shoots – so Ahmed's wife, Mak's two daughters and Thierry are also out there manually picking them off. In another field, we've got the tractor stamping its carbon footprint all over the place as it goes up and down the rows of vines mechanically scrubbing off the suckers. Stones get in the way. It may be « ecological » but it is actually not very effective. The better alternative all round is to do it by hand… so that's, let's see, 88,880 vines at three minutes per vine … boils down to 185 days and nights without end or stop for one helpless, hapless person …. by which time new suckers will be in full possession of the entire vineyard again. So yes, we're flat out.
Thursday 20 May
An Inspector Calls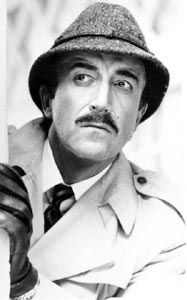 An Inspector Calls!
We're in the middle of a meeting with a very nice young man. He's a trainee with the Pays Cathare, an official organisation mounted by the region to promote its products and people. We're one of the products deemed promotable. Trouble is, we are not conforming. "I'm sorry" he says firmly, "but you must have a parking sign outside."
Why? we wonder. And reply a bit aggressively: "Listen, there are 30ha here where our clients are welcome to park. Within reason, that is. But we do not want to urbanise this place with signs saying Parking, and Please Do Not Walk on the Grass, and Do Not Touch the Grapes. It's perfectly obvious where they can park."
He seems to understand, and moves on to the next point. "Your answering machine must pick up within five rings. Does it?"
No, it does not. It picks up after seven rings. "I'm sorry," he says firmly, " it must."
"If we're in the courtyard, there's no way we can get to the telephone before five rings" we explain. "It's better that our clients get us, rather than the answering machine, isn't it? We need seven rings. We can't do it in five. This is a farm for heaven's sake".
He looks cornered. "I'm just a trainee," he begins, but is cut short by a car drawing up in the courtyard – parking willy-nilly, any old where. Two men – one with sunglasses, the other with a briefcase – step out. The briefcase indicates they might be salesmen, come to sell corks, or bottles or agricultural equipment. The sunglasses only indicate that finally we're having a nice sunny day. They walk confidently up the ramp to the door. No, on second thoughts they are not salesmen, they are too sure of themselves. Look how unhesitatingly they reach to open the glass door. Trouble is, it is locked.
So I excuse myself from the young Pays Cathare trainee inspector, to open the door. The man in sunglasses reaches into his pocket and flashes a card, brilliant in shades of red, white and blue. "Customs!" he barks.
Amazing how guilty you feel, even if you don't know what for.
"Will you have a coffee?" I ask, stupefied. One will, the other won't. They sit at our desk: one talks, the other doesn't. He takes notes.
Last year we let a friend store a couple of pallets of wine in our cellars, so that he would not have to pay three months' storage fees at a depot in Carcassonne. When it was shipped from the depot to us, the accompanying documents had us down as the destination. They wanted to know what we had done with the wine.
"Well, nothing" we said, "it wasn't ours to do anything with."
We had broken the law. As winegrowers in France, you are simply not allowed to have anyone else's wine in your cellars. Understandable if you stop to think about it, but not necessarily the first thing you think of when you are helping out a friend. Call it stupid.
All this was minutely recorded by the one with the briefcase, while the one in the sunglasses drank his coffee. They were perfectly pleasant, and well within their rights; and you have to admit, the system is pretty efficient if it can home in on three pallets of un-owned wine in the Rives-Blanques cellars… which have long since been sold by their rightful owner and gone their separate ways. Oh well, so now we know. And have to dig in our pockets to pay a small fine.
The Inspectors leave. As they go, a car pulls up and some punters pour out to taste some wines. We have already been ticked off by the Pays Cathare inspector for not having the opening hours of our tasting room properly displayed. ("But people can come any time" we wail, "if we are here, that is.") They have slotted their car with gay abandon next to a tractor. As I descend down the ramp with the Inspector to wave him off, the phone starts ringing up in the office. One, two, three, four, five times, it rings.
"There's no way", I say, "that I could ever get back up there by now to answer that phone"
Six, seven …
"But I could have got there by now."
Some how it's been a long day, and it is only 10:00 am.
Sunday 30 May
Graduated and Graduating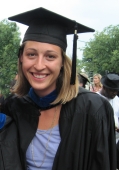 A couple of exhausting and exhaustive days in the USA wholly centred around SAIS at Johns Hopkins University in Washington DC, and Columbia University in NYC – Xaxa graduated from the former with a very distinguished Masters in hand, and our wines graduated into the latter. In between, the Met, the MOMA, Central Park all ticked and done, and as many American wines as can decently be drunk over three days apprised and appraised: Ramey 2005 and Kistler 2005 chardonnays, Rochioli barrel fermented sauvignon 2007, a 2007 Laetitia pinot noir, and a viognier and another pinot who remain nameless, and deservedly so.
And here we are, sitting at Dulles airport waiting to fly home …
So that we can pack our bags again and fly on to Belgium on Tuesday. Which by all accounts seems to be the day after tomorrow.
To be continued /….
It has to be said that the comments made here should never be taken too seriously and may not necessarily reflect the views of the sensible side of Rives-Blanques