Record-breaking amounts of snow have fallen on the Pyrenees.  Down here, at  350 m altitude,  we normally can expect about 600 mm of rainfall a year … and so far we have already had almost a third of that.   Things are going pretty much according to plan, though if a lot of rain has fallen in our lives, so too has the sunshine: even before mid-March, wild flowers were popping up all over the place, and the vines started crying.  Not sobbing, just quietly crying,  as the sap rises to meet the sunshine and prod the whole life cycle into action again.  It is too early for that – they need to remember their proper place in the calendar; they need a wake-up call to go back to sleep again, so to speak.
Friday 1 March
Wide-eyed and awake in Shanghai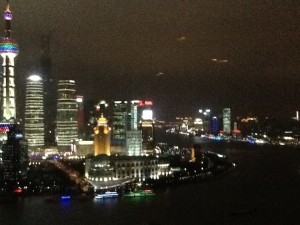 Mother and son have taken a vertiginous position on Shanghai.  We're actually having our second gin-and-tonic in the Hyatt's aptly named Vue Bar, and the view is extraordinary.  Vertiginous.  Hallucinant.
It's been a good day, sweeping up the remains of Vinisud Asia, meeting incredibly switched-on sommeliers in incredibly switched-on restaurants, and packing up, sorting out and sifting through a chaotic jumble of information.  One thing is for sure: the Chinese people (excuse the generalisation) do not like white wine.  Nor do they like bubbles.  Or cold wines.  Or good acidity.  You could say we are on a mission impossible; the proverbial lost cause.  Infact, as  producers of white and sparkling wines, blessed with freshness and best served quite cold, you should say that.  And yet it's been a good trip.  Great, you could  even say.   And tomorrow, back to Cépie.
Tuesday  5 March
Amazing how time marches on: we come back after an absence of only a week and find the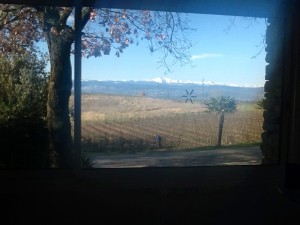 mornings lighter, the days longer, the sky clearer.   We also find there are still vines left to prune – that doesn't march on by itself.  But on a day like today, it's not a hardship, the only hardship is sitting inside watching them work outside.
What a present, to come back to a place like this on a day like this.
Saturday 9 March
Screwcappy-happy

And there's another very nice Welcome Home present, this one  from the UK's trade journal, Harper's, who says that 'all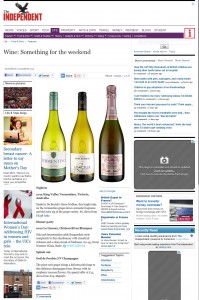 Rives-Blanques wines are superb'.  The wine they were actually writing about was our chardonnay-chenin countrywine  blend, but this throw-away sentence is the cherry on the cake.
And then today, a leading UK daily newspaper, The Independent, came out with its choice of « something for the weekend »:  our other wine under screwcap, and another blend –  the fellow in the middle of the picture, Le Limoux.
Perfect, they said, as a dinner party choice this weekend. The perfect end to my week.
Monday 11 March
Frog meets Clog
Jean Claude Mas, the brains behind the brand Arrogant Frog, is hopping around from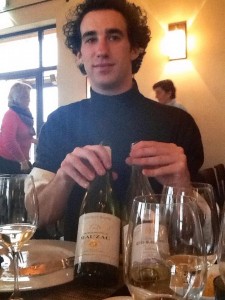 table to table, spending part of the meal with us, and part with a group of customers from the USA.    He does it well, quickly, lithely, subtly … almost, one hesitates to say, froglike in  speed and agility.
We are having lunch at his lovely new restaurant, Coté Mas, already talked about for the talents of its Japanese chef.  Sebastien,  one of Jean Claude's right-hand men in Limoux, has ordered a bottle of the Mas Mauzac.  Unoaked.  A different kettle of fish from ours, the cuvée Occitania.  We haul it out and have an impromptu comparative tasting.
« It was on board US airlines », Jean Claude boasts of his mauzac.
« Ours was the 'Special Wine' on KLM/Air France » we boast back,  jumping in clogs first.
Oh yes, we are having fun.  Shamelessly.   Talking mauzac, the grape that everyone said is good only  for bubbles.  Here we have two of them, both delicious. And delicious to accompany a delicious lunch.
Thursday 14 March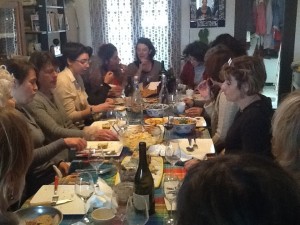 More extremely good food, this time on Sophie Guiraudon's table (Clos d'Anhel) in Lezignan Corbieres, and supremely  good wines too.  Extremely high noise level.  Everyone fighting to be heard:  everyone fights hard enough and is heard.  The Vinifilles, female wine-growers of the Languedoc, don't meet officially all that often,  once very six weeks or two months or so, but when we do, it's memorable.  There is so much to talk about. And we are all determined  to have our say.  And be heard.
Three of us have just returned from China, one from Malaysia, one from Stockholm.  Next week, eight of us are going to Dusseldorf, one to Japan, one to San Francisco.  A minor miracle that 14 of the 20 Vinifilles are around this table.  A minor miracle that anyone can hear what anyone is saying
Sunday 17 March
The Party's Over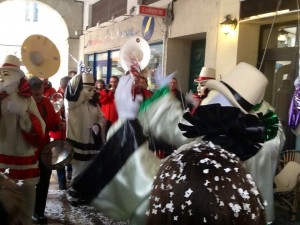 Goodbye poor Carnival! Adieu pauvre Carnaval!  It's over.  After three gruelling months, Limoux's  annual  endurance test comes to an end today.  The band is playing faster, the dancers are dancing  slower and  the agony and the ecstasy is being stretched out like an elastic band.   It never snaps, that's the funny thing.   And  when you hear that familiar ba-ba-ba-BUM-di-ba, you almost want to be out there with them, grinning like a gremlin behind  your mask, but you are not.  Thankfully, perhaps.  You are inside, in the Atelier des Vignerons, a really nice wine shop on one of the Place de la Republique's cardinal points, pouring wine and  trying  to persuade everyone of the virtues of mauzac.
Mauzac set to music.
They are persuaded; or so it seems, as the local Midi Libre newspaper says so, in black and white.
Tuesday 18 March
The Lion of the Corbieres.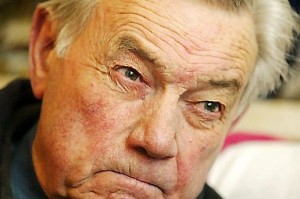 This picture makes Jean Vialade look fierce.  He was fierce.  Fiercely resolute, fiercely principled, fiercely firm.  They call him the Lion of the Corbieres.
He was indestructable, emblematic, charismatic, driven, and apparently unstoppable.
But the sad thing is, in the end he was mortal.   After a lifetime's fight for viticulture, justice and a better future for his region, today Jean Vialade passed away: heaven has gained a most brilliant Ambassador of the Languedoc, but the region has lost an extraordinary friend and passionate defender .
In the troubled 60's and 70's, he was the man with a vision, the militant who could inspire and lead the troops, a gifted orator not shy of using and abusing a potent and  powerful combination of  humble 'peasant' roots and formidable intellectual powers – not to mention rugged good looks, and piercing eyes that pin and transfix.  Deeply rooted though he was in Occitan history and the soils of his beloved pays d'Oc, he was a local with a  global vision, who saw  clearly how the future should look : he was the first in the region to insist on bottling au chateau (at Pech-Latt, of which he was the Manager), the first to get on a train and sell his wines abroad,   the first Director of Europe's first wholly organic wine cooperative (Ribaute).
And he had stories to tell – and he told them well.  Stories  told right into the dark night, as stars came out overhead and another glass was filled.  He might be legendary, iconic, a 'hero of modern times' as the local newspaper puts it, but this was a man of kindness and courtesy,  able to offer deep and generous friendship not only to those he loved, but also to those he merely liked.
We got to know Jean when we bought the vineyard now called Rives-Blanques from his son Eric, some 13 years ago – well after the prime of the legendary Lion of the Corbieres, but still clearly indestructible and burning with an inner fire.  Sitting there watching him jog youthfully into the dark night after a few shared glasses on our terrace, we never imagined that is indeed what he was doing: going out into the night – albeit not gently.
To be honest, I would much rather have a different picture of this clear-thinking, far-seeing man of Oc, one that puts the laugh back on his lips, and  the twinkle back in  his eyes, for that is how we knew the Lion of the Corbieres. And we are privileged indeed to have known him.
Sunday March 24 – 26
Pro ProWein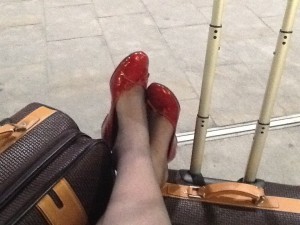 Downing and drowning in so many beers in Dusseldorf that this enormous wine fair ProWein is becoming quite ProBier. Blond, black, pils, call it what you will.  Nothing like a good beer after a hard day's work tasting wine, don't care if its made from wheat, hops, or whatever. …  So, three days and three nights on the hops, so to speak, and it was great.    Exhausting but great.   There are 4499 other exhibitors from all over the world, and ten times that amount of visitors, they tell me.  And they all seem to be converging on us at once.   Worked off our feet, even my  bright red shoes pale and blanche with fatigue.    But just five minutes before we leave, after this long hard slog, the friend and customer we were  really hoping to meet turns up, and that gives us a new burst of energy … and my shoes the courage to walk me on air homewards
…/to be continued