June is a huge milestone in the cycle of the vine: it is when it flowers. If flowering goes well, then all is well. If it doesn't, well, then it isn't … and you may as well get out your fishing rod and go fishing. So that is the important event of this month. Also important, the bottling of our 2011 wines. And to end the month and everything that is important about it, a trip to the United States to meet the people who buy our wines in New York.
Friday June 1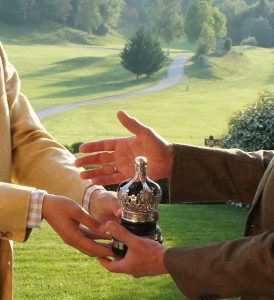 Just for the record, we do some times drink red wine, and we do some times take a day off. Today we are in the Pyrenees, in glorious sunshine, for what is undoubtedly the highpoint of the sporting calendar: the Panman Cup – and proof positive of the truth of both statements (red wine and days off). It was a bitter and brutal battle on a punishingly narrow golf course (and the Cup passed from son to father).
Tuesday June 5
The vineyard is about to lift off on the smell of broom, a potent and heady mix of blossom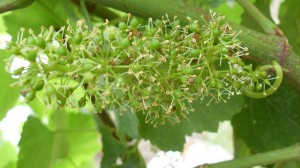 and honey wafting over the vines and into our wines. But there is something else, something ephemeral and light, something … well, something that Marc Dubernet, the great 'nose' of Languedoc, sniffing and appraising our Blanquette,  smelled out and then spelled out: fleur de vigne. Once you find  it, you never loose it. But it's difficult to catch today because only the chardonnay, leading the pack, is flowering and giving off this soft, subtle Blanquetty smell. Vines are hermaphrodite – they polinate themselves with very little help from anyone else – and the only thing that can go wrong with this process and really upset the applecart is the weather.
Thursday 7 June
And today the first flower on the old chenin blanc opened up! Exactly the same time, to the day, as in 2010, and a couple of weeks later than last year.  So far so good.
Monday 11 June
So far so bad.  It's 7 pm and we're sitting in the office wondering if we can close shop and go up to the house.  The rain is pelting down.  It is suddenly freezing cold. It looks as if we're in for hail and that would be … terrible.
Tuesday 12 June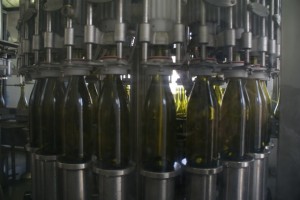 Another milestone reached : today we bottle almost all the 2011 wines.
Incredibly, it's gone without a hitch.
It's a vintage with great gras – fat and round and bolstered by terrific acidity.  We taste the wines as they come out of the other end of the bottling line.  Feels like a good day's work done.  Feels like a good year's work done.   Feels like time to have something fresh and bubbly to celebrate …
Tuesday June 19
A bite of the Big Apple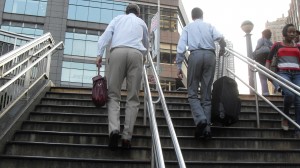 « C'mon » Betrand says, « we can still fit in two meetings ».   It is 9.30 pm.  We have had no lunch, no dinner.  It is unbelievably hot, New York's hottest June in living memory, surely.  We have walked, oh how we have walked, ten blocks this way, ten blocks that way, then dipping down under ground to cover more blocks jammed into (thankfully air conditioned) sardine tins, emerging in another part of town, another ten blocks this way, that way, or whatever way but always against the taxi way … It is unreal.  We don't know if we have surfaced in the Village, in Brooklyn, in Washington Heights, in upper, lower, or mid Manhattan, in Chelsea, in Soho, but surface we do and always in blistering heat – and this time it's back in The Village at what we really think is dinner time.   Bertrand seems to have unlimited energy, his shirt is surely sticking to his back as firmly as ours are to ours, though he looks as cool as the proverbial  cucumber, and clearly he is propelled by air (very hot air), not food.
We, on the other hand are mere mortals, and wilting.  Melting. Melted.  And hungry.
This particularwine merchant is a musician, and his fulsome female friend is pouring herself over him like a thick, sweet Banyuls, anxious for us to go.  « Later » she repeats to him, part warning, part invitation, part hope, as she leaves. You can't blame her. If I were 20 I would also find this charming, modest,  passioned wine connoisseur who makes music where Bob Dylan once made  music in our day, utterly captivating.  But at this point I also want to leave.
He is, if I can keep them apart, the second, third or perhaps fourth wine merchant/musician we have met today.  The rest have been wine merchant/philosophers or wine merchant/talkers  – and all without exception have been highly knowledgeable, and extremely nice. Bertrand, our agent, is unstoppable.  Unflappable.  And he has a whole lot more wine merchant appointments up his sleeve.
Plus an extraordinary surprise.  We stop by at his apartment to pick up another bottle, and find ourselves in the very same block where we ourselves used to lived when we were his age, more years ago than we like to remember.  We are as surprised to see it still standing, as we are to see ourselves still standing after a day like today.
Wednesday June 19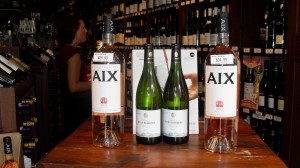 Pounding the pavements again, beating the street, feeling the heat.  Who greets us at our first port of call, somewhere around Columbus Circle?  Dedicace!  two bottles of our chenin blanc stand to attention and salute us, flanked by a burly pair of rosés,  at the front door.  A good start to the day, come what may.
And a lot comes our way.  Wine merchants who quote Pliny (Elder or Younger?),  more wine merchant musicians (surely not?), more blocks uptown downtown all around the town, and under town as well, but best of all is this: they love our wines.
And we love them.
We have ended up in fresh, invigorating, open country.   Not a single wine merchant has said, « Can't sell Limoux. No one has heard of it » or « Your wines are good but I can't sell them at that price » .  Au contraire, they are all telling us that this is what they want: interesting, handcrafted, quality wines.   It is music to our ears.
Tonight we are allowed to have dinner, and Brasserie Cognac is the place, with Chef Florian Victor Hugo (yes, the very same – fifth generation direct descendent) who already has our wines on his list and has declared himself ready to take on more.  Our meal is fabulous.  We fall into bed thinking we are in seventh heaven – though our feet tell us otherwise.
Thursday June 19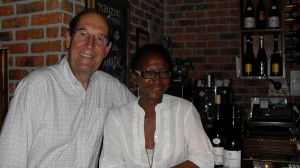 « So why do you call your wine bar Mauzac? » we ask Sally.  She is a small, wiry woman with big glasses and an even bigger smile.
« Because I wanted to name it after an interesting unknown grape ».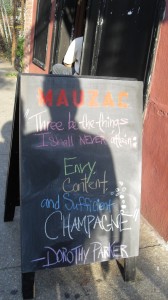 Now you're talking, lady!
This is what we love.  Passionate, professional, committed people pouring their energy into wine shops, wine bars and restaurants.  Sally is great and so is her Mauzac Wine Bar (somewhere in Brooklyn).
Plus, it is airconditioned.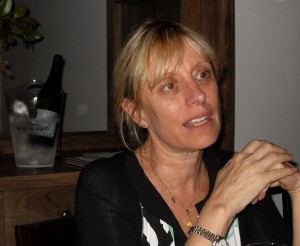 Mauzac WineBar is world's apart from Alison Eighteen,  though Alison's passion and committment rivals Sally's … and there is a whole day between them, not to mention a long checklist of wine shops.  More visits, more up, down and all around, more heat and sticking shirts, more subway stairs to climb and descend.  By the time we arrive at Alison 18 just off the trendy Union Square, we are ready to be wrung and hung to dry.
One of New York's newest restaurants, this one is cool chic, though it has to be said, we are not.  We are hot, sticky and not very nice to know.  But what a great meal …and what a compliment for our wines that they may accompany it.  What a wonderful halibut to swim in our chenin blanc.
What a day!
Friday 20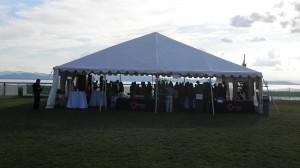 Now Bertrand packs us into a train and we find ourselves Amtraking up to Albany, surrounded by airconditioning and wifi, with our feet firmly up;   and from there on to Burlington Vermont.  We arrive at 17h50 and at 18h00 are pouring our wines in a tent set up on the shore of what is promisingly called Lake Champagne.
Transpires it is Lake Champlain.
And it is stunningly beautiful.
The sky has a certain luminosity that is reflected or deflected by the lake. Or perhaps it is the other way round
The crowd here are the sponsors of tomorrow's Burlington Food and Wine Festival, and we give them a taste of things to come.  Mostly mauzac.

And with a flicker she whipped an iPad from her knicker and showed them lines of vines  of mauzac standing silhouetted against the Pyrenees.
« Wow! »  They say, jaw dropping appropriately, « what a view! »
But theirs isn't bad either.

Saturday 21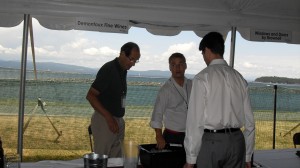 Today is the Burlington Food and Wine Fair, and we are in a much bigger tent on the lakeside.   You can't say millions of Vermonters streamed in, because there are only half a million or so of them all together, but an awful lot poured in through the doors.  It is already clear to us that these people are used to good food, good cheese, good local produce.  This is an agricultural community not completely unlike our own, and even those peaks on the other side of Lake Champlain look quite like ours.
What is totally different are the local laws. » Suppliers may taste a newly opened bottle for corkage, but the wine must subsequently be spit out ». This we simply cannot believe.  Can't swallow our own wine? And what if we taste a not newly-opened bottle? You've gotta be kidding.
You are not.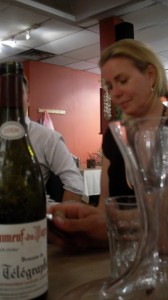 Even more unbelievable: a very nice woman called Jill came by to taste our wines, and we decided a the end of the day to go to Jill's restaurant for dinner.  Because she was so nice.   Her husband Adam keeps the kitchen open for us; he is very  nice too.  La Villa is on a major road along which passes perhaps one car every hour.  It is decorated on the inside with fairy lights around the window and something that looks a bit like left-over holly and wreaths from Christmas. The food is what you expect from Vermont – locally sourced, simply prepared: food that tastes like food.  Gourmet hamburgers and luxury pizzas.   What is surprising is the wine.
We expect to find Californian Chardonnay and Oregon pinots, and some Vermont rieslings here.  What we find instead is  Vieux  Telegraphe La Crau 2006.  Yes sir-ee, thats right, Vieux Telegraphe La Crau 2006 at $ 45 bucks a bottle.  Unbelievable!  We inspect the bottle from all angles. It's the real deal all right. We order one and then another to go. Jill in the meantime joins us at the table and opens yet another.  Adam finishes up in the kitchen and he sits down at the table too, opening up a third. We drown ourselves in the depths of this magnificent wine, as waves of velvet gently roll over us – and  the silent, dark Vermont night with them.
I use my new favourite word.  Wow!
Sunday 22
Up at the crack of dawn and ready to fly to New York, Washington DC and then home.  Difficult to imagine life without Bertrand tomorrow.  No unbearable heat. No impossible timetable.
What a great trip this has been, so encouraging.  Nothing more buoyant than making wines that are appreciated.  And meeting the people who appreciate them
Wednesday 27 June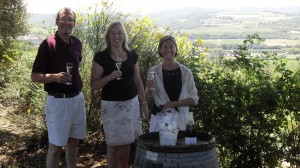 And the other thing that is particularly pleasing is when your importers come to visit you, and get to know the vineyard: how it feels, how it tastes, how it looks.  Rives-Blanques wasn't looking its best today, but good enough – and a good deal better than almost any where else in the region today.  Everyone sweltering. As bad as New York.
So Asa and Elizabeth from Spendrups in Sweden came to the outback of Limoux today to check out the hardships of life in the bush.
And we discover that in our absence, a hail storm decimated our vineyard.
That is to say, we lost 10%.  (Yes, I am pedantic.)   Other people lost everything.
Friday 29 June
Say Cheese!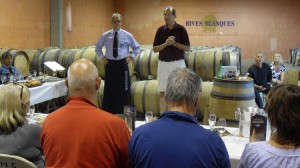 Ron Pieters, who trades under the twitter name @CheeseMasterRon, came today with a whole lot of amazing cheeses under his arm, to give some of our regular customers a master class.  He is the roving Ambassador of Reypenaer cheese, probably the premier cheese makers of Holland, the premier cheese-making country.  Well, perhaps primus inter pares, then.
And so  I learn that goats have four stomachs, but only use one of them; however all four produce Vitamin A, or perhaps break it down, or don't break down,  which is why goat's cheese   is so good for you.  And Gouda never registered its name, so if you don't want an Ukranian or Danish gouda, to name but two at random,  you'd better look for the words Dutch Gouda (which is registered).  And a regular, average sized cheese should only ripen for three years, no more, and don't be fooled by old old cheeses.  And oh yes, that salt in very old cheeses is not salt at all, it is crystallised minerals.  And just one last thing: the sweat on a sweating cheese isn't really sweaty sweat, it is alcohol;  the older a cheese is, the higher its alcohol.
The cheese that won the accolade  Best Goat's Cheese in the World (chevre affiné) won us over when paired with the Blanc de Blancs.  Just brilliant, it made my day.  And another favourite was Reypenaer's XO (only 900 made a year from summer milk in August and September, and don't imagine you could buy it even if you wanted to) with our late harvest, Lagremas d'Aur.  Absolutely incredible.
This very special cheese and wine tasting was conducted in Dutch for the simple reason that the winemakers, the cheesemakers, and the guests were all Dutch.  And so too was the recipient of the donations made by the people there: a charity called de Opkikker, which strives to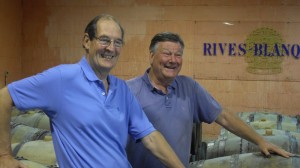 bring some joy to the lives of terminally ill children and their families.
We invited Rutger Grijseels, an old childhood friend of Jan's, to present his Rhone valley Chateau de Panéry red wines alongside our whites. Clearly, as anyone can see, this translates more into double trouble than double Dutch.
But despite the impressive showing of his Cuvée Henri, most of us agreed that white wine is generally better with cheese than red wine.  Or rather, that's what I think they said … or if they didn't, it's certainly what they meant to say …
…/to be continued next month