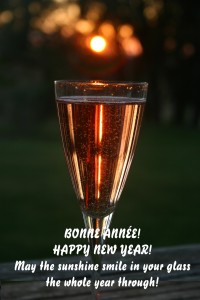 This new year woke up with a shock before it had even properly got going, indelibly stamping it as a vintage of reflection and resolution, and making it difficult, in the French fashion, to wish people a 'happy New Year' the whole month through. Charlie will not easily be forgotten.
But we have incredible sunsets streaking across our night sky all through the first two weeks of the month, and they give hope for a better, more beautiful tomorrow. We are counting on it, quietly continuing the contemplative task of pruning the vines.
Friday 2 January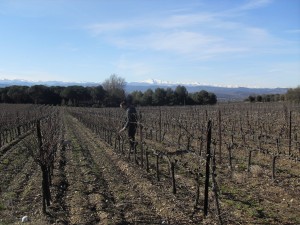 Ahmed is an ace. He once won the Golden Secateur award, for his pruning skills. It takes him less than a minute to prune a vine. Jan-Ailbe, however, is a different kettle of fish – so to speak. True, he is over two meters tall, and bending over the vines is not so much a headache as a real pain for him. He has already made a unilateral decision: the next new vines we plant will all be trellised 25 cm taller.
Friday January 9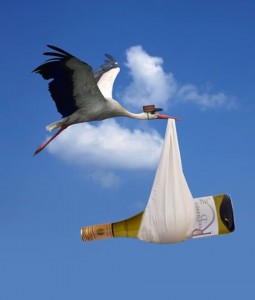 Le IGP Pays d'Oc est arrivé! Celebration at Rives-Blanques: the first of our 2014 wines was bottled today, and it is our out-of-stock chardonnay/chenin blanc. That in itself is cause for relief – a vineyard without its easy everyday wine is like a pub with no beer, and we have been out of it since last August. But even better: the delivery from tank to bottle was flawless, and this brand new baby has come up trumps with a lovely nose smelling of fruit and spice and all things nice, and a wonderful fresh texture in a the mouth. We end the day sharing a bottle between us. Smiles all round. A hopeful beginning for vintage 2014.
Thursday January 15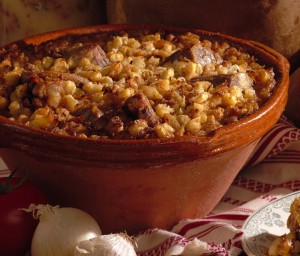 The region is crawling with wine buyers. They are all over the place, a constant stream searching out new wines and revisiting known ones. A lot of them pass our door. We fuel them with cassoulet before sending them on their way. And then prepare the next lot of beans with duck and sausage for the next lot of buyers heading up the hill. Never been so full of beans in all my life.
Friday 23 January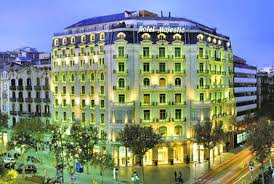 Barcelona's Majestic Hotel is majestic indeed. After the last cassoulet of the month, I drive down and replace Jan-Ailbe, who is already there holding the fort and making friends with the Rhone producers sharing our tasting space. The hotel has been taken over by wine buyers and wine sellers, a five star souq, and the idea is that the buyers pop into our tasting room every 45 minutes, and then pop out again to the next, like a passing caravanserai.
Our 45 minutes are strictly divided into 20 minutes Limoux wines, 20 minutes Rhone wines, five minutes general, and then the buyers are free to go. However, Jan-Ailbe, poor chap, is not. He has to stick it out, translating for the Rhone producer.
« What are they like? » I ask him on arrival.
« OK » he says. Which with Jan-Ailbe can mean almost anything.
Saturday 24 January
Oh dear, this is becoming a bit tiresome. There is a perfectly nice, very polite buyer from China sitting on our sofa, and he is telling Guy that he is looking for wines in the € 1.50 price bracket. The buyer and I have already agreed that he won't find them in this room. Guy however is apoplectic.
« What does he think we are? » he roars. « Ask him that! Go on! Ask him what he thinks we are! I employ seven people », he says, stabbing seven fingers in the air and an eighth in the general direction of the buyer, « yes, seven people and a horse! »
« 'Orse » he adds in English,in case I may have got in wrong, making horsey-ploughing motions.
« I already have », I say.
The door closes on the buyer, and Guy stomps around the room muttering to himself. The next one comes in. He is from Ireland and he has come specifically to taste Limoux. No red wines, no Rhones. Limoux please.
I explain to Guy.
« But does he have Rhone wines in his portfolio? » he asks.
I had already asked this question. « Yes », I say.
« But does he have northern Rhone or southern Rhone? »
« Southern Rhone » I say.
« Well then, tell him I have northern Rhone wines! »
« Please! » the buyer says to me, »Please tell the gentleman I do not want to take on any more Rhone wines! And I don't want to waste his time tasting them! »
« He says he is very sorry, » I translate to Guy, « but unfortunately at this moment, what with the economic situation in Ireland, and the fact that he already has Rhone, he says can't really take on more wines from your region for the foreseeable future. »
Oh dear, this is going to be a long day.
Sunday 25 January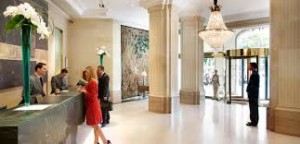 We're on the downhill slope! Trouble is, I'm locked outside our tasting room, with a buyer from America and another from Britain all trying to get in. Guy has either gone to sleep or gone for a walk, and taken the key with him. Our precious 45 minutes are slipping away.
We coerce the housekeeping staff to open the door for us, and start tasting the wines safely locked up within. Then the Rhone rangers arrive, and feed in their wines in alternation with mine. The situation is absolutely impossible. I give up.
As I check out of the hotel an hour later, the British buyer comes up and says, « quite an explosive fellow, that. »
« Oh it wasn't too bad, he was a bit stressed today. Worried about his horse, I think. »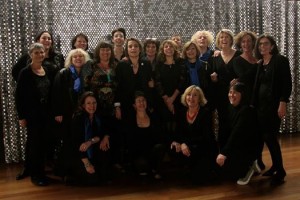 And then in the car and on to Montpellier for the highlight of the month. Surprising to see what wonderful weather it is outside the Majestic's walls and windows. I arrive at Montpellier's famous Mairie, reputed to be one of the most architecturally interesting buildings in the world, an hour late, and the Vinifilles' tasting is already in full swing. Flustered, I drop some wine bottles, and one of them cuts an artery in my thumb. There is blood all over the place. Some friendly pompiers come to the rescue: three of them: one to cut the bandage, one to clean the wound, one to tie the bandage on. Trouble is they can't find the scissors or the bandage.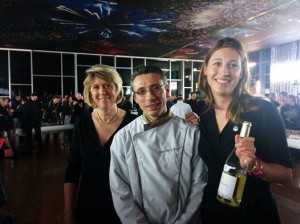 This tasting has been designed around 13 Michelin star chefs who in turn have each designed a dish to match one of our wines. We have a galaxy of culinary constellations here. A well-known self-styled food and wine writer tell me, « You've got the best of the lot. » And he's right: Jean Marc Boyer, the star chef of the Puit de Tresors in Las Tours who made a veal's head and squid concoction to match Occitania, our mauzac.
Veal's head and squid?
A headache to translate or rephrase, but delicious to eat!
Xaxa arrives from the UK to help her mother, and looks aghast at the blood-stained labels on the bottles. « Go and get your bandage changed! » she hisses, « you can't serve wine like that! »
Back to the trio of pompiers, who get a bottle of wine for each visit. They now have three, and look very happy to see me again.
Monday 26 January
It's my birthday!  I go downstairs to join the family in the hotel's cafeteria-style breakfast room.  It is full of Avon reps. and they all seem to be looking at me through discreet sideways eyes as I wind my way past the tables.  Then I see why: the family has decorated my chair with balloons, a party hat, streamers and hooters – a Dutch tradition for the Birthday Child.
After a hasty croissant we head off to Millesime Bio, the world's biggest organic wine fair and the main reason why so many winebuyers from all of the world are in Montpellier.  And they, in turn,  are the reason why we are here.  But now I am really tired.  It's time to go home.  It's time to go to bed and sleep until I wake up.
Tuesday 27 January
No way. A party consisting of a wine importer, a photographer, and some very jolly models shows up for lunch. The importer is also a writer, and she is writing a book about women in wine. We frolic in the vines, looking happy and pastoral. In arcadia sumus. It is freezing cold and the photographer insists we remove our coats.
Then we have a cassoulet.
Wednesday 28 January
Jan and Jan-Ailbe return to Montpellier for the International Business Forum (FIA), yet another buyer-producer market place where they meet a Venezuelan and share lunch with a group of Taiwanese.  (Neither the Venezuelan nor the Taiwanese seemed surprise to hear Jan-Ailbe addressing them in Spanish and Mandarin respectively – or maybe they just didn't notice.)  
Back at home, I struggle out of bed to receive some people coming for a tasting.
« This must be a quiet time of year for you » they say.
…./to be continued