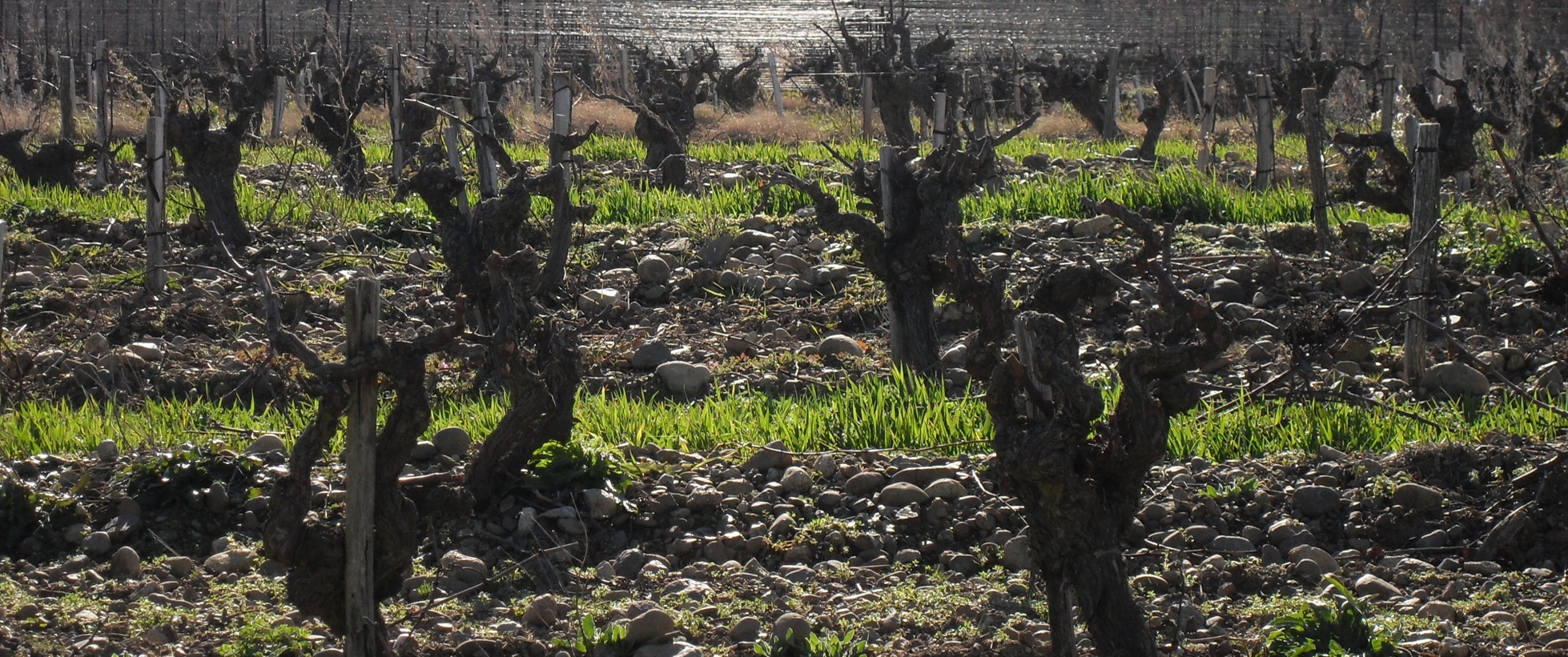 The new year 2013 totally consumes  us even before it has had half a chance  to properly begin.  January: the Wine Professional Fair in Amsterdam, and Millesime Bio in Montpellier; February: Vinisud Asia  in Shanghai; March: ProWein in Dusseldorf … but it is still only January, and we haven't even begun the stuff that's already bearing down on us larger than life from the horizon, and occupying all our time and energy.   But then there's the pruning of the vines, the slow, methodical laying down of the foundations of Vintage 2013, which continues its steady, careful pace from 2012 into 2013, all the way to that very same  horizon from which the new year is bearing down on us.
Wednesday 9 January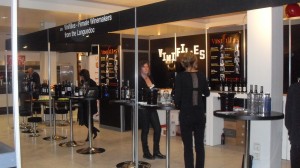 Left for the Wine Professional trade fair in  Amsterdam full of foreboding.  Everything that could have gone wrong has gone wrong.  And there's no saying that things will start going right now.   I feel as if I'm heading out for a pint at a pub with  no beer: long on hope but short on expectation … particularly since it's not even certain that our wines have arrived in Amsterdam – or ever will, for that matter.    But they do, and our stand miraculously pulls itself together just minutes before the trade fair opens.
And here we are, three days later,  in Amsterdam, a bunch of 9 valiant  Vinifilles – wine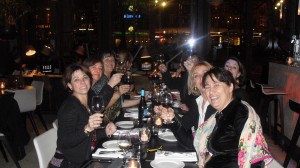 women of the Languedoc – persuading a ready and steady flow of Dutch wine buyers of the quality and diversity of Languedoc wines.   And the best part is, they're persuaded.   Colin, who runs a jazz wine cafe, no matter how much of an  oxymoron that may seem, has got no further than our stand, and never will – he's tasting and retasting every single wine for the third day in a row, the whole day long.  He wears his Vinifilles  lapel pin with pride.  Antoine,  owner of the truly wonderful restaurant in Amsterdam that carries his  name, won't leave until we've promised to dine with him tonight (and the meal is truly wonderful, even for a bunch of super-critical women who know alot about wine and think they know as much about food).  In short, it's all come together: the stand, the wines, the buyers – and now we are 9 tired Vinifilles, long on hope and long on  expectations, getting ready to go home.
Thursday 10
In the car on the way back from the airport in Barcelona, Severine of Chateau de l'Ou in the Roussillon, tells me to slice sliver-thin coins of fresh scallops, alternate them with fine slices of raw sea urchin, create artistic towers layer by layer in the original scallop shells,  drizzle a bit of truffle oil over the lot  and « Voila! Delicious with your Odyssee! »
I drop her off in Perpignan, and shortly thereafter see the sign Vous Etes en Pays  Cathare.  It was all great; but greater still to be home.
Monday 14 January
Snow!
Friday January 18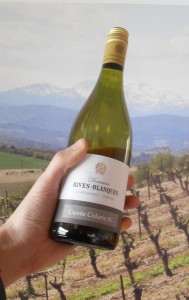 Today we bottled the sunshine.  Which is odd, because a few fat flakes of snow were trying to settle and the sky was uniformly grey.  But at least it was quiet, no wind at all, because wine hates being bottled when its windy.
First off the line was the chardonnay-chenin we've made for Colaris, Holland's « Importer of the Year » …. the very first of our 2012 wines to leave the safety of the winery and face the world through the glass of a wine bottle.
It's a big moment.  The proof of the pudding, so to speak.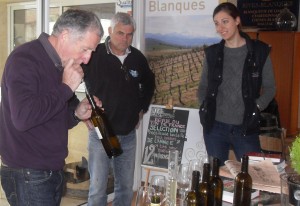 The result not only of a year's work in the field, but also of careful, considered winemaking, and some thoughtful blending.  There we were, just before Christmas,  putting this wine together, and now here it is, blended, bottled and ready to run.  All set to speak for itself.
Jan twists the screwcap. Pineapples, exotic fruits and just a touch of grapefruit come pouring out.  What a nose!  We smell.  We smile.  We smell again. Wow, what a nose!
And then we look  at each other appraisingly.  Where did it get it from,  this nose;  this  beaky, button, hawk, pug, snub, aquiline, retroussé, Roman, aristocratic, Greek, boxer,  or whatever nose – it's not mine and it's not yours either.  Yours is large-ish, mine is small-ish, but this one is explosive.
And in the mouth it's pure, clean, like a mountain stream.  Clean but also big.
« Big mouth » comments Jan.
Big mouth, yes.  Well, we all know where that comes from.
Friday 25 January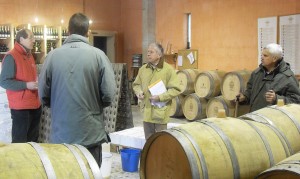 Another cold, long hard slog in the cellars today, getting to know our barrels better.  Started off with the mauzac, tasting the wine barrel by barrel.  They all have a name and they all have a number, and again, as always, we are astonished.  Two identical barrels – same age, same provenance, same governance;  the grapes picked on the same day, everything but everything absolutely identical, and yet … two different wines.  It is 7 degrees and bitterly cold, but the wine lifts our spirits.  I love this mauzac, it's going to be great.
Sunday January 27
Blue By You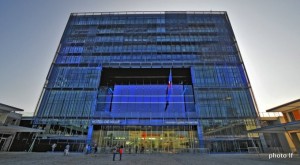 The new Mairie of Montpellier is an eye-catching blue box standing near the river, known as Le Cube Bleu, one of the New York Times' magazine's 'must-see' sites in France. You can see it from all over the place, from all parts of the town, as you drive up and down, over tramlines, up tramlines, down one-way streets the right way and then the wrong way, trying to get to it. But  vaut le detour, no matter how many detours it takes to get there.
 And this is where the Vinifilles are having their gala tasting tonight. Our space is a vast space: the walls are papered in shimmering silver, and one entire side of the room is taken up by a vast blue window with a vast blue view over the river below. In short, it is stunning. Gob-smacking. Awesome. No wonder we came dressed in glittery silver high heels and glittery dresses: a far cry from the vigneronnes female winemakers who were out there pruning their fields today.
Twenty Vinifilles, 120 wines, 16 appellations: all of Languedoc Roussillon under one roof and in one room – and what a room.
I've had some beautiful wines here today", one highly-placed, highly-respected British wine-buyer confides, " but the market! The market, my dear, the market simply won't take it."
What on earth do you mean, won't take it?
The British are not prepared to pay good money for good wines from the Languedoc. They will pay good money for mediocre wines if they say "Burgundy" or "Bordeaux" on their labels, but not if the label says "Saint Chinian" or "Faugeres". For example. Or "Terrasses de Larzac" for that matter.
"Such a shame" he continues. "Such lovely wines, really super".
Could have shrugged this off if only I hadn't heard exactly the same thing at the Wine Professional fair in Amsterdam, where some seriously important importers actually talked about a wijntje from the Languedoc, a 'little wine".
Sorry mon ami. Languedoc doesn't do many 'little wines' any more.
Next in the line passing my table, a French wine buyer from Paris. He speaks English and enjoys speaking it. "I 'ate Paris" he says, "ze market is so boring. Zey only want Big Brand Names, Jean Paul Mas, Gérard Bertrand, zat sort of theeng. Big brands and also cheap wines. I am trying to get back to London, where ze market is much more adventurous. Where zey know and appreciate ze qualité of ze great wines from zis great région"
"You'd better get yourself to New York, young man," I say grimly.
And when the wonderful, hugely successful tasting is over, I go out to dinner with a couple of my favourite importers. They pour over the wine-list at Montpellier's iconic restaurant, Chez Boris. "Shall we splash out?" one asks, "€ 90 for a bottle of Cal Demoura?"
"€ 90 the other says. € 90? No mate, sorry. I can't spend that on a Languedoc wine. Just can't do it".
Monday 29 January
Bio with Brio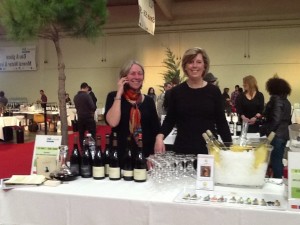 Up bright and early for Millesime Bio, billed as the 'biggest bio wine fair in the world'. All organic, completely organic, not just trying to be. Which is why we can present only one wine, one that has finished its three-year trial period and can be labelled Organic as of the 2012 vintage: it's our Occitania, the 100% mauzac, but it's only a sample from the barrel, not the finished product (for the simple reason that the 2012 vintage is still in the barrel). So the big ice bucket goes on display with four bottles of the same wine in it. Two of them are samples of Occitania made with completely natural vineyard yeasts. Two are bottles from barrels where we used selected commercial yeasts. We may not have much to show, but we're going to have fun showing it.
A lot of people stop by just to say how much they enjoyed last night. That's gratifying.
A flash of sun strikes the bottles from a sunlight overhead, and some people stop to taste just because the wine is glowing like gold.
And some people come because they are genuinely interested and would like to taste Occitania 2012 before it has been made, and that's where the fun is.
 "Which do you prefer, and why?" I ask, pouring out two glasses. These are very good, very accomplished, very experienced tasters. Much better, more accomplished and experienced than I am.
 They all immediately identify the wine made from natural vineyard yeasts, which is clever. It's more pure, fresher, has more personality, with a slightly bitter finish. The other wine is fuller, fatter, more explosive on the nose. But which do they prefer? Divided jury.
 So where does that get us? No where. Excepting into a lot of interesting conversations.
Tuesday 28 January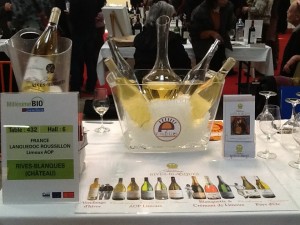 We're sharing our stand with Brigitte Chevalier of Domaine de Cebene and her wonderful Faugeres wines. She's going great guns, so I slip off to lunch. This is France, and it's lunchtime after all.
There are only two other people at the table, two elderly men, with the bottle of champagne that has been donated to every table, firmly lodged between them. They're having a conversation written by Beckett:
 Do you want another roll?
Pause
No.
Pause
Do you want another roll?
Pause.
No
I eavesdropped, riveted, because (a) there was no one else to talk to (b) there was no internet and (c) they were speaking in Dutch, which makes it less obvious: people speaking Dutch in France cannot possibly expect the stranger sitting at the table with them to understand. The conversation continued:
Champagne (raising the bottle)?
Pause
OK (pause) Just half
Pause
Do you think that lady would like some too?
Pause
Maybe
The elder of the two galvanises himself and calls across the table:
Mevrouw?
Yes? I reply in Dutch
Would you like a glass of this champagne?
Yes, if it's drinkable, please
It's not bad, he continues, passing the bottle over.
As if it were the most natural thing in the world to be speaking Dutch at a wine fair in France full of French winemakers.
//…to be continued.