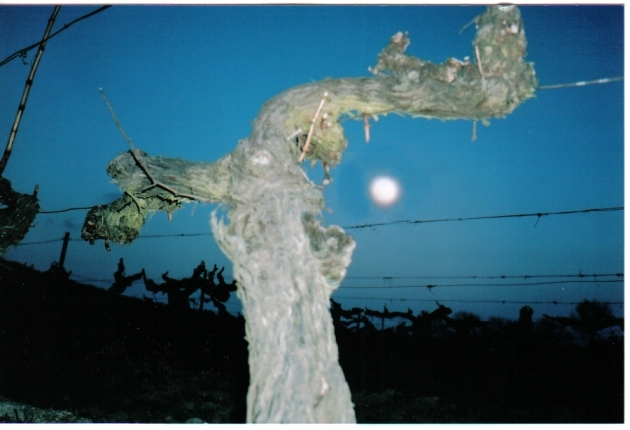 New years that come in under a Blue Moon happen, well … once in a blue moon, and this one, shining full, fat, flat, and very white over Rives-Blanques had all the makings of a portent of good things to come. Some of the old people around here say that a year with thirteen moons will be a bad one – but a quick consultation confirms that that this moon actually belonged to 2009, although it shone right into 2010. So that's okay and we're off to a good start, covered on all sides. The highlight of the month will be the bottling of our (2009) Pays d'Oc chardonnay/chenin: mournfully and lamentedly out of stock for over a month, making us as sad as the pub with no beer. Also on the agenda, more travel: to the UK for a Languedoc wine tasting organised by the Great Western Wine Company at the Maison du Languedoc. And there's another, greater voyage on the cards – this one through all the wines of the 2009 vintage, as we start the serious business of beginning the blends.
Saturday 02 January
Epiphany
Slowly recovering from the excesses of Christmas and New Year – and then our colleagues/friends/competitors Pierre and Marie Claire Fort find the solution to all our good resolutions: throw them out of the window. They invite us to an Epiphany dinner: fresh fougasse, succulent duck roasted over hot coals and a line-up of incredible sauvignons: the legendary Didier Dagueneau's Silex (05), an 05 Pouilly Fumé from Chateau de Tracy, and Mellot's Sancerre 'Prestige'. Who could resist? We share a traditional Epiphany cake, and Pierre draws the Bacchus hidden inside it. He deserves it. But the crown still belongs to Dagueneau.
Monday January 5
Cold Comfort
You cannot imagine the solitary solitude of the pruner of the vines today. Big, grey, snow-filled skies hanging over utter and absolute silence, as if the world were holding its breath and waiting for an avalanche. Mak continues his quiet, contemplative work snip! snip! snip! moving efficiently from one vine to another. It is cold, very cold.
Thursday 07 January
The Rives-Blanques Curiosity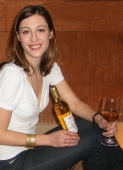 Had a good giggle last month when Jancis Robinson dubbed our Late Harvest wine, Xaxa, "a rather delicious oddball". Big praise for the wine, but rather ambiguous for the person after whom it was named. In fact, Xaxa will never live it down (we won't let her).
Today we received the results of a Languedoc tasting done by the Best Sommelier in France, Dominique Laporte. In the Gazette des Saveurs he highlighted fifty of the best Languedoc winegrowers, "artisans of the vine, whose expertise and great professional conscience – recognised the world over – can be found in these truly exceptional bottles".
We were very pleased and flattered that his eye fell on our Blanquette … particularly since last month it was our Chenin blanc, Dédicace, he had selected to be showcased by Sud de France at the Wine Future conference in Rioja. Two in two months from France's No 1 is pretty good going.
So now it is our Blanquette, produced by an 'astonishing' Irish couple. [Quite like being 'astonishing' – and wouldn't mind being an Irish couple either, instead of just quasi sort-of]. "But if you're really curious" he advised, "leave the bubbles and try Xaxa instead. Made with 60% Chenin blanc, this is a real curiosity in the region."
And thus our rather delicious oddball became a real curiosity in the space of just a month ….
Saturday 09 January
Snowed In, Blanqued Out.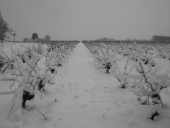 This is the not the first time we've had snowfall at Rives-Blanques. But for us to be completely cut off , snowed in and and blanqued out happens … once in a blue moon. Quite white, alright: everything in monochrome – vines dancing like Sugar Plum fairies over fields of snow, swathed in frothy layers of white light. Very pretty. Very cold. Very never-ending. The Mayor sent a tractor pushing a snow plough before it like a sculptured prow, to dig us out this morning, but by teatime we were snowed right back in again. And the snow keeps falling. Jan paces the floor deep in thought: on Monday the truck is supposed to arrive to filter the wine. On Tuesday the other truck is supposed to arrive to bottle the wine. On Wednesday another truck comes to collect the wine.
No way.
The only way to Rives-Blanques is by helicopter, and even that's doubtful.
Monday 11 January
Bad Bottle Day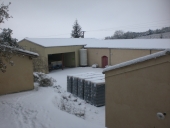 He is small, powerful and compact , with all the makings of a rugby player. No doubt about it. But he is also a winegrower – and the man responsible for our bottling. He truly is the sum of his parts, good at passing, pruning and pouring: the ideal bottler for a vineyard as full of obscure requests as Rives-Blanques. And the good thing is, he tolerates our moods and fancies with good humour: okay, so it's not an auspicious day for you, I'll change my whole programme and do your bottling when it is. This sort of cooperation is precious beyond words. It doesn't get much better than that. Plus, he is blessed with a pair of singularly bright blue eyes, which are always laughing. And there is a huge big smile perpetually painted on his face as well.
But today he refuses to sit down. He refuses even to take his coat off. His eyes are avoiding us, shifting, divided between the floor or the middle distance beyond our left shoulders. Exactly where our empty bottles are standing, frozen to death in the snow, waiting for him to fill them with Pays d'Oc. His eyes suddenly take on a different, less well-humoured hue. And his mouth is turned into a downward U, rather the same shape as the courtyard below. Shifting from foot to foot he delivers the bad news
He cannot bottle our Pays d'Oc tomorrow. He can't even bottle it this week. Not even next week. Maybe the week after …
Well, you can see the problem. Through the window the fields are pristine white. The road is a sheet of ice, only just made barely passable this morning. His bottling truck is stuck in some other part of the country. He has other clients clamouring. And we are still frozen solid. We will be the victims, right at the very end of the bottling line.
We cry and sob and beat our hearts, and exclaim that we have three trucks coming on Friday to collect the wine (if they can get through). Jan tries to persuade him to rewrite all next week's arrangements to include us. But to no avail. Our rugby-playing fellow winegrowing bottler sidesteps the tackles and disappears into the great white beyond, leaving us in limbo.
Tuesday 12 January
Still Snowed in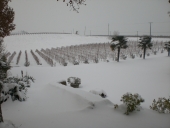 Yesterday was supposed to be filtering day. But the filterer couldn't get to us. Today, a heroic effort, and he lands himself in a snowdrift a few hundred metres from our door. All our tractors out to pull him ashore. Then he starts filtering, and his apparatus freezes. It's a long cold process. This is a bottling quite unlike any other. Jan paces the office looking at our beautiful snowclad view. And then says, "thank God it's started to rain".
Wednesday 13 January
24 Little Hours
What a difference a day can make. We're warming up, thawing out and coming back to normal. The bottler phoned: he's coming next week. A small victory. The electro-dialyse man phoned, he's coming on Friday. A big victory. Finally our Pays d'Oc Chardonnay du Domaine 2009 is on its way. We hope
Thursday 21 January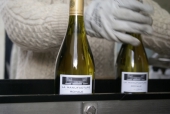 For us to run out of our Pays d'Oc months before the next vintage is bottled is a bit of mismanagement that happens once in a blue moon. And then for that bottling to be delayed because we are snowed in (and snowed under), is a case of serious mismanagement that happens even less than once in a blue moon. So things were quite gloomy yesterday, when suddenly the temperature rose and the rain fell – in bucketloads, pelting down and looking set to go on right into today's bottling. A case of mega-mismanagement: cold wine going into warmer bottles and all that humidity building up around the labels is not the recipe for a happy bottling day. Things were not looking good.
But instead today dawned like a tea-towel on a washing line: a little limp at first, and then gathering strength – and finally flying boldly, flagging a perfect, headache-free session.
We whistle through it. Our chardonnay/Chenin is in the bag – or in the bottle rather – and absolutely nothing has gone wrong. The whole place resounds to the rhythmic clink of bottles merrily going around the bottling line. There are smiles all round. It's under control. We open a couple of bottles at random, and the wonderful bouquet of white flowers and tropical fruits jumps out like a genie. Nearly knocks you out.
… and then we see that our carton suppliers sent the wrong cartons with last year's barcodes on them.
A completely headache-free bottling comes, well, once in a blue moon. And it wasn't this one, after all.
Friday 22 January
Le Re-looking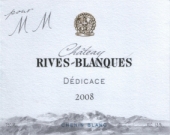 He is tall and elegant, sharp-suited and smooth-talking. When he addresses Jan, he prefaces each sentence with "Jan". When he talks to Caryl he starts with "Caryl". When he talks to us both, it's Jan'nCaryl in one fluid breath.
It takes him just an hour to persuade us to throw overboard our beloved labels, and revamp the whole AOC Limoux range.
"Com'on Jan'nCaryl" he croons, "ït's just a question of seduction. Your labels are lovely, but they don't seduce. " The bottle lies weakly in his hand, already seduced and too limp to protest. "Com'on Caryl, you remember your first date? The pretty dress, the hair all glossy, the makeup, the nice perfume, looking at yourself in the mirror from the front …."
The bottle sits up and takes notice. He turns it around
"… twirling around to look from the back … Smoothing down your skirt …" He runs his hand over the back-label … pauses for thought and then puts the bottle back firmly on the shelf, and cruelly dismisses it. On the shelf: where he thinks it belongs
The bottle looks bereft.
"Your labels are beautiful" he assures us again, "but you know Jan'nCaryl, they just need a little … something? A little, as we say in French, re-looking?" He grabs an eraser and starts whiting out most of the text on the label. The attack is ruthless. We are mute.
"Now, Jan'nCaryl, isn't that better?"
It is.
"And Caryl can we have that designed, printed, approved by the authorities, and on the bottle before the end of the month?"
We can.
In fact, anything you say. No matter the printers are on holiday. No matter it's an impossible request. No matter that the paper has to be ordered. But he is right, this smooth-talker who has the guile and the gall to tell us to our face that our beautiful children are actually pretty unpresentable
And today, just four weeks later, we label the bottles.
In fact, today the whole world is undergoing a bit of re-looking, not just our AOC wines, but the entire Pyreneen panorama looking down on us as well….as if Bertrand has been out with his tipex and whited out all the superfluous stuff, leaving us with a pure, pristine day such as you've never seen.
Wednesday 26 Janury
In the Maison du Languedoc in Cavendish Square, London with a handful of other Languedoc producers, showing our wines to the clients of our mutual importer, Great Western Wine Company. The day starts slowly, which is just well: we have the time to go around and taste each other's wines, always the best part. And then they start trickling in: the French mafia, no, let's say brotherhood of London's sommelier world, wine shops, restaurateurs, events managers. The most interesting are the sommeliers – intelligent, informed, and interested, our direct link to the diner ordering his wine. They are the acid test for our newly bottled chardonnay-chenin Pays d'Oc, and we watch intently as the glass goes slowly to the trained nose and the discerning palate…
Whew!
…/to be continued.