We're always careful of what we ask for.  But it seemed certain that we had to ask for winter.  January was so balmy that colleagues in (lower) parts of Limoux were reporting that their vines were already beginning to stir.  Further afield, the first little buds were already beginning to show on the vines.  You don't want that – not at this time of year.  So, although protected by our cold nights, we asked for winter… and that is exactly what we got!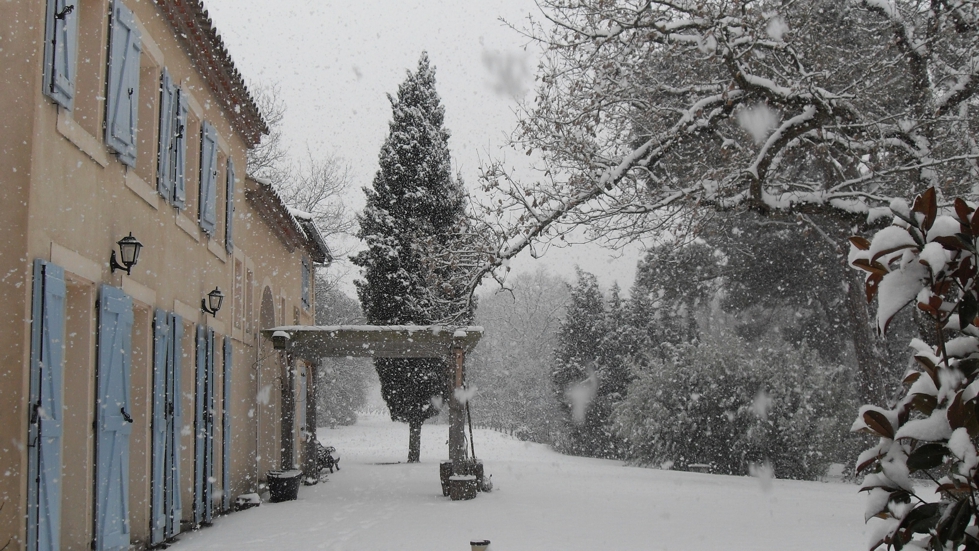 This is snow of a particularly luminous, brilliant, pristine perfection.  It stays and stays and stays.  The result is that Rives-Blanques is snowed in, cut off, and closed down under a blanket of white – never have our rives been so blanques.  February has come to our plateau with a vengeance.  But we're also pretty snowed under in the office, where we shiver in furlined boots, gloves and woolly hats: two important trade wine fairs this month, Vinisud and ProWein, mean our (frozen) hands are full and our desks overflowing.
Friday 3 February
Decanter 'discovery'
Good, great, news.  Decanter magazine has published an 8-page supplement on the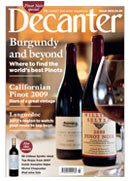 Languedoc in this month's edition,  zooming in on the region's top appellations.   And the region's top wines.  Written by Master of Wine Rosemary George,  and the award-winning wine writer Andrew Jefford, whose fluid, fluent pen is never short of exactly the right word, it makes compelling, if not compulsory reading.  The fact that the Blanquette de Limoux from Rives-Blanques is listed amongst the top wines, and awarded a magnificent 18 points, makes it positively compulsive reading for us!  The full article can be found by clicking on the magazine cover.
Saturday 4 February
Vinifilles – at it again.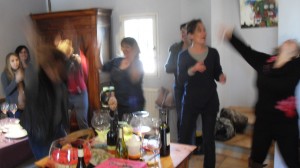 The Vinifilles is a group of female winegrowers from all around the region.  It unites some of the most renowned vineyards and boasts some of the most respected winemakers of Languedoc-Roussillon.  So what are these Vinifilles doing, capering around in the kitchen of Chateau de Rey in Roussillon, like a bunch of clowns?
Sorry, I'm not allowed to tell.
But I will say, being a Vinifilles, even a lesser-known Vinifille, means you end up in some of the oddest places.  Like a dance rehearsal hall in a small village called Saint Nazaire, where we've just been going through our paces.
You wouldn't believe the rest of Saturday spent in serious 'réunion' … though no one at home could understand why this particular Vinifille was still laughing when she finally rolled up barely in time for dinner..
Sunday 5 February
Let it snow let it snow let it snow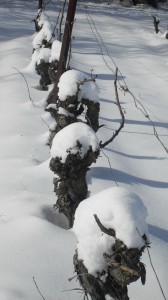 This is a sight not often seen: mauzac under 20 cm of snow.
It continues to fall from the sky in fat, fluffy flakes.
The newspapers and TV talk about le grand froid. 39 Départements are under Orange Alert.
Life comes to a standstill.
Friday 10 February
Carte Blanche
By now we're up to over 50 departments under Orange Alert. Nobody comes, nobody goes, Rives-Blanques slumbers quietly under a cold duvet of pure powder . We each adopt a chair next to the fire in the kitchen, and draw it ever closer. The office is freezing and no one ventures into it. Work comes to a complete standstill in the vineyard.
No punters come, no trucks come, no wine leaves, no mail arrives.
Everything on ice, so to speak.
Saturday 11 February
Three times lucky
Ah, but here's some good news to warm our hearts!
La Trilogie, our top Limoux blend of Chardonnay, chenin blanc and mauzac, has been chosen by French winewriter, Antoine Gerbelle of La Revue du Vin de France, to be presented at a gala dinner in Paris next week. At the Violon d'Ingres, no less, the restaurant belonging to the Crillon's former three-star chef, the legendry Christian Constant…
And then the week after, La Trilogie goes to London in the company of Master of Wine Rosemary George, who will be pouring it in her Master Class on the Great White Wines of the Languedoc…
And the week after that, Marcus del Monego, winner of the Best Sommelier in the World title and Master of Wine, will be pouring it at the hotel Liedberger in Dusseldorf …
We're going no where, doing nothing at the moment. But at least La Trilogie is moving fast, and in high circles
Wednesday 22 February
Veni Vidi Vinisudi
What a Vinisud!  The biggest Mediterranean wine fair swallowed us up for three days and three nights – and we have emerged unscathed to tell the tale.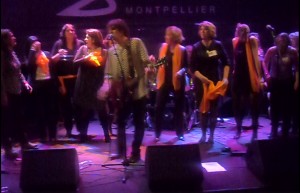 Vinifilles pre-Vinisud rock 'n roll party was a sell-out success, and delivered us into Vinisud smiling unerasable smiles.  Wine is serious business, but it is good to laugh.  The Vinifilles are serious winemakers, but they like to laugh too.  And dance, and caper around on the stage …
The Outsider's 'leftfield' tasting also scored some smiles.  People were invited to describe
the wines they were tasting with pictures rather than words.  Sylvie Tonnaire, the respected editor of the glossy wine magazine Terre des Vins described our Vintage Rose with a picture of racing grey hounds.  « Because it is super-dynamique » she said.
Then the Carnival of Limoux came and blasted us out of our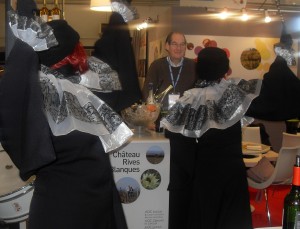 seats.  There were quite alot of bemused smiles around then – excepting for the limouxins who all promptly jumped to their feet and joined in the dance.  The importer talking to Jan did a rapid disappearing act, leaving Jan to face the music.
But what really put the smiles on our faces were the orders we received.  Almost everyone we have spoken to was just as smiley-faced about Vinisud as we were.
Does this mean things are on the upturn?  The proof of the pudding will probably be at ProWein.
…./to be continued.