Every harvest presents its own challenges, and this one is no exception. Most challenging of all has been the weather. They say – actually, we say too – there is no such thing as a 'bad' harvest, there are only 'bad' winemakers, who haven't responded to the weather's challenges in the right way. But when the weather challenges you with vicious hail, or torrential rain of epic and historical proportions, then there is not much even the best winemaker in the world can do … apart from surveying his ravaged vines in despair. So we can't take any credit for the fact that this has been a brilliant harvest at Rives-Blanques – so far.   The rain skirted around us, the hail never fell, and the vines quietly and consistently continued their leisurely pace towards ripehood. After a slightly wobbly start, blue skies dominate the field in early October, and blaze over Rives-Blanques as we continue our harvest …
Wednesday October 1
Seeing clearly now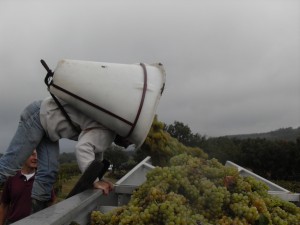 The day started muddy, melancholic and mistful – but with the glimmering hope of sunshine.
A dry wind was blowing steadily from the west.
The harvesters were mired in mud, trudging in slow motion from vine to vine.
Oh-Danny-Boy comes up to Jan and whispers, "next year, can  I please help in the winery instead?"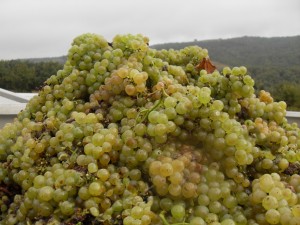 "No, sorry", I interrupt, "because that'll mean I'll have to cut the grapes."
His creased face crumpled into a ball of disappointment, and he looked ready to cry.  Then he shrugged his shoulders and trudged back to work.
But by lunchtime the sky was a blazing Mediterranean blue, and the mood was high.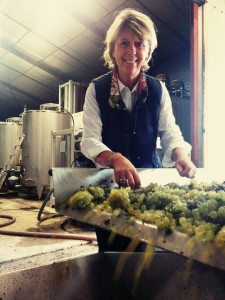 Even better, the grapes were brilliant.  And I know because I was there.  Checking every single one of them.
The lab reports comes in, and everything looks great.
We're on a roll.   The perfect ChardonDay.
Thursday October 2
Putting your foot in it 
And today was the most beautiful day of the year.  Nothing but blue skies,   and beautiful chardonnay.  Life is good; very, very good.
Until suddenly it isn't.   The advantage harvesting machines have over harvesters is that they don't suddenly pick quarrels with each other and start brandishing secateurs in a menacing and dangerous way.  With Jan  caught in the middle at the sharp end, manfully keeping them apart.  It was tense, but it was brief, as the world stood still and held its breath.  And then the world found its feet again and settled back into happy perfection.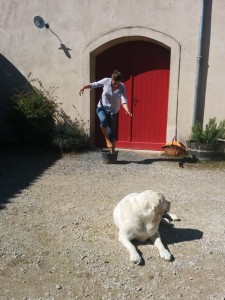 On the home front, Xaxa cooks up a pied de cuve by tramping grapes with her feet.  The feet are obligatory, though no one can quite explain why.  We leave the pied de cuve in the warmth of the sunshine until it starts fermenting, and then  use it to kick-start the fermentation process instead of using commercial yeasts.  Some people say you never should do this, others say you always should.  We do it sometimes, most of the time in fact, but not always.  But we like the idea of natural fermentation, using yeasts from the vineyard, though sometimes we make a pied and then don't use it.   That's winemaking for you.  No manual.
Friday October 3~
Chenin Blanc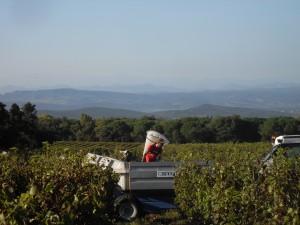 Harvesting doesn't get much better than this.  Only one problem: there's not much of it.  The old chenin vines are yielding less and less, and today the speed of the harvest confirms they're down to the lowest point ever.  We're racing through the field, and have to start thinking about what to do next.  Mauzac is next on the line.
Or we could relax, perhaps.  Give the mauzac a weekend off
And give ourselves a weekend off as well.
Monday October 6
A completely unforecast 15 ml of rain suddenly poured down, pulling us out of our midnight sleep,  which was both unfair and unwarranted.  Quick change of plans: the field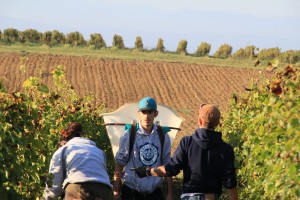 for our Cuvée Occitania is too dangerous for the tractor if the ground is wet, it will need another day to dry out.  So we wake up to another glorious day breaking over Rives-Blanques and attack the chenin blanc instead.   Incredible how good the weather is. Incredible how good the grapes are.  Everything absolutely tickety-boo.
Incredible, in fact.
Tuesday October 7
Today we harvest the mighty mauzac for our cuvee Occitania.  A beautiful sunrise accompanies the harvesters, ushering in a gorgeous, fresh day.  They zip through the Cépie field in record time.  All past grievances are forgotten and everyone is getting on famously.  The dancer suggests he puts together a performance of the seasons of the vines. … in the vines.  Not a bad idea at all.  We'll think about it when we have time.
The owners and staff of a hugely successful restaurant business in Cambridge (the British one) come for dinner.  We open a bottle of Odyssée 2002 for them. Delicious!  We are proud  of our chardonnay.  We open a second bottle: simply wonderful!
This gives us renewed hope for Harvest 2014.
Wednesday October 8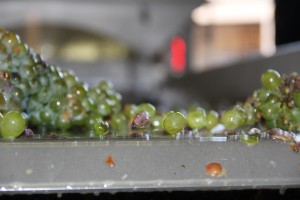 Hope is justified.  We watch the last grape roll down the sorting table and into the press.    It's good when the harvest begins, but it's even better when it ends.
And it's  best of all when it's good.  And it is good. This has been a very, very good harvest.
We finished off in front of the winery in the Eden field, a fitting end point.  Patricia, who is our 'oldest' harvester, in fact hasn't missed a year in fourteen years with us and was harvesting here even before then, sighs and says, « It really bugs me when people just knock back a bottle of wine.  If they only knew the work that goes into it …! »
Indeed, and all the stories that lie at the bottom of each bottle!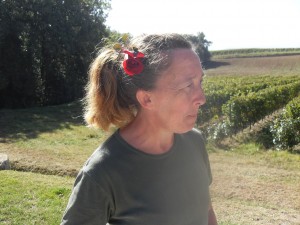 We are joined by the Cambridge Cuisine restaurant group from the UK, who have come to share the pain of  harvesting but instead find us all in a  holiday mood.
Happy?
Lyrical
!
Fiday October 10
Crying Lagremas of Joy
Heavy rain, thunder and lightning last night.  We don't give two hoots and roll over luxuriously in deep sleep.
And wake up to  a cold and overcast day.
And what do we find? That Jancis Robinson has written a splendiferous review on our late harvest chenin blanc from the Eden field.  Such timing!  And how honoured is our Lagremas d'Aur to be hobnobbing with its  legendary and iconic – noble, you could say, Vouvray cousins in her chenin blanc tasting notes (here)!
Sunday October 12
The Video

This is the last word on our harvest – until we have our Harvest Banquet next week.  As told by Marvin Gaye …
Wednesday October 15
Burghound sniffs it out 
The master American critic of Burgundy and Champagne wines, Eric Meadows (« Burghound ») was persuaded to venture beyond his borders and taste the 'other' French chardonnay, from Limoux.  His report arrived today … to mixed feelings.  He says of all the Limoux's tasted that they do not have great ageing potential, whereas we all know the contrary to be true.  But he also says the wines offer fantastic price/quality ratios, which is indisputably true.  And he positively encourages his readers to go out and get a good Crémant de Limoux instead of Champagne … if they don't want to bankrupt themselves on a graduation party, for instace – a compliment, yes, but a slightly backhanded one.
Even so, we are delighted he has tasted our wines and got to know Limoux.  And not a single wine of the twelve producers he tasted got less than 85 points.
And of course, it is a privilege to hear the comments of a true expert whose palate is honed on the best of the benchmarks.
But even so, maybe  in ten years time we will present the same vintages again to prove our point …
Saturday October 18
Party's Over!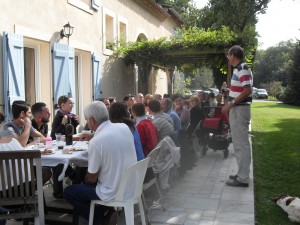 We meet for the last time.  We raise a glass of the wine we harvested last year to this year's harvest.  This time next year we'll be back again, raising a glass of 2014 to next year's harvest.  And so it continues …
I find myself sitting opposite one of our pretty and immaculately groomed harvesters, the one who always looks as fresh as a daisy, as if she's just stepped out of a beauty parlour.  How anyone can do that work and always look so clean and neat  is a mystery.  I ask an innocent question (« How long have you lived in France? ») and end up going down spirals of memories: from fleeing  home with a small child and another about to be born,  living for three years in refugee camp where food was sparse and comfort sparser, then the trip to France, a new life, a new language.  She has never been back.
She smiles.  « C'est la vie » she says philosophically.  « We can do almost anything if we have to ».  Even in repose, her unlined face looks calm.
We have wine, we have stuffed partridge, a selection of cheese, and a number of sticky desserts.
It's a really nice way to end a harvest.  Not the sort of thing you'd share with a harvesting machine.
And then everyone leaves.  « See you next year! »
Yes indeed.
When we'll raise a glass of the wine we have just picked the grapes for, and tell more stories that make time stand still.
And then something really amusing happens.
A client comes by, in a small rented car with two children in the back seat.  He introduces himself.  He hasn't come to buy any wine, he's just come by to say hello.  Jan doesn't immediately remember him, but then the penny drops.  Yes, of course! This is the fellow who came in a big station-wagon a few years ago, with two tiny children strapped into the back. He kept buying wine.  More wine and more wine.  He put so much wine in the car we began to fear we'd be left with the children in exchange.
Finally he said to Jan, « How much is that? » and Jan started calculating the cost.
« No!  I don't mean how much money,  I mean how many kilos!
Apparently he had just heard from the TGV that the rules had changed and that his car had to be 5 cm lower.  So instead of flattening his tires, he very sensibly weighed himself down with wine.
And now he came by to say hi, and to say how much he enjoyed swimming in Rives-Blanques wines for years afterwards.
Wednesday October 22
Brilliant, dazzling, incredible weather continues.  It's summer all over, in fact, summer as it never was and should have been.  Soon the vines will start flowering again, this is almost ridiculous.  The sunrises are beautiful, the sunsets are beautiful, and everything in between is beautiful.
Just as long as it holds.  This weekend we've got Decanter magazine's Languedoc expert coming to discover Limoux.  Lovely luminous light-filled Limoux.
We've got bottles pouring in, all to be collected, collated, and catalogued in order to be tasted by the expert.
We're painting the room he'll sleep in.  Shoving a bed into it, hemming and hanging curtains.
And we're pre-preparing breakfast, lunch, dinner and breakfast again, to be had with and without colleagues… with and without Limoux's wines.
Thursday October 23
God bless a good daughter!  Xaxa comes home to help lug bottles up and down, in and out of  refrigerators, open and close them.  And to be the backroom boy in the kitchen: cooking,  cleaning, clearing and controlling.
Jan pere and Jan fils  get on a flight to Holland for a wine tasting there.
That leaves mother and daughter fending the fort.
Friday October 24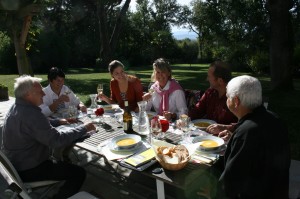 Lunch is relaxed.  The morning has been spent tasting white Limoux wines, and we are interested to know what he thinks.
« I don't see the point of chenin » he says.  This strikes a arrow in my heart.  It freezes.
« What? » I bleat, « but Limoux can produce such a wonderful expression of chenin! »
And send Xaxa down to open a bottle of our late harvest chenin, to prove the point.
He looks unconvinced.
« Well, it's a nice natural way to acidify the wines, if you need to »,  Jean-Louis adds, unhelpfully.  Jean-Louis is probably Limoux's most famous winemaker, and I'm disappointed he doesn't support me.  « Don't make it any more, myself » he adds.  « Impossible to sell. »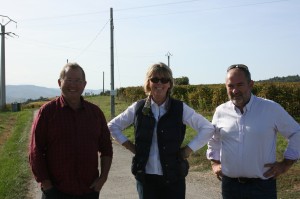 Oh well.
Then we do a tour of aforesaid lovely, luminous,  light-filled Limoux, exploring its four different terroirs.  Seeing Limoux through someone else's eyes is a wonderful experience: it really is splendid –  unlike one's house, say,  when seen through the eyes of a critical mother-in-law.
Back home for a tasting of 30-odd bottles of fizz, and a handful of pinots, while Xaxa and I throw dinner on the table.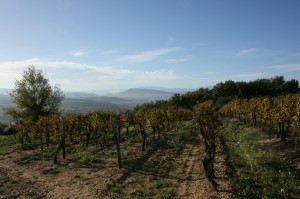 Dinner conversation touches on the magic and mystery of Blanquette Ancestrale, the old-fashioned, authentic, artisanal way of making fizz.   It's essential to have the wine in the bottle by the first moon of March, otherwise it won't work.  Or at least, that is what I have always been told.
So we ask Bernard, the biggest producer of Ancestrale, to lift the cover off the secret.
With disarming but entirely damaging candor he says, « Rubbish!  A genuine Ancestrale doesn't exist any more.  There is no magic.  There is no mystery.  It's all technology …. »
It's been a long day.
Saturday October 25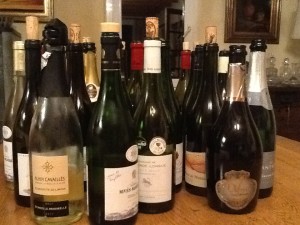 At breakfast with croissants and a hard-boiled egg,  mother and daughter actually have a moment to talk to their guest for the first time, and discover that he is a very nice man indeed.  We're just settling in for a good long chat when the phone rings.  It's a sommelier from Holland with his four travelling companions, due to come and taste our wines at 11h30, and coming instead at 10h00.
We look at the chaos of open bottles around us.  Oh well, at least they'll be able to taste just about everything that Limoux  has to offer.
The question is, what will the critic say about them?
Tuesday October 28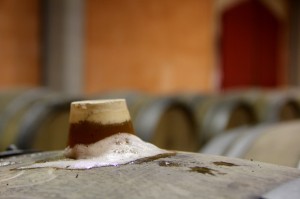 Things are humming along splendidly in the cellars.   Some of the barrels have already finished fermenting, and others are still at it.   Click   here  for an inside peek – but what you can't get is the wonderful sound and smell of this miracle.  We all keep bumping into each other in the cellars, really the only place to be.  If you have what's called 'stuck' fermentation, that can lead to huge problems, so it really is a cause for minor celebration when it all hums along like this.  Everyone is very relaxed and very happy.
…/to be continued