We haven't had such an awesome autumn in years: a jewelbox cramful of rubies, topaz, garnets, quartz,  and glittering gold.    The sky, needless to say, is sapphire blue.  At night, it deepens into polished onyx studded with diamonds and a ridiculously bright moon made of rock crystal.  You simply cannot get enough of it, and we are all finding excuses to spend all our time in the vineyard.  It almost hurts your eyes.   Even the camera can't cope with all that splendour, it simply isn't big or brave enough to contain it all.
Sunday November 1
Dutch Masters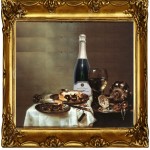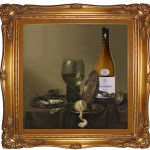 Can hardly bear to tear ourselves away, but work calls. Caryl heads off to Brussels airport and then on to a small town in  the south of Holland called Weert,  to pour our wines at the Open Door tastings of one of our top Dutch importers, Wijnhandel Colaris.
Jan and Jan-Ailbe head off to Amsterdam, for a gala party at the fabulous Rijks restaurant in the Rijksmuseum.  Its super-celebrity chef Joris Bijdendijk cooks up some traditional Dutch works of art to mark the ultra-chic's restaurant's first anniversary, while all the winemakers responsible for the wines on his winelist are invited to come and present them to the special guests invited to this event.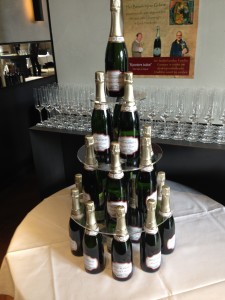 It's pretty amazing.  An aperitif of our Blanquette de Limoux gets the party going, and our chardonnay, Odyssée is served with the meal.   And when it's over, the winemakers have a private viewing of the Night Watch :  what more could you want?  This isn't work – or if it is, then we would all happily  work much, much harder…
That, anyway,  is the thought going through my head as I am worked off my feet by some 800 customers pouring through the door and into the freezing cellars of Colaris, for their annual portfolio tasting. The good thing is, you don't need any ice to keep the wines at temperature.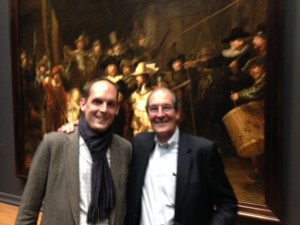 But the brief sour grape moment passes quickly: this is way too much fun.  Colaris is a great wine merchant, and their customers are very loyal – people come past that I first met maybe ten years ago or so.  It's like seeing old friends.  « Give my regards to your husband! » resounds time and time again.
« Yes I will! » I reply cheerily through clenched teeth, as the little sour grape threatens to raise its head again.
A lady comes up and says, « Delighted to meet you Mrs Panman, you've changed your hair, haven't you? »  Umm, well yes I have, but  we haven't met before, have we?  No we haven't, she's just seen the brochure.
A young man then looms over me. He starts talking about this being a moment of eternity: a moment with nothing before it, and nothing after it.  It's his life philosophy: Moments of Eternity.  He takes a step forward, I take one back.  In no time at all he's on my side of the table,  and I'm on his side, and he's still speaking intently: « you must leave things to your children!  In fact, ask them to forgive you! »
« But it's my vineyard », I reply, pointing to the poster of our vines and mountains behind his back, which should rightfully be behind mine. »Why should I step aside? »
« But that's egocentric! » he maintains.
And then a lovely lady moves in, and asks for a taste of Odyssée.  « I'm buying two cases of this » she says.  « Your wine has made me poorer.  But it  enriches me. »
Oh, how I love this!  Does any of this sort of exchange ever happen to a wheat farmer, say? Or a dairy farmer?
No it does not.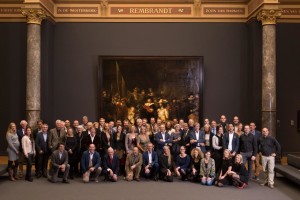 Best of all, dinner afterwards, talking to other winemakers.  I end up at a table full of Austrians and Germans, and all we talk is wine.  They are lovely people. They make lovely wines. Their problems, their ambitions, their aspirations, their situations are almost identical to ours.
Who needs dinner at the Rijks? Who needs to be keeping watch on the NightWatch behind the scenes at the Museum?
Monday November 2

Traffic jam at Brussels airport means it took me one hour to get from the airport entrance to the petrol station on the other side of the road.  Customs patted me down and pulled apart the poster of our vines and mountains – in the nicest possible way, so nice that I just left it lying there.  It was only later, when I was at the bottom of a down-moving escalator that I realised I couldn't get back up to reclaim it.  Then a mad 15 minute rush to the very last gate down the endless corridors, only to find it was the Brussels Air departure, not the Easyjet flight I was booked on.  A 15 minute sprint back to very beginning, where the Easyjet gate had already closed … but the good news was the flight was delayed. The bad news was it continued to be delayed.  Landed at Toulouse, and drove the long dark road home, counting the traffic for the fun of it.  It numbered 10 trucks, one car and one bus.  Into bed at 03h00 a.m.
Poorer, but enriched none the less.
Tuesday November 3
Still Going Dutch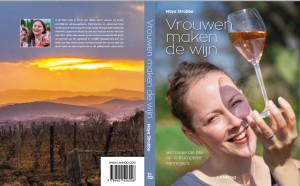 The Dutch wine magazine Perswijn comes out with its Winter Guide.  The Blanquette is one of four runners up in its price category for Best Sparkling Wine.
And a new Dutch wine book arrives, called Women Make the Wine, still smelling of fresh print. We behold its back cover with admiration: a lovely view of Rives-Blanques in winter.  It is written by a Belgian winewriter who has travelled through 12 European wine regions and interviewed 12 women in wine – including the one at Rives-Blanques
Wednesday November 5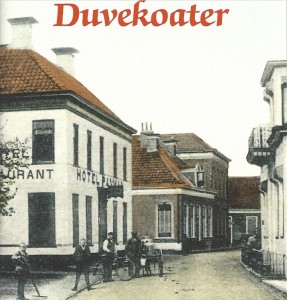 Received a magazine in the post from a customer of our Dutch importer, Colaris in Weert, who didn't make it to the wine tasting last week.   He remembered from previous tastings that Jan's ancestors come from a small place in Groningen, where they owned a large hotel called  Hotel Panman.   And he wanted us to have a copy of this magazine with its in-depth feature on that 'legendary hotel', complete with photographs of Jan's great grandparents and their family.
Again, I ask: what other kind of farmer has the privilege of this kind of contact with the end-consumer?  Wine is amazing.
In Oxford to visit our daughter Xaxa, in her second year of what they call a DPhil but the rest of the world calls a PhD.  Our first stop is to have a drink  at the Lamb & Flag,  a wholly commendable pub in all excepting for its wine list.  This is the pub that awards the scholarship which pays Xaxa's living allowance, so we are very forgiving.  And grateful.
And so appropriate that a pub should be funding the daughter of a winegrower.
Very good reason to have another gin and T…
Saturday 14 November
Woke up on Hasselt, a small town in Flanders, to the dreadful news of the ISIS assault on Paris last night.  Not ISIS anymore, but  Daesh, with its homophonous meanings of 'one who crushes something underfoot' or 'one who sows discord'.    Friday 13 has never been so ominous.
Meet up with the other French winegrowers in the neighboring, even smaller, town called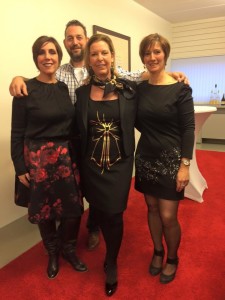 Zonhoven, for the Open Door tasting of our mutual Flemish importer, Justin Monard, run by the two daughter of the eponymous and late Justin.  The mood is somber.  The last time we met was last year: Burgundian  Pacal with his trademark hat, Nicholas from  the Loire, the diminutive couple  from the unhappily-named Mont Damné in Sancerre, where they make an amazing Pinot to the tune of traditional music played on traditional instruments, the young couple full of fizz from the Aube … and so it goes on.   We've all become friends of sorts over the years.  But this year everyone is more interested in talking about last night's events than reeling off our various sales pitches to Monard's customers.
Our importer treats us royally at the end of the day with wonderful wines, including an outstanding Yquem 2004, at dinner back in Hasselt.  Birgit had intended to celebrate the 40th anniversary of Justin Monard, but instead asks for a minute's silence for reflection.
Sunday 15 November
« This is the best white wine I have ever had » he says.  « It is amazing! »
It's easily the third or fourth time this pleasant albeit slightly tiddly man has been to my table to taste la Trilogie – though to be fair, he did say exactly that at the very beginning of today's tasting.  Now he's saying it again at the end of the day, only slightly more forcefully.
« Thank you.  You've really made my day » I reply.
He has, too.
« No! » he remonstrates, « you've made mine! »
Well, this is a really good way to end.  I pack up my goods and head back to airport early, expecting security problems at Brussels airport.  But there are none.
Tuesday 17 November
Saw the first darling bud of May
on a vine today
Which is odd of God,
As Winter's on its way.
Saturday 21 November.
Well,  that was that.  The temperature fell by 10 degrees in the space of an hour.  Winter has come.
Monday 23 November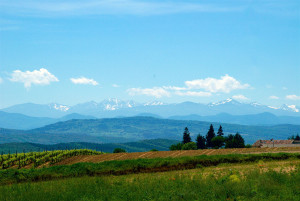 Got a wonderful email from an American family who came by to get some wine in the early summer.  A Thanksgiving message full of thanks, and some pretty spectacular photos.  Which I have to share.  And it's just like that today, excepting there's masses of snow on the Pyrenees, and the vines are bare.
Thursday November 26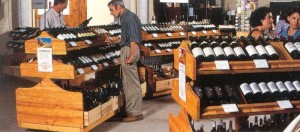 At moments like this, you ask yourself what you are doing.  And why.
Well, what we're doing is hanging around at the Comptoir des Vins, trying to look as if we are having a whale of a time.  Why, I still don't quite know.
 This place is the official showcase of Languedoc wines.  The trouble is, it's miles away from anywhere, cunningly hidden from everywhere by a serious of road-signs saying « Deviation », and quite clearly the local population – if there is one – has better things to do than stumble out in the dark to meet some of the region's female winegrowers who are pouring their wines as well as an awful lot of goodwill.  I catch a scarce one (local population) and give him some of our blend, Le Limoux, to taste.
« Like the wine » he says, « but wouldn't buy a screw-cap if you paid me. »
Oh dear, how many more hours to go?
 Sunday 29 November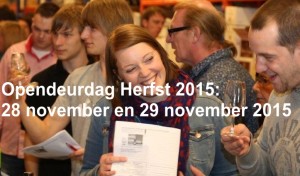 Jan goes to Belgium and back for a wine tasting organised by one of our importers in Ghent.  Life seems normal.  People come, taste, talk, and leave with bottles of wine under their arms.  No massive security at the airport, no huge baggage checks.  Life just rolls on.
Monday 30 November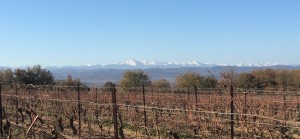 The cold snap snapped quite suddenly, we've had some warm days again.  With beautiful skies and a warming sun.  Went for a walk with Bacchus and bumped into the neighbour quietly pruning away at her vines in the face of the Pyrenees.  A four-minute exchange establishes the fact that it's way too warm, that there's a bit of troubling oidium hanging around, that they don't know what they'll do with their vines when they retire, no children are interested.  It's a complete, concise and coherent account of the average small family-run holding in France.
…/to be continued next month.