Tuesday May 2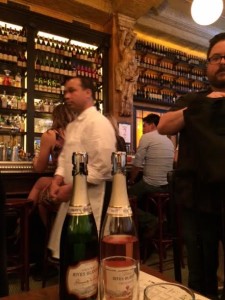 We wind up our visit to New York with a degree of satisfaction: our wines seem to be going down well with the restaurants and wine merchants we meet.
They certainly go down well with us – that is, the sommeliers and wine buyers, who buoy us up with their fearless enthusiasm for our mauzac,  miles removed from hesitant merchants complaining that no-one's heard of mauzac, no one's heard of Limoux, it's all too hard to sell …
New York's blocks are big blocks, and we've been walking lots of them, up, down and all around Manhattan, then over to Brooklyn, and back again all around Wall Street.
We'll sleep well on the flight home tonight.
Thursday May 4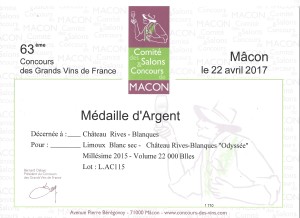 There's a diploma from the Competition of the Great Wines of France, reputedly the biggest of its kind,  awaiting our return.
There's the nice mention in Robert Parker Wine Advocate mentioning Rives-Blanques, a « first-class estate »,  along with the Rothschild's as the leading producers of Limoux.
There are vines singing in the sun.
There's a crashed computer beyond repair sulking in the office.
And there's a mountain of work to get through.
Friday May 5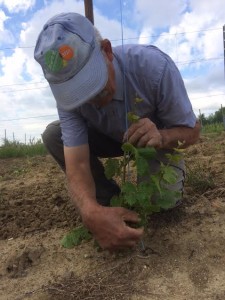 Ahmed is also working hard, without having to contend with broken computers and lost files.  He's out with the one-year old chardonnay vines, painstakingly choosing the strongest shoot, twirling it around a supporting wire, leaving a second shoot as an insurance policy in case the first one doesn't make it, and then discarding all the rest.  These are the first baby steps, and they are so so important in the life of a vine.
And if you think of all the work that goes into just getting one vine on its way, when there are another 4,439 still waiting to be attended on,  it makes dealing with an uncooperative computer a doddle in comparison…
Well, almost.
Saturday May 6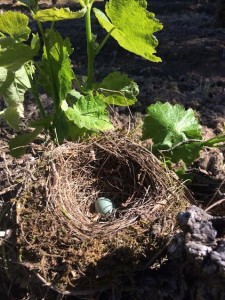 And in the vineyard he stumbles on another one of life's little tragedies.  An abandoned robin's egg, a most wonderfully constructed nest going to waste …
Sunday May 7.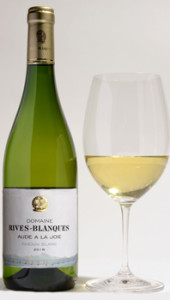 Sometimes wine can speak louder than words.
Aude à la Joie is positively shouting, at top volume.
The relief is positively palpable.
The election results are broadcast at 8 pm.  Monsieur Macron strides up to the podium to the rousing notes of Beethoven's ninth.
And we open a bottle of Aude to Joy to toast this victory of policy over populism
Friday 12 May
Hail in Limoux!
(Not here, thankfully).
Saturday 13 May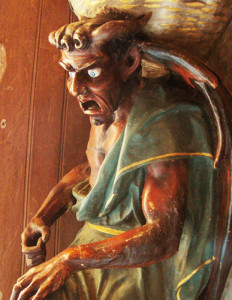 Rennes le Chateau is a scenic mountain-top village on which precariously perches a little church surrounded by its little hamlet, just 20 minutes or so away from us.   It shot to fame – or infame, if you like – when Dan Brown published his DaVinci  code –  for as everyone who knows anything at all knows, the whole story actually begins here.
According to the cognoscenti, the Church of Rennes le Chateau is literally littered with signs and symbols testifying unequivocally to the existence of  great treasures, great mysteries, and great histories.  To everyone else, it is a nice little Church on top of a nice big mountain with a truly splendid view, and only one very obvious curiosity: a devil at the front door, bearing the baptismal font.
It could very well be the only church in the world, where the devil welcomes you to the 'terrible' place that is chiselled over the door.
When most of France was out voting in the first round of the presidential elections last month, a slim, young woman dressed in a white cape and a Venetian mask,  slipped into the Church, and calmly proceeded to divest the devil of his head and his arms.   While she was about it, she also hacked off the face of Maria Magdalena from a mural on the wall.   « For Syria! » she exclaimed, and placed a copy of the Koran at the devil's still-intact feet.
« Believers and non-believers alike are fond of our devil » said the local curé, sadly surveying the damage.
Today, it was decided by the authorities that this 30-something year old who works in a lawyer's office in Toulouse, is neither mad nor radical.  But who is she, and why did she do this?
Just another one of those mysterious mysteries that make up the mystique of Rennes le Chateau.
Tuesday 16th May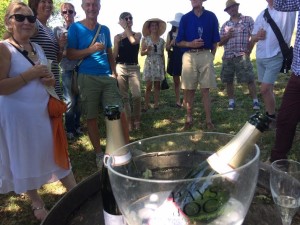 Very confusing: there's a Lynne, a Leila, and a Leanne.  There are two Johns. There's a Paul, and there's a Pauline. There's a Ginette and a Jeannette.   However, there is only one Christophe and that's the easy one to remember.   They speak all languages,  they come from all parts of the world, and they are all engaged in the hospitality business in, around or near  Carcassonne.  They are today's Tuesday Talk, Tour and Tutored Tasting, and though they may not realise it, they are the project being done by our intern Kim, who has spent over a month putting today's event together.
She's very happy with the way things are going, but everyone is happy to have cool pause in this hot day…  There are times when Blanquette really hits the hot spot, and this is one of them.
Thursday 18 May
Who was to know that today would be freezing cold and we'd be in our sweaters again?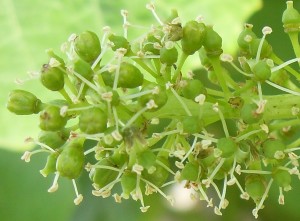 Saturday 20 May
Saw the first flower on the first chardonnay vine today.  We're on our way!  That means, if the vines have read the textbook, we'll start harvesting in late August.  If.
Maybe they have.  But they usually forget.
Monday 22 May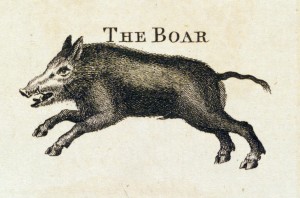 Not even three minutes out of the front door and in the vineyard very early this morning, when a deer bolts by.  Two seconds later there's a hurried hare bounding across the path, straight out of a children's book and into the mauzac.    Turn right at the end of the field, and oh dear: there's a very large, very black, very wild boar looking  straight at me.  Swishing his tail.  Boars can be very dangerous, and this one looks dangerously so.  I pick up a stone, as if that might help. (Yesterday on the radio there was an item about some Ambassador who'd been mauled by a boar while walking in the woods.).
Suddenly this very early morning walk doesn't seem such a good idea.
But he slinks off into the woods.  I decide not to follow, and take the high road instead.
More silverware for Odyssee today, from Decanter World Wine Awards.
Ah well, all that glitters isn't necessarily gold
Thursday 25 May
To be continued ….