May Day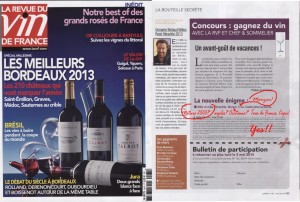 An enigma in this month's La Revue du Vin de France: Mille et mille. Smectite. Monos. 5ha. Cadel aime la flèche which translates roughly into "A thousand and a thousand. Smectite. Single varietals. Cadel loves the arrow". None of which makes any sense to me.
An email arrives. "Are you the enigma in this month's Reveue du Vin de France?" it asks.
The writer has worked out that a thousand and thousand must refer to Natura 2000, the protected environmental zone we are in. That's pretty clever. But what about Smectite, he wonders. "Is it in your terroir, or do you use it in the wine making?"
Smectic is a compound of clay, and yes it is true, we have soils of clay. We also filter our wines with bentonite, which probably has smectic as well. Hmm. "Nevertheless, you may rest assured it is not us" we reply, "Not only has the magazine not spoken to us, but we don't have 5 ha, we have 20 ha. You should look elsewhere."
A quick hit of the Reply button, and he is back in our in-box. "But I seem to remember you have 5 ha of mauzac, and don't you do a single varietal of mauzac?"
"Yes" we reply, "that's true … even so, I repeat, they haven't spoken to us." Quite amazing how much this person knows about our vineyard.
An hour passes, then another email flies in, light-footedly. "Are you sure?"
"Yes, I'm quite sure. We've only had a request to send samples for their new wine guide, that's all. I promise." And as an after thought add, "Bon courage".
This gives courage, for the reply comes in triumphantly, hot on its heels. "Caudel was in the Tour de France when it passed through your village! It's got to be you!"
By now I'm beginning to believe it myself. "They would never offer free bottles of our wine to the winner without telling us," I assure him (and myself alike), "and I promise you they didn't. You really must look elsewhere."
His last email flops heavily, unhappily, into the in-box, belly-up. "Thank you. I won't bother you any more." To which I reply, "But if you are right, I will gladly send you a case of Occitania – and I hope you are."
Monday May 5
A silver medal for our chardonnay, Odyssée, from the Competition of the Great Wines of France, the only chardonnay from the South of France among the medalists of the Macon competition which has broken the Guinness Book of Records for its sheer size.  A doubtful distinction.  Perhaps it was too big to notice la Trilogie, which won the highest honour from the French state last month at the Concours Général de Paris – or does that sound like sour grapes? No, we're happy. Sort of.
Tuesday May 6
And happy too that the 'beautifully done' La Trilogie features in the Robert Parker Wine Advocate, in this month's gargantuan and commendable investigation of the Languedoc. It's a lot of land to cover, a lot of wines to taste, and only three white Limoux wines selected. La Trilogie shares top points with the Rothschild's chardonnay produced on the other side of the river, just one short of the big nine-oh.
Monday May 12
Trilogie Triumphs
It's definitely turning out to be Trilogie's month. The May issue of the glossy French wine magazine, Terre de Vins has come out with the top 20 Languedoc white wines of the year. Very glad to see our Trilogie there too, among the good and the great.
Tuesday May 13
Oh well, you can't win them all. We have enjoyed the distinction of being the biggest gold medalists of the Languedoc in the Decanter World Wine Awards in the past. That was a prime example of how wine competitions are the most dependable, reliable, accurate and professional way of judging a wine. This year's silver medal for La Trilogie returns us to the fall-back position: wine competitions are good, but they are infinitely fallible. So much depends on condition of serving, mood of taster, performance of bottle on the day, and what it was tasted after.   But  if we were to admit to the bronze medal for our beautiful chardonnay, Odyssée, well then … of course wine competitions are a complete and utter waste of time and money.
However, if you don't win any medal at all,  that is undoubtedly only because you say you don't believe in wine competitions and have never entered any wines in them.
Such is the nature of wine competitions.
Thursday 15
Best thing after sliced bread.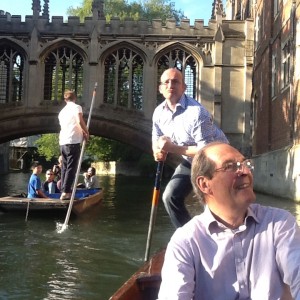 This is Hal Wilson, a man of many talents, and not least of them, punting. Best of them, perhaps, is an ability to nose out good wines: he is the head of Cambridge Wine Merchants – in Cambridge, of course. And we are out on the Cam in brilliant sunshine, on a beautiful day, being punted about. He has perfected the art of punting, his punting style is very professional, borne from an adult lifetime spent punting, I bet. We glide past colleges razed and raised by Henry V111. Life's not bad.
In fact, life is very good. Today we had lunch at the Michelin starred restaurant, Alimentum (specatcular) and there made a new discovery, something we had never ever would have thought up ourselves: Blanquette de Limoux accompanying warm, smoked eel and some diced, counterbalancing apples. Made in heaven. No, sorry: made in Mark Poynton's kitchen.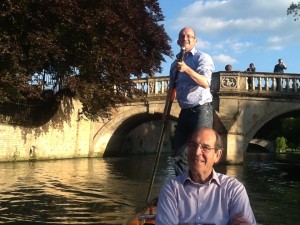 And last night we explained our wines accompanying the five wonderful courses put on by the Tickell Arms to their customers. Eel was on the menu, but no one thought about Blanquette, least of all, us. But tickled pink, none the less, with the combination of our chenin blanc, Dédicace with their salmon and its zesty lemony orange sauce, and clever little dices of jellied soya sauce. Oh yes, life is very good.
And just an hour ago we were in a tiny place called Little Wilbraham, tasting through our wines with a hugely talented young chef, equipped with a Cambridge undergrad degree but nothing formal in cooking, called Alex Rushten in his absolutely delightful old pubstyle restaurant. It's called Hole in the Wall: watch it closely and book your table now – there will be some Michelin stars shining in its firmament as well.  You read  it here.
(Just love meeting these young committed, talented, hardworking and ambitious chefs who work with local, seasonal ingredients. It reminds me of the Market Bistro near Norwich, another place to watch).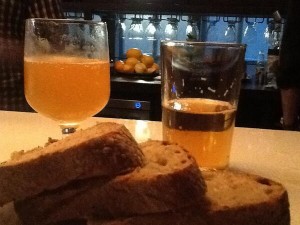 But now we're recovering from all this on the quiet waters of the Cam, and when we're done, we'll head off to The Pint for a pint of, and some of the sour bread Stewart Travers, one of the Cambridge Wine Merchant buyers, and friend,  has been slaving over all night. They're a multi-talented bunch, ;this lot at Cambridge Wine.   And life is very good.
 Saturday 17
On the road again Jan heads off to Holland with Jan-Ailbe, father and son doing a duo presentation for Wijnimport Bart, the leading wine supplier to restaurants in the Netherlands. Some of the top chefs will be there cooking: this is shaping up to be a month of gastronomy and glutony. Not complaining, life is good!
Wednesday 21
Hurray Chardonnay !
Great news!  For the thirteenth year in a row, without fail, we find ourselves included amongst the best wines of the year by La Revue du Vin de France, the leading and oldest French wine magazine.  They do a massive, marathon nationwide tasting of the millésime every year, and every year we've been there .. . and every year we wonder if our luck will hold out.  It's a record for our region.  We're not crowing, we're just thankful that our wines stand the test of time year after year.  This year the honour falls to our Chardonnay, Odyssée 2013.
Friday 23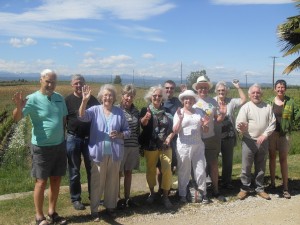 A jolly group of wine enthusiasts from the Stroud Wine Society in Gloucester come to visit us.  They can boast not one but two Masters of Wine in their ranks, three times as many as any wine society could reasonably expect to have.   We walk through the vineyard, the cellars and end up in the tasting room.
« What's the worst thing that could happen now? » they ask.
« Hail.  No question about it ».
They wave goodbye and then head off to lunch.   While they are lunching, the temperatures plummet.  Scowly clouds gather overhead.
And it begins to hail.   Yes, hail.  It cuts a swathe across the vinelands, starting 10 km to our direct west and cutting a cruel path over our heads  to our direct east and right into the heart of Lezignan Corbieres.  But when it passes over the Rives-Blanques plateau, it degenerates into rain before turning into hail again.
Absolutely incredible.

Monday 26 May
In the bottle! 
Rainy dull day to be bottling the sunshine.  Very glad to see it rolling off the bottling line: the first of our 2013 wines – le Limoux, la Trilogie and Occitania.  All blessed with good acidity and generous fruit.  And the sunshine.
…/to be continued.