Little buds on the vines bravely raise their tiny, tender heads above the parapets, there to find rain … howling winds …. a five minute burst of hail … and a bewildering alternation of balmy breezes and malicious icy winds.  But so far so good. Things are moving at speed, in their own slow way. First is a race against the weather forecast to get the ploughing, weeding, and trellising done; to prepare the new fields for planting; to just generally be on top of things. And then there's a race against time, to get ready for Prowein, the world's biggest international wine trade fair in Duesseldorf in the middle of the month. But in parallel, lurking in the background, is Time itself, putting its foot down against the race,  forcing us to take it as it comes.
Monday 7 March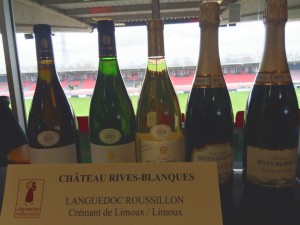 We do a son-and-mother act today at a tasting organised by the Vignerons Indépendants of the Tarn in Toulouse today.  France has just been restructured, and the Languedoc-Roussillon has become just a part of an even bigger region called Languedoc-Roussillon-Midi-Pyrenées (or perhaps Midi-Pyrenees-Languedoc-Roussillon, depending on your point of view), with Toulouse as its new capital.
Its citizens will be invited to vote for a new, less mouthfilling, name, and the debate is on: some arguing for Midi, or Midi-Pyrenees, others for Occitania, others for Sud de France, some for Midi-Roussillon, some even for the unlovable Septimanie  which sounds more like a medical condition than a geographical region, and so on and so forth.
The new region means that the Languedoc shopping basket full of Faugeres, Minervois, Saint Chinian, Limoux,  and so on and so forth,  will be filled with unpronouncable new appellations like Pacherenc du Vic-Bilh,  Vins d'Entraygues et du Fel, Irouléguy and so on and so forth … and grapes we've never heard of, let alone tasted, with impossible to remember names like Fer Servadon, Len de l'el, Ondenc, Duras (… and so on and so forth.)
And this, today, is the first trade fair dedicated to the wines made by the small, family vineyards of the new region, held in its new capital.  In fact, in the very heart of its capital: the rugby pitch.  So we get our scrum ready and wait for the game to begin.
And what a great opportunity – for us as well –  to taste some new wines!
At the end of the day we do a quick exchange of left-over bottles with other producers, and come home with a box full of the goodies of the new region.
Though I have to say, the lady from Gaillac didn't look too thrilled when I gave her our still mauzac in exchange for her sparkling mauzac.  « Oh », she said distantly, « we don't think you can make an interesting still wine from this grape variety… »
Thursday 10 March

« But Madame, » I hope I resisted saying, « this mauzac is a mauzac that's 36000 feet high, on the transcontinental World Business Class flights of KLM! » – only because it hadn't yet gone sky-high: that was yesterday… (though I'm sure I did mumble something to that effect in defense of our beloved Occitania).
This is surely the high-point of the month for us, and a huge honour for the humble and largely unappreciated historic grape variety of Limoux.  Plus of course, true testament to the open-minded blue-skied thinking of KLM's wine buyer, who knows a good thing when he sees it – even if the label on the bottle doesn't bear the aristocratic title of a distinguished Grand Cru .
True, Occitania is incredibly food-friendly.  But the question is, how does it taste on top of the world?
Tomorrow we pack our bags for the world's biggest trade wine fair, Prowein in Dusseldorf.  But alas, we won't be flying in the lap of luxury over the world's oceans on one of KLM's World Business Class flights …
Sunday 13 March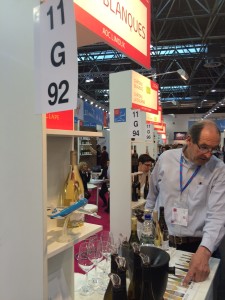 But instead, a KLM transcontinental flight comes and lands on our stand at ProWein.  KLM's wine team are just three of the 60,000 professional visitors from all corners of the world who are in Duesseldorf for this mega event, patiently filing past the very strict and severe sentries posted at the doors.  They come with a model aircraft for us, which immediately gets prime position on the display shelf of our little stand.
Why do I love this job so much?  For reasons like that: the customer who thinks to bring a souvenir in his bag as he sets off for a grueling workday outing.
And it is pretty grueling – as much for the buyers who have to walk around and hear pretty much the same patter from the vintners day in, day out, three days in a row, as for the sellers who  stand rooted to their stands all day long, repeating the same stories over and over again, on their feet for three long days and three long nights.
And yet it's hugely buoyant.  Depressing too, when faced with 14 huge halls all brimful of wine from all over the world.   It really is a big world, and it really is a small world.  And so exciting. And so cruel too ….
Monday March 14
So far we've had Japanese food and Thai food, and Jan has slipped in a number of Bratwursten along the way as well. But tonight we decide to have a quiet dinner à deux, and go to an obscure Lebanese restaurant called Byblos,  beyond the fanfare of Duesseldorf,  to eat well and remember an old friend.  This is where Detleff Rick used to generously entertain his suppliers, before he did the unthinkable and died on us all, leaving behind a cellar full of Chateau Musar… and the memory of an enigmatic, energetic and rather extraordinary man.   We had unconsciously chosen the Monday night he always chose – and find that a good dozen or so other wine producers who used to work with Detleff had done exactly the same.  All of us at different tables quietly remembering.    The wine world may be a hard world at times, but it has a heart.
Tuesday March 15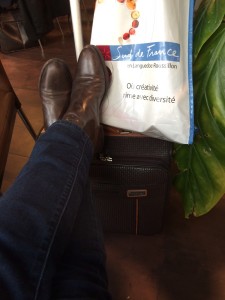 The New Zealand winegrower commuting on the train to Die Messe with us is bowled over.  « 60,000 people! » he keeps saying in wonderment, « 60,000!  That's three times the size of the total population of Blenheim in Marlborough! »
Yes, and 6200 exhibitors, counting you and me.  That means ten visitors for you and ten for me…
Well, it's drawing to an end.  We promise to pass by his stand later in the day, but of course we don't.  You get lost, and distracted by the call of Chile, or Austria, or India, or whoever else you happen to pass on your way anywhere, if ever, that is, you can tear yourself away from your own stand.  But today is quiet, most of those 60000 people have already come and gone, so I do.  And I return triumphantly to homebase,   brandishing a bottle of Bosman chenin blanc from the Cape, in exchange for a bottle of our chenin.
And now after three long days on our feet it's time to put them up and point them homewards.
Wednesday March 16
… where a lot has been happening.  Today's bottling has been postponed because of a little problem somewhere along the line, the disgorgement of the pink fizz hasn't happened either, for the same reason; Monsieur Selmaoui, our summer human harvesting machine, has abandoned his winter task of pruning for no known reason at all, leaving a trail of mispruned fledgling  vines behind, which we will have to do again; and the field of chardonnay has miraculously been planted, or perhaps even planted itself,  as if by magic: one wonders, is it better to stay, or is it better to go?
Saturday 19 March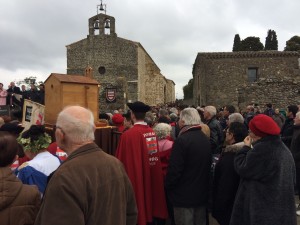 10,000 people! we muse, wonderingly, even though it's only one-sixth of what passed through the doors at Prowein.  But even so:  10,000 people crammed into a tiny village just down the road, called Pomas,  for the street party to end all street parties.  Or rather, 10,000 glasses sold, they tell us,  each glass replenished presumably by a human hand with Limoux chardonnay made by our local (huge) Cooperative called Sieur d'Arques.   There's music (but not much), there are decorations in the roman style (but not much), there are speeches by the various mayors, sous-préfets, préfets, and présidents of the region (but not much),  there's a bit of pomp and splendour (not much) – and there is wine (a lot, almost 18,000 bottles-worth we're told) and food (quite a lot).  All this is a preamble to tomorrow's Toques & Clochers auction of barrels of (cooperative-produced) chardonnay, which has been separately vinified from their run-of-the-mill stuff, and is the second largest auction of chardonnay in the world, after the famous Hospices de Beaune.
Not to be sneezed at, and impeccably organised.  At the auction, eighty barrels were sold (for that read 300 bottles) for a record (every year breaks a record) € 446.000, including a handful of Crémant de Limoux bottles, and a couple of other cartons of wine, which though insignificant in the overall picture, do skew the maths of working out how much was paid per bottle of Toques & Clochers chardonnay. Including tax, auctions fees and so on .   But anyway, most of the barrels were sold in France, but as usual, it was a Dutchman who flew back to Holland with severe overweight: 21 barrels (apparently).  Enough to float his native Gouda, if not the whole of Holland.
Michele, our neighbour, was not particularly impressed.  The decorations at Pieusse were a bit 'sad'. The music was a bit 'lacking'. The food was rather 'poor'.   But, as she said charitably and with a certain degree of prescience, « that's because they spent much of their budget on security, you have to, these days. »
And besides, she's already working on the decorations for next year's famous  Toques et Clochers auction, the preambular street party being in our very own Cépie.  We are all watching this spot.
Tuesday 22 March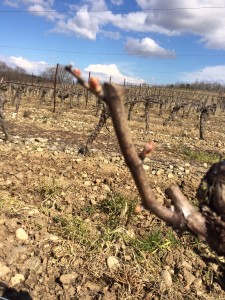 All the excitement this month quite drove the Tuesday Tour Talk & Tutored Tasting from my head, so the amiable Canadians who arrived exactly on time and by reservation, had a private deal.
There was a biting cold wind roaring down from the Pyrenees, but being Canadian, they didn't seem to mind too much.
And the good news is, it's calmed down the vines, which are slowly but surely putting themselves back into the normal timetable.
The vines are beginning to leaf, just at the point called budbreak, almost at stage D of their development.
Sunday 27 March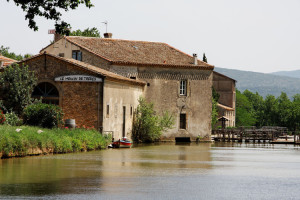 Fueled by chocolate and Easter eggs, we rent a couple of bicycles and pedal along the Canal du Midi, from Carcassonne to Trebes – a day off.  We do just 11 km of a 360 kilometer epic: the tiniest part of the first leg of the canal, built in 1666 – all part of a completely mad-hat idea of a wealthy 63 year old salt tax collector called Pierre Paul Riquet, who convinced the Bishop, who convinced Colbert, who convinced the King that it could be done.  And it was.    « One of the greatest engineering achievements of the Modern Age » said UNESCO when they gave it World Heritage status (but let us not forget that it is  a marvel of landscaping and architecture as well) –  yet Riquet knew as much as you would expect any wealthy 63 year old salt tax collector to know about hydraulics and engineering : absolutely nothing.  Even Leonardo da Vinci, arguably the greatest designer/engineer of all times, had declared such a project impossible when he visited for exactly that same purpose a century before Riquet was born.
The whole idea of hacking a canal across the country with pickaxes and shovels, and building hundreds of locks, mills, bridges, aqueducts over waterways under, tunnels, and what have you along the way, was completely beyond all human knowledge or experience at the time.  Still probably is.  And oh yes, a man-made water reservoir of 6 million cubic meters to fill the canal in the dry season as well: still the biggest in the world.
So we spare a charitable thought for the 12,000 workers who actually made this incredible dream a reality.  And also for Pierre Paul Riquet himself, who personally financed the entire segment we're cycling on right now,  and died deep in debt just months before the Canal opened.  (Though none of that makes the seat of this bicycle any less hard.)
Very happy to see the wonderful old mill still standing at the lock in Trebes, an old Roman station on the military road between Carcassonne and Narbonne (the Romans having entertained and abandoned the idea of making a canal) where we had booked a table for lunch.  And what a surprise to find the  hand of chef Pascal Ledroit behind the meal with his signature clean, ingredient-driven cooking : he took over the mill just two days ago, and we are one of the first to eat there.
It gives us courage to cycle the 11 km back to Carcassonne.
Thursday 31 March.
Packing our bags for New York, and then Houston Texas.
Never been to Houston Texas before …
…/to be continued next month.
…/to be continued.