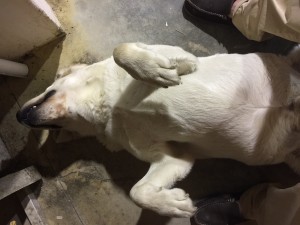 Canicule!  The proper, state-approved definition is that this heat has to last three consecutive days and nights, with varying degrees of degree, depending on where you are.  If you are in Toulouse, our nearest 'big' city, then it should be a minimum of 36 degrees by day and 21 by night for three days in a row, before it can officially be called a canicule.  Hot enough?  We are actually beyond that, but oh so grateful for the cooling breeze that brushes over Rives-Blanques at night.
All of which encourages us to look up what a Canicule actually is.  It's a little dog ('canicula') –  the original vineyard dog, according to some sources, who was turned into the brightest star of the heavens, Sirius.  When Sirius rises and sets with the sun, you get the canicule – dog days. And we've got them.
Wednesday July 1
Say Cheese!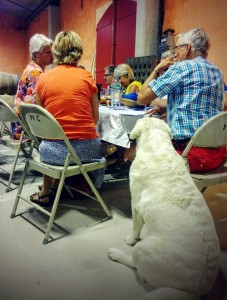 Thirty people come around for a comparative wine tasting today.  Not comparing wines, but comparing red wines and white wines with the fabulous and famous Dutch cheeses made by Reypenaer.  Bacchus seems to be taking an intelligent interest in the proceedings – but  he has no real opinion on the matter:  just palpable relief to be chilling out   in the airconditioned cellars.
We've done this experiment before, and it's an interesting one.  To me it's clear that white wine is nearly always better with cheese than red wine, but I would think that, wouldn't I?  We call for a show of hands.  It's about half-half.  Hmpf.
Floris Lemstra, the owner of Chateau Canet who kindly supplied the red wine for the event, has his two hands in the air.
Cheesemaster Ron Pieters,  provider of the Reypenaer Cheese, appears to have both of his in his pockets.
Now we do it the other way round.  An aged Reypenaer cheese with red wine first, and then after that the same cheese with Odyssée. A show of hands, please?
Ah yes, that's much better.
Thursday July 2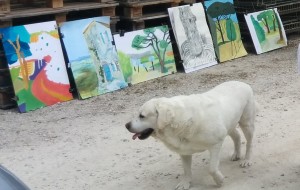 A group of artists come around to paint the vineyard. It is way too hot, and they huddle in the shade near the house.  Bacchus struggles out of his apathy to inspect their work.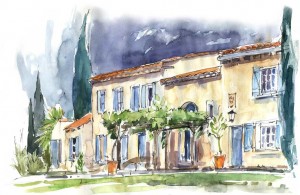 Friday July 3
Coincidentally, a Scottish artist called David Hawson who spent a couple of days with us last month, sends a link to his charming watercolour of the house, painted in cooler days.
Sunday 5 July
Al fresco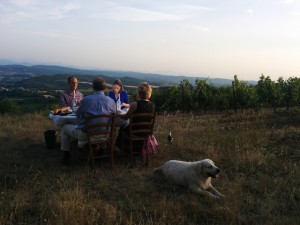 Our kids announce they have booked a place for dinner, as a surprise for their parents.
« What should we wear? »
« Oh, something nice », they reply. « No tie. Maybe your nice linen dress? Not too dressy. »
« It's quite a casual place », they tell us, « but very good food. We were lucky to get a table. Maybe they'll put us on the terrace. »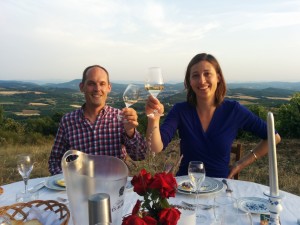 So off we go to our mystery destination, mentally picturing the road to the Bergerie in Aragon. But first, a stop at the top of the vineyard for an aperitif as « it's on the way and it's such a lovely evening ».
We get out of the car with a bottle of Blanquette and glasses in hand. The vines have grown tall, and I suggest we walk a bit down the hill to get the full view. So we turn the corner, and there in the vines we see …
…. a beautiful table set with silver, a white tablecloth, candles and roses. A view over the valley with a backdrop of mountains painted in purest shades of opium, periwinkle and mauve. Swallows darting overhead, and church bells blowing on the breeze.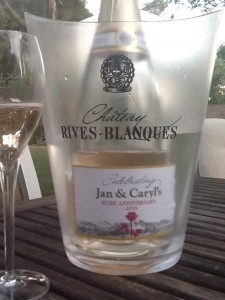 It is amazing.
And a magnificent meal accompanied by a white granache-maccabeu blend from Roc des Anges, and a red la Liviniere from Chateau Maris.
And then following on later, a Vintage Rose with a specially made celebratory label.
Just brilliant. The most amazing meal at Rives-Blanques ever.
From which we learn that there aren't that many new tricks left to teach old dogs… but you can easily outfox an old fox.
Tuesday 7 July
Spray or Pay …
Heated meeting of Limoux producers today in the Community Hall of one of its peripheral villages. It is hot, and there is much to discuss. The fellow behind us, speaking with a broad Midi-accent, says indignantly:
"You have to say things as they are! Call a spade a spade!
It's the organic people, I say! They are refusing to spray!"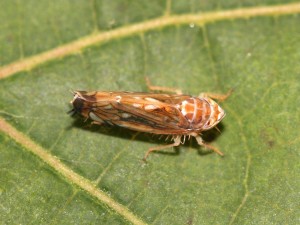 The subject under discussion is Flavescence Dorée, a malevolent bacteria that first found its way from the Great Lakes area in the USA into France just over 50 years ago, and started a relentless march across the French vineyard on the back of a leafhopper called Scaphoideus Titanus. Titanus is the operative word here – the insect might be small, but the damage it causes is positively titanic: leaves turn yellow and curl up (if it's a white grape vine. Otherwise they turn red), and the vine is almost certainly condemned to death. Just as in the case of its evil 19th century predecessor, Phylloxera, the best brains in the land have been stumped, and there is no known cure.
Another problem is that the symptoms are easily confused with another vine disease, bois noir, which often comes in plants already contaminated in the nursery.
An organic grower in front of us turns around and says, "I've heard it's the machines that spread Flavescene Dorée: the harvesting machines, the croppers …"
Celine, our spunky agronomist from the Chamber of Agriculture, jumps to her feet. "That is completely untrue! » she says heatedly, « Studies have shown that is absolutely not the case!"
"Are you sure?" he has the audacity to ask.
We are in the for the long haul here. But it is blatantly clear that Flavascence Dorée is spreading like wildfire. You can't cure it, but you can kill the insect that carries it. The French government started to wage war against this small leafhopper in 1987, and today everyone is obliged to spray against it. If not, it may even be possible that the authorities will do what they did some 30 years ago: spray every vineyard from the safe distance of a helicopter, and then send the bill on later.
Abandoned vineyards now have to be grubbed by law so that Flavescence Dorée can't get a foot in. If 20% of any vineyard has been colonized by this vector, then all the vines there have to be grubbed up as well, no matter what. The authorities mean business. And no, they will not accept the belief held by some that the colour orange might repel this insect and send it packing.
"It's serious and we have to be vigilant", Celine insists, pointing at blotches bleeding red like wounds on the map highlighting the growing Flavesence Dorée-stricken areas. "We have to spray, we have to look, and we have to be careful. Vigilant, prudent. Keep your eyes open".
There's an uncomfortable shifting of seats in the room. Everyone always believes it's the neighbours who cause the problems. And that in itself is a sticky problem.  Particularly if your neighbour is organic. Or if he is an old, retired, or part-time grape grower who hasn't passed the test which allows him to purchase chemical products.  Or if he can't afford to.  Or if he just can't be bothered.
The meeting moves on to other pressing matters. There is a movement to introduce machine-harvesting for Limoux's fizz. There is talk about whether there should be more freedom with the grape varieties that can be used. There is a discussion about the virtues of Blanquette de Limoux as a stand-alone appellation. But it will all be reduced to nil if Flavescence Dorée continues to beat its path through yellowing leaves.
 
Tuesday 14 July 2015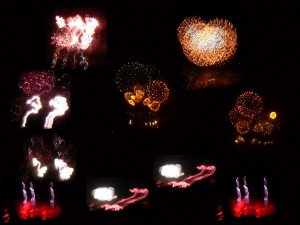 Very odd how the French call today le Quatorze de Juillet while the rest of the world insists on Bastille Day. But whatever, the fireworks over Carcassonne put Pluto in the shade, even from the distance we were watching them, at the top of the vineyard.
Traditionally, today's the day the winegrower hopes for a little light rain, evenly spread in measured doses. But there is no sign of it. Just more sun forecast to shine on for ever. It's not a problem yet, but it will be, if this  weather continues …
We had our usual Tuesday Tour, Talk & Tasting this morning.  The Talk and Tasting bits are fine, but it's the Tour that's going to kill me.
« Would anyone like to turn back? » I ask hopefully.  The heat is beating relentlessly.  I can't take much more of this.    « No, this is lovely, » they say, « can we please go on? »
Friday 24 July
Rain!  Hurrah!  Not much, but it's good.
Saturday 25 July
Thought we could catch up on some office work today, but we're overrun.  First some Belgians turn up: really nice guys, on a camping holiday.  They have brought us a six-pack of Belgian beer as a present.  What amazing business this is, I tell you; there is nothing like it.  We are overcome, and wrap up a bottle of our best for them, Trilogie 2012.  But then more people pour in, and the Belgians are waved off … and we forget about the bottle of Trilogie 2012,  standing neglected and overlooked in the cellar.  Where it is still waiting for them.  Then a charming family from Holland appears, knocks at the door, asks diffidently if we're open?  Well no, we're not, but okay, we are here anyway so yes, come on in.  Jan is hiding at his desk hoping to get on with some work, and I take these people through the usual routine.  The father of the family, who has been listening attentively and asking interested questions, suddenly gives out a little yelp and rushes to the back of the tasting office, exclaiming « Jan Panman! » while waving the flyer that shows Jan Panman, name, address and photo, on its back.
There is no escape for Jan Panman, he has to admit that he is who he is.  And it turns out that this random visitor worked with him in Holland years ago, in another life, another world… and totally different office.  And had no idea even that this vineyard was owned by a Dutchman, let alone one he knew.  What a funny business wine is.
Thursday 30 July
Cold! Seriously.
…/to be continued.

…./to be continued.