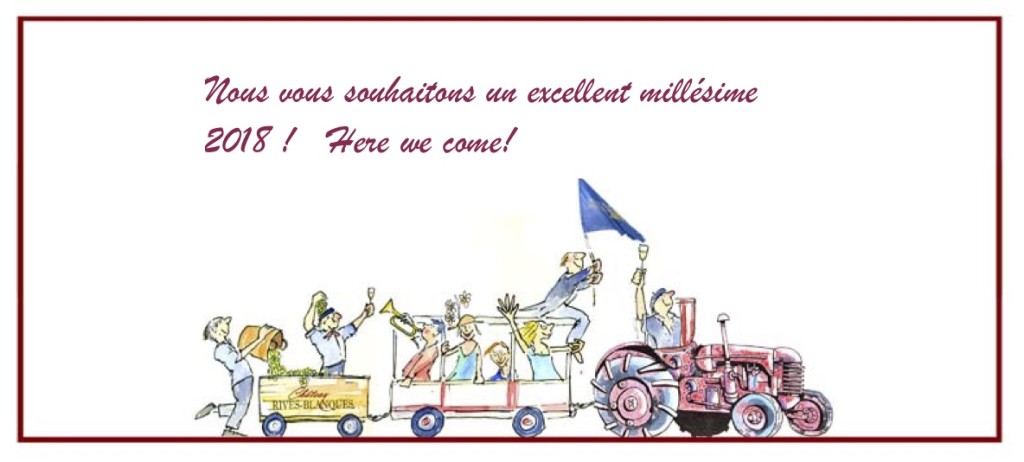 Monday January ! 2018
Another year, another vintage!
And it begins warm and wet.  But full of hope and promise …
Tuesday January 2, 2018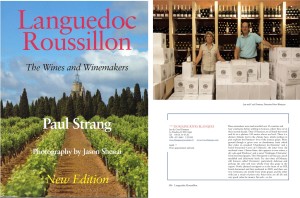 This is a very good way  to start the year.   Paul Strang, winner of the Prix Gourmand for his book on the wines of the south west of France, published a large and lavish volume on the wines of Languedoc and Roussillon « France's new fine wine region » (says Hugh Johnson OBE).  We're very pleased to be featured large as life in it.
He covers the whole region east to west, north to south, mentioning hundreds of winemakers, truly a labour of love.  At least 20 of them are in Limoux, including our neighbours (Begude) and Caryl's fellow Vinifilles Francoise Antech.    And a wonderful photograph, lit by conviviality and sunshine, of our friend down the road, Marie Claire (Domaine Mouscaillou).  And a great photo and entry about Rives-Blanques, which  gladdens our hearts.  And …. much,  more more, including the full house of Vinfilles, Languedoc and Roussillon's  female winegrowers,  all over the region … as well as all our « Outsider » friends.    A book really worth getting for anyone looking for a guide to a next holiday in the region.
Tuesday 9 January 
We're getting the full deal.  It's blowing hot and cold.  It's raining on and off.  But the pruning continues unperturbed, and we're closing in on the home stretch already.
Thursday 11 January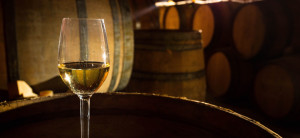 Today we begin a retrospective of 2017.  Our Master Blender brings his razor-sharp palate into the cellars, and the barrels of wine are addressed one by one.  Fermentation has fully finished and we've got the real deal here: proper wine.  2017 could almost be called  our Harvest Horribilis, starting way too early, ending way too early, and way too temperamental and impatient all together, but there's not much sign of any of that here.  If only we'd known at the time that everything would work itself out  (as it usually does) with a bit of help from our amenable and flexible harvesters,  we wouldn't have been half as stressed at the time.
Friday 12 January
An influential buyer comes by to taste the barrels samples of the 2017 wines.  We end the tasting on a high note, with a glass of our top 2015 wine.
« Can't get my head around this one » he says.  « Not my kind of line. »
One man's line
Not another man's wine.
Happens all the time.
Sunday 14 January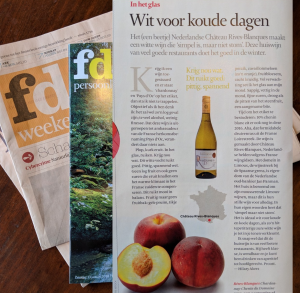 Now this is excellent! The Dutch version of the pink-paged Financial Times, and every column-inch as influential in that country, comes out with a full page review of our chardonnay-chenin Pays d'Oc in its weekend magazine.
« A cold weather white wine » they call it, from an estate « famous for its fizz ».
They say some embarrassingly flattering things too.  Well, almost embarrassing.
But not to the point that we can't, and don't,  enjoy basking in the light of our entry-level wine for as long as we can.  Jan's in-box fills up in a most satisfactory way with emails of congratulation.
Tuesday 16 January
This was a classic cinematic moment.  I went down to the printer to make sure the colours on the label would be exactly as we wanted them, and that the gold embossing was the right kind of  gold.  Last year's label was not quite 100% as it should be, and we wanted the 2017 edition to be better.  The printer had his press all ready to roll, and, very decently, was waiting for the go ahead.
They looked good.  « Great, thank you! » I said, « off you go! »
And the press lumbered into action.  Round and round went the labels, getting a new layer of colour with each turn.  I leaned over to admire the much improved colour (something no one else will even notice) when my eye fell on year.  2016 it said.  2016!  It took a full few seconds for the fact to register.
« Stop the press! » I shouted in full throttle.
And the press stopped,  grinding to a slow halt, churning out labels at diminishing speed.  Fortunately, their mistake, not mine.
First time I've ever actually heard anyone roar « Stop press! » in real life.
Thursday 17 January
N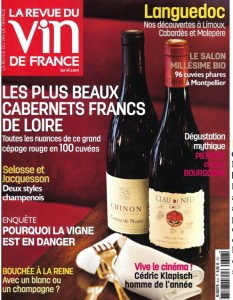 o false modesty here.  France's famous La Revue du Vin de France takes a look at Limoux and its un-sung neighbours, Malepere and Cabardès.  The writer is known for being in favour of natural wines, that is, really really natural wines.
Nothing against natural wine (if it's good).  Trouble is  vinegar is the downside of what happens absolutely naturally to wine if things don't go right, and  we wonder if our smooth and fairly polished wines, which have been lightly sulphited to avoid harmful bacteria from forming  (though sulphites are natural too, by the way) and which have also on occasion been gently stirred to help the lees encourage complexity,   may suffer.  We've even been known to add commercial yeast when natural fermentation gets stuck.  Oh dear.
But he likes the three he was given to taste!
Our Trilogie is 'undeniably one of the model wines of the appellation ».   Occitania is a 'inspiration to other growers', and our Blanquette is 'enticing and balanced'.
Well, thank you, that's a very nice pat on the back! And in this business, nice little pat on the back now and then goes a long way.
Tuesday 23 January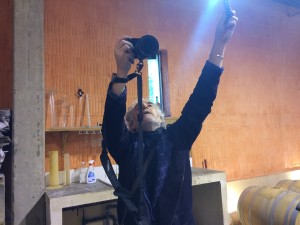 A nice Canadian called Gary MacDonald comes by today to take some photographs for a new book on Languedoc and Roussillon wines by Rosemary George, a Master of Wine and one of the region's best-known specialists.
Her first book on the region, written about two decades ago,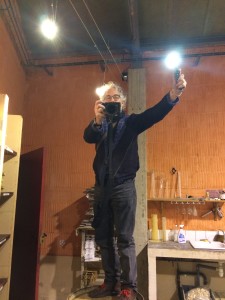 was our handbook when we first came here.  It led us to people like Jean-Louis Denois, and Jean-Marc Vergnes who became the most solid and reliable sources of information and advice for us.
Gary tries valiantly to fit Jan's two meters into the frame, and fails.
So he  jumps on to a barrel to get us both in the picture.
And who knows, when other foreigners come to this region and consult the new edition, maybe they will come and search us out as well for some basic background information.
Friday 26 January – Monday 29 January
You couldn't call it a weekend.  Or if it was a weekend, it was the fullest, fattest weekend in the calendar.  It started on Friday, at Chateau Beaubois in Nîmes.  Nîmes is miles away from Limoux, almost the Rhone.  The weather was filthy, the wind was high,  the night was black.  And slowly they trickled in: almost one hundred women,  representing the appellations of Burgundy, the Loire, Bordeaux, theRhone, the South West, Alsace, Provence, Occitanie, Champagne  … stamping their feet,  shaking the rain off their shoulders, and complaining about the weather as they came in.  This was the beginning of the AGM of the Femmes de Vin de France, and it was being held in the Languedoc, home of the Vinfilles.
If there's one thing the Vinifilles can do well, that is to throw together a weekend that defies the limitations of that word.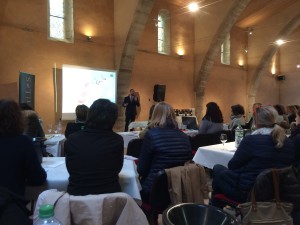 First off: all 100 women winemakers setting off on time at 09:00 the following morning from our hotel in Grand Motte for a small little appellation called Montpeyroux, where Pascale Riviere of la Jasse Castel had organised a Master Class on Languedoc and Roussillon wines –  conducted by the brave and only man on the scene, the Hotel School's sommellerie teacher.  he handled himself well, in the face of all those VigneRhones, FaBulleuses, SO Femmes de Vin, Coeur du Loire, Vinifilles, and what have you.  I thought I knew the region well, and certainly I know the wines of fellow-Vinifilles well, but this was a real learning experience.  And in an unforgettable setting, Montpeyroux's old and beautifully restored abbey.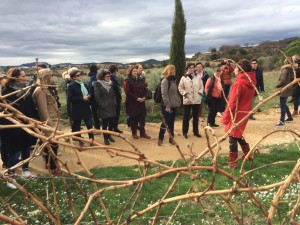 A lunch not to be sneezed at, followed by a walk through the vines in the lovely countryside of Montpeyroux, and then back in the bus to visit the neighbouring appellation, Terrasses de Larzac.  On time, of course. There Marie Chauffray showed us her newly constructed cellar, backing up on  the Larzac, and facing over the sweeping plains that roll for miles towards the sea.  On a clear day you can see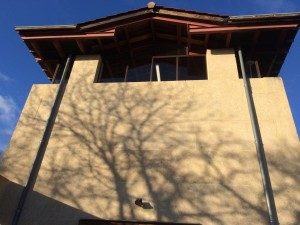 Canigou, the tall peak that lies, with its feet in the Mediterranean, on the border with Spain.  We walk back to the bus, and off we go to Pascale's brand-new cellar back in Montpeyroux, to taste wines from her barrels.
They day has been long  – but it has only just started!  Now the bus takes us to the Trinque Fougasse, a famous tapas bar in Montpellier, where we arrive, as scheduled, at 7:30 pm… and now the fun begins.
The Provençal ladies, all blondes, of course,  clamber on the stage and sing a song about Saint Tropez, accompanied by the most splendid of them all, a magnificent blonde dressed in pink and purple from top to toe, with a dramatic matching hat a-top, aged easily over 80.   One act follows the other.  There's a definite feel of spontaneous fermentation in the air. Everyone seems to be dancing, though for God's sake, there are only women in the room – apart from the three-man band that is.  The fiddler jumps from the stage onto the crowded floor, and fiddles his heart out, twirling like a dervish, playing on his knees,  dancing and prancing with his violin.  The guitarist joins him.  Then, after a bit of hesitation, the bassist and his base take the plunge as well. The exuberance, the joy, the effervescence of it all is something no one there will ever forget, not even the band.  Perhaps particularly not even the band.
Got to bed at about two in the morning. But at 9 am on Sunday morning, with the sun knocking on our windows, there was serious work to be done: the Circle of Women of Wine in France were holding their AGM.  Each region gave examples of actions they had done in the past year to promote the role of women in wine.  The most moving story was from our own Fabienne, of Mas Theleme in Pic Saint-Loup who had been completed wiped out by hail in 2016, and was literally kept afloat by her fellow Vinifilles.
Then on to the iconic Mayor's office in Montpellier, listed by the NY Times as one of the 10 top 'must see'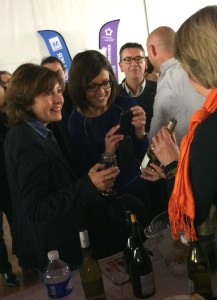 modern buildings in the world, where the Vinifilles had organised a Tour de France wine tasting.  Television came, radio came, hundreds of wine professionals came, and Madame Delga, the President of our region called Occitanie,  came.  She paused near me, and how could I resist?  « Madame Delga », I say, « this wine was made for you! »  And poured her a glass of our 100% mauzac, Occitania.
When finally the crowd left, everyone got down to work and cleared out the room of all its tables, chairs, ice buckets, wines, glasses … and then to bed.
To wake up the next morning, Monday, to face Millésime Bio, the biggest organic wine fair in the world.
« Where do they get the energy from? » the owner of Trinque Fougasse wondered, on FaceBook.