Friday 7 February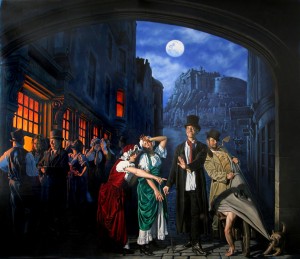 We arrive in Aberdeenshire, and it is warmer in the lowlands of the Scottish highlands than it is in Cépie, the highlands of the French lowlands.   There's  a blue sky, flocks of fluffy sheep on snow-clad hills, and a bolt of sunshine moving at a measured pace across the sky.  We are on holiday!  For two days …
And now we are in a room of Edinburgh's cool-issimo Hotel du Vin, called Hare and Burke.  On the walls are huge lurid canvasses of bodily parts, dismembered limbs, skulls, and skeletons.  The one hanging opposite us appears to show a deboned neoclassical youth looking with distant interest   at one of his organs being weighed on a brass scale.   Even so, we very glad not to be in the adjoining room, called Bedlam.
We are told that Hare and Burke were a pair of body-snatchers who used to kidnap people from the streets of Edinburgh and sell their bodies for anatomy lessons. This thriving trade continued  for several months in the early 1800's,until the building was turned into an insane asylum – hence the name Bedlam of the adjoining room, now housing a coterie of very sane Roussillon producers and a lone Rhoner.
Not exactly the usual surroundings for a wine tasting.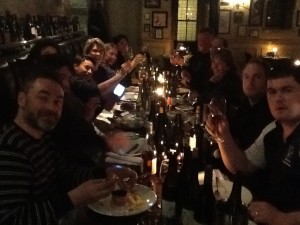 The Outsiders, a group of Languedoc winemakers  who have all originally come from elsewhere, chose this decidedly Outsiderish venue for a professional wine tasting for the Scottish wine trade.   It all worked perfectly, which says something about something – you could even say a lot about a lot – though I am not quite sure exactly what.   We all had dinner together at the end, saying nice things about each other's wines.  All together, most satisfactory outing in lovely Edinburgh …
 Tuesday 10 February
Scotland's only MW Rose Murray Brown tweets that she « loved » our Limoux chardonnay, Odyssée.  A nice homecoming and good ending to a great visit.
Friday 12 February
In a flat panic as we suddenly realise we are leaving for the USA this time next week, and nothing is booked.  Every-day work has no respect for that kind of panic and keeps piling up.  We are running around like headless chickens.   Then an email arrives that makes us realise why we love so much what we are doing. It is from a restaurateur in Holland who has our chardonnay-chenin Pays d'Oc as his house wine: I am proud, he says, that we have our name on it…
Well, likewise. Thank you. Your kind words make us very proud indeed.

Saturday February 21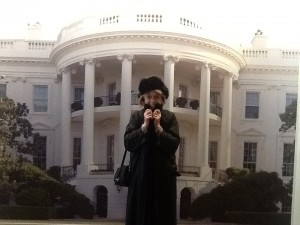 So this is what Washington DC looks like in the snow.   Very pretty…very quiet, very cold.  No taxis on the street. The city has come to a standstill, and the snow keeps falling in fat, fluffy flakes.
We have come to do a winemakers' dinner with Schneider's of Capitol Hill.  We arrive to find it has been cancelled.
« We must remember  never to come to the States in winter » Jan says.
« Never mind » says Josh Genderson, the owner, in a cheery welcoming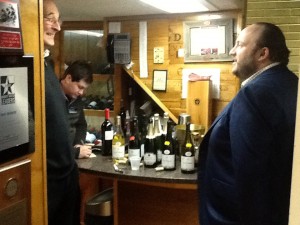 email. « Come and pour some wines at the store instead ».
Oh great.
But actually it was.   Quite a lot of people braved the elements and came to taste, and quite a lot of people bought.  In fact, we sold about half a pallet along the way.   Not exactly what we came for, but there you are.  That's the wine business for you. Full of surprises.
Sunday February 22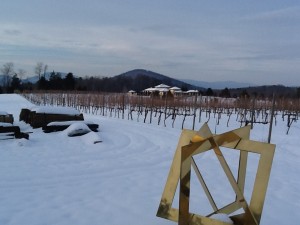 We head off in the direction of Charlottesville, VA.  Never been to Charlottesville VA before in my life.   But this is not work, it's a jolly-day holiday. Though wine never is far away – because the friends we are staying with, in their madness, have bought a vineyard .
It sits in the fold of the summit of a hill with huge views over a huge sky meeting a huge, gently rolling earth, with light-reflecting sculptures at strategic points,  all namesakes of the wines the vineyard will produce: eternity, infinity, elation.  It is amazingly beautiful.
We have lunch at Barboursville vineyard, where the winemaker-manager Luca, has just been awarded the highest accolade for being an outstanding Ambassador of Italy's culture.   Culture in this case being  winemaking.   Though he's a pretty dab hand at French culture too, given the Bordeaux blend, Octagon, accompanying our lunch.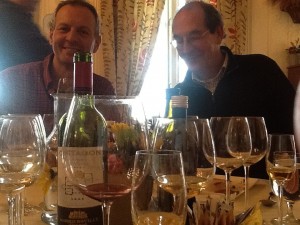 (Only later we realised we had tasted his Cabernet franc in a blind cab-franc tasting at home last year.)
We talk about wine.  About how there are no absolute truths. About the mystery of it. About the uncertainty of it.  As we talk I feel almost sorry for our friends: they cannot possibly know what they have let themselves in for – though by now they do know that once you're in, you never talk about anything else. There's no out once you're in.
Tuesday February 24
And that's what we are talking about today, telling the same story like a tape stuck on replay.
Today we are the Sud de France tasting in the Maison du Languedoc on Fifth Ave in New York.  And we're telling every American wine importer or distributor who will listen, the same story over and over again: about how Blanquette is the oldest sparkling wine in the world, made from the traditional Mauzac grape … We show them a picture of 50 year old uncloned Mauzac vines and watch their jaws drop in a jaw-dropping « Wow! »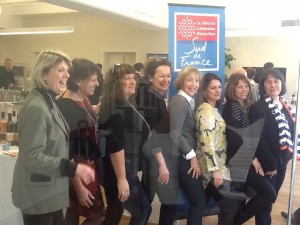 Half the contingent of the VinFilles, Languedocs female winegrowers, are here too, also pouring their wines and telling their stories.  But they are furious, and their fury is aimed at a plump, middle aged woman with dark hair and high heels who is some kind of bigwig at Sud de France, and who hovers around unhappily, not quite sure what to do or where to be.
» Disgraceful! » The word filters down, « absolutely disgraceful!  We, the taxpayers, pay their salaries and what do they do, the fly business class! »  Nine sets of eyes follow her ineffectual hovering with undisguised contempt.
She had had the misfortune of being on the same plane as half a dozen observant and unforgiving Vinifilles.  She in Business, they in Economy.
Kim Marcus, the famous American wine writer who covers the Languedoc for Wine Spectator, wrapped up the proceedings by encouraging us all to explore the American market. « I love the Languedoc » he enthused. « My favourite wine region! Such variety…. Such good prices. »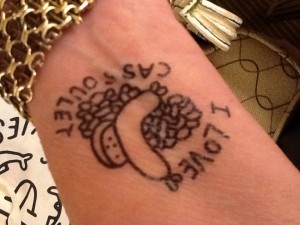 Hear hear.
And then we finish the day with a cassoulet.  After last month, I thought I had had my fill of cassoulets for the foreseeable future.
Wednesday 25 February
We were supposed to fly to Dallas today, for a wine dinner.  But our importers called it off about two weeks ago.  Which is perhaps just as well, because a notification has just come in saying that our unrefundable flight has been cancelled.  Jan says again: we must remember never  to visit the States in the winter.
Thursday 26 February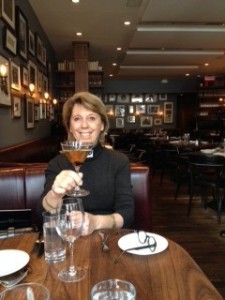 The last Manhattan in Manhattan.   The last visit to the Metropolitan Museum, where they wouldn't allow us in because we had a bag with three bottles of wine.  Couldn't check them in the cloakroom. Couldn't leave them with Security,  Couldn't walk past the cordon with them. Couldn't cross the threshold with them.  « The Met has a zero tolerance policy Ma'am » the guard explained, obscurely.
And now at JFK we discover we can get an upgrade to Business Class for €200, and decide to go for it.   I've had a quick look around the lounge for the plumpish dark haired woman in high heels and a power handbag, but she's not here.
Saturday 28 February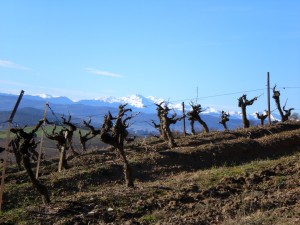 No place like home.   Honestly.
…/to be continued next month