Well, that was July, that was. The third hottest July in France since 1900, with less than half the normal rainfall. And now we are in August, contemplating our grapes and their impending harvest. They look great (touch wood). In fact, never seen such picture-perfect vines in all our fifteen years here. Beautiful, healthy, happy; positively blooming with good health. "All we need is a drop of rain, not a downpour, but a nice gentle Irish rain," Jan says at the beginning of the month. So off we go to Ireland to get it – and come back to find that 25 ml of that same gentle Irish rain has fallen on our vines back at home: just the ticket. The grapes look absolutely terrific.  Like us, they are rested, unstressed, and raring to go …
Tuesday 18 August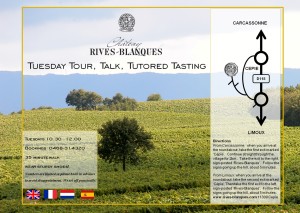 "It's brilliant!" Eric enthuses when we get back. "But no more rain, that's enough for now." He's right. I take a group of thirteen Tuesday Talk, Tour, and Tutored Tasting trippers around the vineyard, and Bacchus Maximus, the fat lab, follows dutifully. I'd just finished saying "we know the harvest is about a week or so away when Bacchus starts eating the grapes": no sooner had the words left my mouth than Bacchus started nibbling at the grapes. We move on to the subject of biodiversity, how biodiversity is so important to us and to the vineyard. Again, no sooner had I said the words than a beautiful deer leaped gracefully over the hedge and into the woods,  just to prove the point. I finish off by echoing Eric. "Just look at how amazingly healthy and beautiful the grapes are! What a wonderful shoo-in to the harvest … though anything can still happen between now and next week …"
Just as long as it doesn't rain.
Thursday 20 August
Listened to a meteorologist expert in tornadoes on the news this morning. He's happily telling us not to be fooled by this perfect pre-harvest dry heat: all that will change.  I feel an icy hand clutch my heart.  There are tornadoes on their way. Hail. Rain. High wind. All the things we really don't want even if they are in the UK.  The UK's far too close for comfort.
Friday 21 August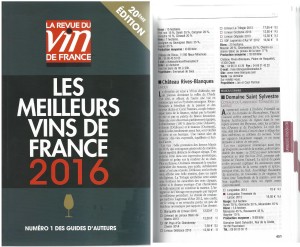 Biting the hand that feeds you doesn't help anyone.  But  grumbling does, kinds of clears the air.
One of the major wine guides, produced by France's major wine magazine, La Revue du Vin de France, gives a nice write-up about our wines in their brand-new 2016 edition.  In fact, they include only one Blanquette de Limoux (which happens to be ours) and two Crémants (of which one also happens to be ours), and say very nice things about all our non-sparkling wines as well.
So it's a small price for Jan to pay to be called a British ex-Banker, as they insist on calling him –  though he's been a Dutchman all his life, and a winegrower for as long as he was ever in banking.  He'll just have to grin and bear it with a stiff upper lip, like a proper Englishman, that's all.   And thank you anyway for your kind words … as long as the wines please, then we are pleased: what ever our nationality or profession.
Saturday August 22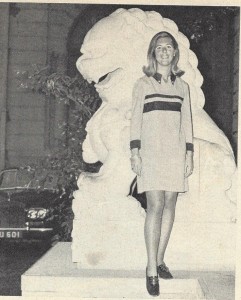 This is the kind of come-back kid story I like.  Here's me, an awfully long time ago –  the clothes and the hair alone point to the early 1970's, so there's no hiding from that – standing at the opulent front entrance of the luxurious Peninsula hotel in HK, where I worked for many happy years before getting married and moving on.
It was one of the world's leading hotels then, and it still is now: home to some of the best Michelin * restaurants in the world.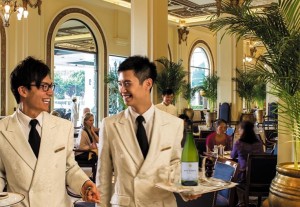 The Peninsula may be even more luxurious today than it was in then, but its basic standards of outstanding quality and excellence cannot be outdone and have remained exactly the same.
So imagine how pleased I am that this month they are serving our own high standard of excellence: the chenin blanc, Dédicace, by the glass.  It feels like … a home-coming of sorts.  « It's good to know », as I wrote all those decades ago, « that in a world of changes, some things never change. »
Sunday August 23
Unimaginable.  Nearly 100 ml of rain over Montpellier.  Hail and high winds. Disaster for our friends and colleagues in that region.  Grateful to have escaped, so sorry for them.
Tuesday August 25
The weather is incredible.  Magic.  The grapes look fantastic.   We walk around the vineyard, picking random samples and also tasting them.  The harvest is just around the corner.
Stories from friends trickle in about the catastrophic weather they had over the weekend : Terasses de Larzac had 200 mm of rain and 10 of hail, 120 ml in Nimes … and so it goes on.   But if this amazing weather continues, all may not be lost.  Hopefully.  Hardly dare tell them we had the same conditions in 2011, and it was … difficult.  Fingers crossed
Friday 28 August
Oh why oh why didn't the weather read the weather forecast?  This soupy gloopy weather is absolutely not what we want.  We go into a huddle and revise our harvesting plans.  Everyone in Limoux is hissing « Watch those sugar levels!  They're rising, they're rising … »
We're watching, we're watching.
And watching mushrooms grow on the lawn, possibly the most depressing sight on earth.
Monday 31 August
The dread Marin is blowing, a horrid humid wind .  We go around the vineyard checking the grapes, they still look great.  They taste great too.  We could start harvesting on Wednesday or Thursday, excepting. Excepting that the Orange Alert for thunderstorms, hail and high winds is on.
Our plateau is heavy and silent, holding its breath.
…/to be continued next month