We had it all this year: heart-stopping moments, extreme cold, extreme heat – late flowering of the vines, hail in the neighbourhood just before the harvest …  and now the wines are meditating away in the dark quiet of our cellars, and all is well with the world.  It was an interesting year, a challenging year, some times an unpredictable year – but we can already say it was a Very Good Year.

Saturday December 1
In a fizz tizz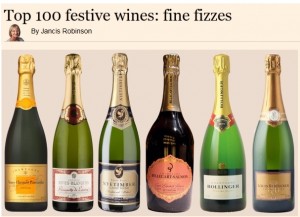 The best weekend reading we could possibly  want, thwarted by a ubiquitous French strike.  No FT today!  No  Jancis Robinson's top 25 top fizzes of the year.  So we look at the FT's on-line edition, and the first thing we see is a picture of our Blanquette de Limoux cosying up to  a bottle of Bolly's, Nyetimber and Veuve Clicquot.  For the second time, the Rives-Blanques Blanquette has been elevated to greatness by the High Priestess of wine in this select and selective list.  The month cannot begin better than that.  Nor could the  year have a better ending.
Saturday December 8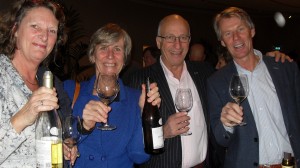 It is a lovely, light, and pure round space minimally decorated.   Sustained excitement bounces off the walls.   A sibilant susurrus whispers around the room:   Prins Maurits, Prince of Orange Nassau!  And the Furst von so-and-so, the highest nobility in Germany…!  There are lots of 's's in Prince, Maurits, Nassau and Furst.  And they slip,  slide and slosh around the room.
This is the Amsterdam tasting organised by Colaris,  Dutch Importer of the Year,  with whom we have been working for ten years.  Trouble is, we do not know what this Prince of Orange looks like, and even less who is his Godfather the Furst – or  which two of the crowd milling before us could possibly be them.
But we do know that the person presenting himself before us is neither His Highness, nor is he Jan Panman, because  Jan Panman is on the producer's side of the table.  But he says he is Jan Panman.  This is too funny: he is Jan Panman, but clearly, judging from his height, a new and different dimension of Jan Panman.
And then just as we begin wondering if a pleasant and most civilized herring-bone clad gentleman tasting our wines could be the Prince and should be called Your Highness, a group of friends hardly seen since we lived in Brasil 25 years ago, rocks up.  The party begins.
This may be a work visit, but we are having a lot of fun.  It's always fun at the Colaris tastings.
Sunday December 9
Say cheese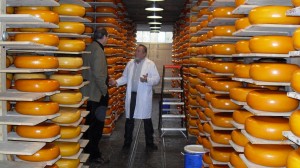 Leo can turn a 13kg cheese over on the tip of his little finger.  He can lift you off your feet with his handshake.
Jan keeps a cautious and respectful distance.
Leo is the Cheese Master at Reypenaer cheese, one of the most prestigious cheese-making companies in Holland.  He turns over all 3,000 cheeses, each weighing 13kg,  every week
They are housed in a 19th century building right on the banks of the Rhine, in a little town called Woerden, which is where we find ourselves today,  in hot pursuit of the truth that white wine is so much better with cheese – and vice versa – than red wine.
Monday December 10
The Vinpressionist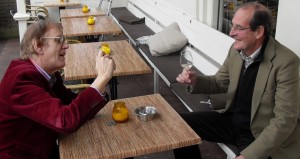 And now Jan finds himself saying 'cheese', as the most published, most prolific, and according to Robert Parker Jr, the 'best' winewriter in the world shows he's a dab hand at the camera as well.
We are having lunch with Hubrecht Duijker, the doyen of Dutch wine writers, in his home town. Do the people of Abcoude realise just  how lucky they are to have this erudite, knowledgeable, informed, and interested world-expert head up their local wine club?
Reason enough to move to Abcoude, if you're a wine lover looking to live in Holland.
Tuesday December 11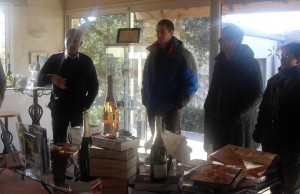 Now, this doesn't happen every day: that a group of 15 or so Bordeaux producers, including some Grand Cru names, comes to Limoux to learn …
Eric talks about our biodiversity projects.  They sip cautiously at our chardonnay.  They inspect our cellars. And then we talk some more about biodiversity.
But it is true that Limoux has a natural advantage: comparatively unpolluted, clean and happily balanced between Atlantic and Mediterranean influences, even under the worst circumstances we would spray a lot less than our colleagues in Bordeaux, Champagne or Burgundy.
Friday 21 December
The end begins well