« We presume an excellent millésime 2011″ says Limoux's wine syndicate, pointing out that the grapes are glowing with health and happiness, weigh about 30% more than last year, and look really good.  So we are presuming too.  It's been a curious lead-up; some say all the up/down weather we've been having is because of this year's 13 moons.  But the vines continue on their path unfazed, glad for the water they had in July, and glad for the sun they're getting in August.  The truth is, it looks really really  good, but sshh: anything can happen between now and the harvest.
Wednesday August 3
Je maintiendrai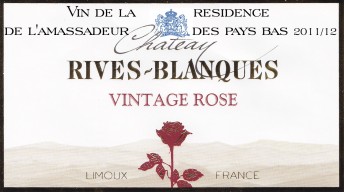 Very flattered we are that the Ambassador of the Netherlands in Paris pitted the 45+ Dutch winemakers in France against each other in order to find the best wines to serve at all official functions at the Embassy… and three of them are from Rives-Blanques!  Which is quite a feat, considering we were invited to present only one wine per category: 2 of the 3 white categories were awarded to our Chardonnay-Chenin in the screwcap, and our AOP Limoux chenin blanc, Dédicace – and the Champagne category was opened to allow one non-champagne, our Vintage Rose.  We're allowed to put this honour on our labels, but on second thoughts … hmm.  Not so sure about that.
Thursday August 11
All that's Blanquette doesn't necessarily fizz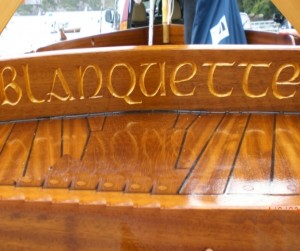 Ah well, so Ireland has its weather still.  That's almost a comfort.  But cold, wet comfort for the helmsman and his crew of a plucky little sailing dinghy of the Ette class, called BlanquEtte.  Together they contrived to lose the trophy of the Ocean Race  … and fizz flat at the finish of the Ette  race too.  Well, that's taking it a bit far, as crew and captain will robustly explain, but this was not a year in which Blanquette de Limoux sparkled on Irish waters …
Thursday 18 August
The White Exception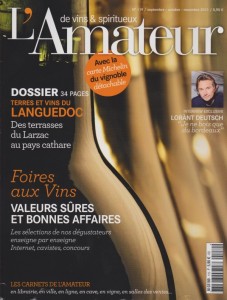 The nice glossy wine magazine called L'Amateur de vins & spiritueux comes into our postbox with both good news and bad news highlighted on its front cover.  The good news: a 34-page feature on the wines of the Languedoc.  The bad news: « I only buy Bordeaux », says Lorant Deutsch, a famous French comedian.  Clearly I'm having a sense of humour faliure because honestly I  don't find that very funny.
Infact, I find it quite sad.
But on the bright side, let's hope he reads the rest of the magazine and sees that Aimé Guibert, the iconic Languedoc winegrower, is quoted as saying that the region has a 'magnificent' future, if only it can shake off  its reputation as an eldorado for good wines at cheap prices.
Could that be why Mr Deutsch prefers Bordeaux?
Andrew Jefford, a most respected British wine writer, adds that the Languedoc, actually  the world's biggest wine region,  boasting 18 appellations, with 38,000 ha. of  vines destined for appellation wines,  offers a unique 'mosaic of terroirs'.
One of these is Limoux, described by the magazine as 'the white exception'.
'In an ocean of red wines, " they say, "Limoux stands apart: 95% of its wines are white or sparkling."
The Rives-Blanques chardonnay, Odyssée, featured as one of the top Limoux white wines.  Mr Deutsch, please take note.
(for the full article on the Blanc d'Exception: http://www.rives-blanques.com/rives_notes/wp-content/uploads/2011/08/LAmateur-de-Vins-et-Spiritueux-September-11.jpg)
Friday 19 August
Dog Days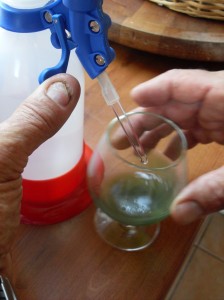 It's the canicule (heatwave) but without its etymological definition (« dog days » / « period of inactivity »).  There's plenty of acitivity going on round here, that's for sure.  First, an early morning start to pick grapes at random and measure their sugar/acidity content.
Round and round they go in the magimix.  You take off its lid and that old familiar sweet smell of freshly squeezed green grape juice hits you in the face.   Almost knocks you out. How could you ever have forgotten it?  Last year suddenly feels like yesterday … and yes, we're heading into the harvest again.
Then the air fills with the sound of the wine press alarm bells ringing, bringing back memories of the time when the press actually did break down,  with all its bells clanging a desperate jangle … and all our precious unpressed chardonnay inside.   But today is just a test-run.
This might be a 'time of inactivity', but the place sounds like, smells like, feels like the frontier of frenzied action.  And since the canicule is scheduled to continue into next week, we may find ourselves harvesting earlier than this morning's tests predict …
Saturday  20 August
38 degrees and rising
In other words, too hot for words.
Saturday 27 August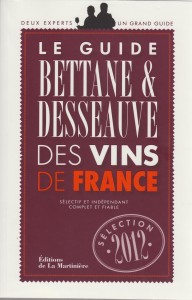 And then a week later we're walking around in sweaters …
But the freshly published wine guide written by France's celebrity wine critics Bettane and Desseauve hits the hot spot for us.  They select seven of our wines – a big selection from a small vineyard.
And they lament the fact that the Languedoc is predictably splitting into two streams of viticulture: one, an indifferent mass of wines with an uncertain future, and the other, wines of great refinement and expression of terroir … « which cannot fail to please ».
Follow this link for their review of our wines: http://www.rives-blanques.com/wordpress/?p=834
Sunday 28 August
Holding our breath
The whole of Rives-Blanques is cacooned in a capsule of calm, suspended in silence.  Trailers are hitched to the tractors at the entrance of the winery, noses pointed to the vines like restless horses ready to run.  Wine-press clean and waiting, expectant.  Barrels standing like sentinels, silent.  It's quite eerie.  Action is going to burst on us any day soon now, but not today.  In the mean time, we wait.
Monday 29 August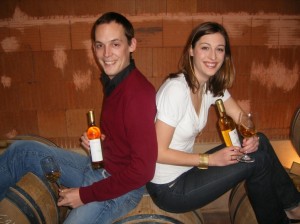 Forget the Oxford 'double first', the MAs from St Andrews, SOAS, and SAIS … what we feared was the shame and scorn poured on the head of Rives-Blanques if our two kids, both otherwise fully occupied well away from the wine world, should fail their Advanced Wine & Spirits Education Trust exam.
« Prepare yourself » they said, « we really don't think we passed.  Honestly ».
I knew they hadn't had the time to study properly.  I was steeling myself for the worst. The results came in today:
Pass with Merit!  Both of them!
Phew.
Tuesday 30th
When Presuming's not Presumptuous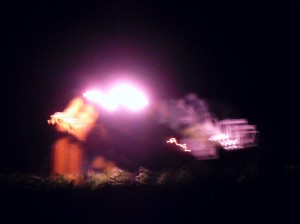 Early start this morning.  The stars still burning to the quick in a black canopy of sky overhead.  Lights whirling on the tractors, a high-pitched scream of the harvest machine cutting through the silence and the dark.  Yes!  Harvest 2011 is on the road!
Well, almost.
This morning at 05h00 we machine-harvested one press-load of chardonnay for our 'cuvée fraichure'.  Don't think I've ever seen such a flow of pristine, perfect, impeccable grapes pass under my hand at the sorting table ever before.  Just text-book beautiful.  A song of perfection, honestly.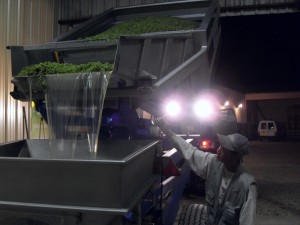 And then the sun rose and the mountains folded gently out of our horizon, depositing themselves on our doorstep.  What a beautiful morning!  What a great day's work!
And now we can twiddle our thumbs for a week or so, before we seriously get underway and the real harvest begins.
/to be continued.