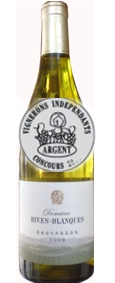 The wild one in the Rives-Blanques range of wines, our barrel-vinified sauvignon blanc, was awarded a silver medal from the Competition of the Independent WineGrowers of France this month.
Variously described as 'a million miles from Marlborough' or 'a completely different idea of Sauvignon', this is only the second vintage ever produced by Rives-Blanques.
Sauvageon comes from our young vines on the lowest and most westerly, Atlantic side of the vineyard.