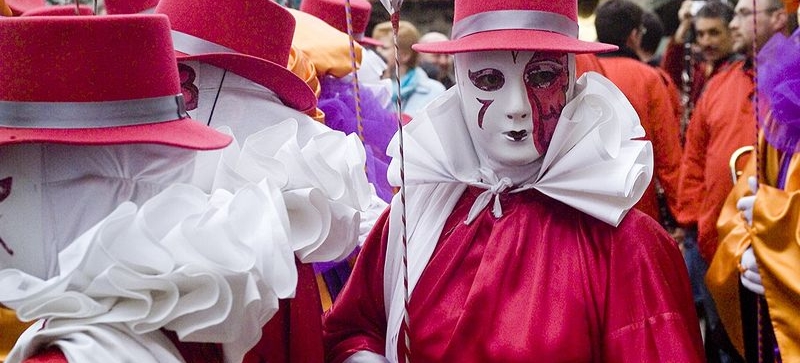 There's snow in them thar hills, and we feel it creeping down on us, step by step. Fair do's, it is February after all – but we have rather a lot of vines still to prune. At least we are getting the winter rain we so dearly love and cherish. In the cellars, the 2012 vintage continues to behave like the best class at school, outperforming itself in obedience and compliance: what a wonderful, well-behaved, well-brought up bunch of barrels we have down there! Daren't say it too loudly, but 2012 just goes on smiling brilliantly … In the mean time, though, 2013 continues its headlong rush into the future. True, we still have vines to prune, wines to make, but incredibly, Carnival has hit Limoux again – which means we are a year further down the road than we were this time last year. Time is not standing still. And nor are we, with a big wine fair in Shanghai, Vinisud Asia, dominating the end of the month. February is palpably shaping up to be a question of facing the music.
Truffled out
Sunday 3 February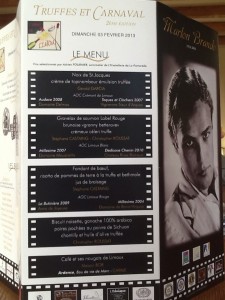 First course truffels. Second course truffels. Main course truffels. Dessert truffels. I think I heard someone say that 4 kg of truffels had been consumed. That's an awful lot of truffel. The Truffel Expert of the Aude was there. He was much photographed. So were all the notables and votables of Limoux: the mayor, the député, their hopeful and hoping  successors hopefully pumping hands and kissing cheeks – of which there were many -, and the mayors and deputés from surrounding villages. People were dressed to the hilt, and so was the 19th century wrought iron covered market place, Les Halles: every every table laden with flickering candles, decorative glasses frothing forth decorative bubbles, and a battery of crystal ware. It was quite something, and it was still only the middle of the day.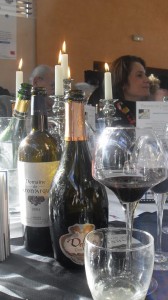 The top local chefs cooked up a meal to accompany the truffels, and the sommelier of the Michelin star restaurant, La Pomarede in Castlenaudry chose the wines, totally impartially, he assured us. Blind, in fact. Its Michelin-star celebrity chef, Gérald Gracia, cooked one of the courses. Limoux's own brightly burning young ambition, Stéphane Castang, cooked another. There was a red Limoux from Baron d'Arques, the Rothschild property in Limoux, and La Boutiniere from the wine cooperative that joyfully carries the name Anne de Joyeuse. There was a top chardonnay from Mouscaillo, and there was a top chenin blanc from Rives-Blanques.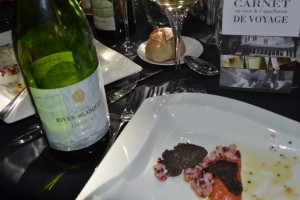 Which went very well indeed with the truffled dishes. With the gravad lax accompanying the truffels, and the "brunoise granny betterave" accompanying the gravad lax. And also with the scallops accompanying the truffels. And definitely with the truffels all alone.
Tuesday 5 February
Haute Cusine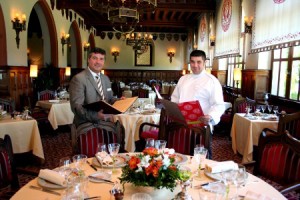 Very very pleased to have the visit today of one of our favourite sommeliers, actually Maitre Sommelier, Georges Gracia of the famous Hotel de la Cite in Carcassonne. Sometimes you have chefs who know something about wine, and sometimes you have sommeliers who know something about food. Georges is a chef and a sommelier, and he knows a lot about both. So tasting our wines with him is a true pleasure. Got a good idea from him too: our late harvest Lagremas d'Aur with raw gambas marinated in rice vinegar, salt and pepper (maybe a twist of Szechuan pepper) and a sprinkling of sesame seeds.  (And no truffel at all.)
Wednesday 6 February
Drick for Livet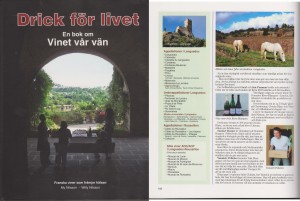 We may eat to live, but now we're being encouraged to drink for life – or at least, that's my translation of the title of a new book on the vines, wines, vineyards (and benefits thereof) of France written by our friends Willy and his daughter My Nilsson.  Lovely book. Only problem for some of us is that's in Swedish.  Even so, we can see that the Rives-Blanques wines are 'elegant', 'fresh', 'round', and 'balanced'.   Wines, we suppose,  to drink for life …
Saturday 16 September
Facing the Music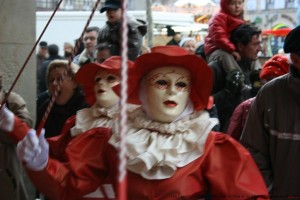 Françoise Antech is as full of bubbles as the fizz she makes. But today she's serious. Not flat, but definitely serious.
"Carnival is serious" she says, "To be invited to join a Carnival group, to be one of the fecos, is a real honour, and we have to be worthy of it. We've spent the whole year preparing for this single day."
 (Not that Limoux's carnival is a single day. It's an endurance test that cannot be faulted on longevity, no matter if you're talking about the length of it (3 months) or how long it's been going on for (600 years). But for Françoise, the single most important day is the day when her group performs. Which happens to be today.)
 She's giving us the low-down – and also making sure we won't misbehave and disgrace her. Carnival may be fun, but it is emphatically not funny. There is an unbending set of unwritten rules and a strict code of conduct which the local Limouxins have absorbed by osmosis and centuries of total immersion. For the rest of the world, it's an enigma, a puzzle.
 But we think we've got the gist of it. There are three sessions: one at 10h45, a riotous and ribald round; the main one at 14h30; and then the last one at 22h00, the most 'precious', they say, when torchlight throws shadows of the procession's slow hypnotic movements against the town's medieval walls.
At each sortie the disguised carnivaleers go around Limoux's Place de la République, followed by a band of 14 musicians who beat out a brassy tune designed to play and replay in your head for the next 24 hours, at least. They stop at each one of the five official bars on the way for an obligatory glass of bubbles (Limoux reputedly has more bars per capita than any other town in France. It is also home to the oldest sparkling wine in the world.) And then between rounds they retire to their own designated home pub for more bubbles.
Our role, as goudils, is to follow on behind the band following the official Carnivaleers.
 Which explains why there's a group of us here – names you'd actually be quite pleased to see on the bottles of wine at your dinner table (Chateau Beaubois, Clos des Nines, Chateau de Rey, La Jasse Castel, Chateau la Dournie, Chateau Rives-Blanques to name some) – all heavily disguised as a school of frogmen. Flippers, masks and all. Not a strand of hair or pore of flesh in sight. No one is allowed to know who we are, and in fact, we are not even sure we know who we are. All we know is that we are flip-flopping around the square, behind the musicians who are behind a group of identically-dressed dancing marionettes, one of whom though nobody can tell which, is Françoise, waving carabenes above their heads, to the boom boom of drums, and the clash of the cymbals, and the ear-blasting trombonist. The volume of noise at close quarters is indescribable.
 "The carabene" Francoise had explained, "is a bamboo rod that we ourselves make and decorate. It's an extension of ourselves, it prolongs the moment and the movement of our gestures in harmony with the music."
The goudils, however, do not have carabenes. I have given up on my flippers, and instead wave them in the air above my head as an extension of the music. Or perhaps an extension of myself. But it is not a great success.
 Only slow shuffling feet (happy coincidence for the frogmen), and subtle movements of head, hands and arms are permitted: the movements are slow and studied at the best of times, and become slower still with each progressive sortie and its accumulation of exhaustion and alcohol. Nothing has been taught; these people have been 'doing' carnival since birth, as did their parents and grandparents before them. And they can easily tell that these clumsily gesticulating frogmen have been fished up from other waters.
Friends had told me before that Carnival is ultimate liberation, pure freedom. And now Françoise was saying, "If you open yourself to it, and if you like it, you will adore it. Trust me!"
 Right now I am still quite far from adoring it.
We have 'done' one bar, and are re-adjusting our masks, raised in a secret and separate room for the purpose of having a glass of Blanquette de Limoux, to prepare for the foray to the second. The bar is heaving, the crowd is pressing, the noise is unbearable, the mask is uncomfortable, and the confetti that the main protagonists of the Carnival have the privilege of throwing in the air, down your collar, into your hair, is scratchy.
The band starts up again and we are on our way. An idle thought crosses my mind: how curious it is that a smiling mask can elicit a smile. And how curious that people will seek eye-contact with a mask, when clearly, it has none to see, so to speak. And equally, how curious to be the unsmiling smile and the uncaring eye on the other side of the mask.
One of the disguised dancing dolls ahead of us steps briefly out of the melee. She appears to have a certain compassion written over her face, I even think I read approval there as she surveys the shoal of frogmen behind the band, but we are not deceived (it takes a mask to know one).  There's a slightly school-teacherish attitude to the flick of her carabene, and that is probably the more reliable sign. I consult with the frogman at my side: could that one there with the strap on her red shoes be Françoise? The frogman's universal 'OK' sign confirms it. Now at least we have spotted land in this bewildering sea.
 I begin to loose track of how many bars we have already visited, and how many are left to be done. Of how many glasses of Blanquette we have drunk, and how many there are still to go. Through the slits of the mask, beyond the row of smiling faces watching us, we notice that tiny blue fairy lights have come to life on the trees in the Place, and Venus, copied from Botticelli for Limoux's improbable fountain in the middle of its square, is fast receding into a large dark shadow. A bright crescent moon hangs like a cliché over the roofs of the old buildings lining the four sides of the square.
 Night is falling – but the music is not. It continues its relentless and monotonous beat.
And then something unexpected happens to this particular frogman. Briefly. But it happens none the less. Suddenly there is a complete and sudden separation of frog, still flip-flopping down there, from man, now hovering in hope somewhere up in the air around the highest C the clarinet can reach. Incredibly and unexpectedly, your spirit is lifted right off its feet.
And then it is all over. At midnight, after the last sortie, the identically disguised dollies burn their effigy of the Carnival in the middle of the street. They all get down on their knees on the asphalt and cry in Occitan, goodbye dear Carnival, thank you for this magnificent day, thank you for burning away all the unhappiness of last year, goodbye dear Carnival …
And then we all get up and dance around the flames.
For days after, I kept finding little pieces of confetti all over the place. And I still don't quite understand what it was all about – though I do understand that I'm not meant to understand.
But try it.  You'll adore it. Trust me.
Monday 18 February
Still full of bubbles

As if we haven't had enough bubbles, this copy of the Swiss Ristora Magazine lands on our desk.
One of the most respected sommeliers  in Ticino, Savino Angelotti,   recommends our Crémant de Limoux Blanc de Blancs with a ricotta-based ravioli:
"Semplicemente sublime!".
Well, I can understand that all right.  But I'm still not quite in the mood for a glass of fizz just yet.  Even if it has "una freschezza molto elegante"
Monday February 25
Shanghaied into China
Anyone who has ever tried to find the source of a leak  will know  there's no accounting for where water can take itself … and you in its wake, for that matter. Unpredictable, unaccountable, unfathomable.  Like wine, which is largely water, after all.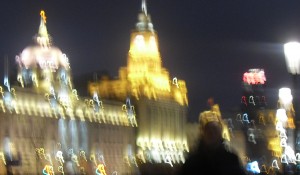 And so today I find myself in Shanghai, looking spellbound at the city's sculptures of light and stunning art of concrete and glass from the Bund.  I must be  the only person standing here now who stood on this exact spot just  outside the Peace Hotel, 40 years ago.  Never thought wine would take me back in history and then launch me into the future like this.  Never thought I'd see desolate nothingness  transformed into glittering  everythingness in the space of less than my lifetime.
In the meantime,  Jan is surrounded by other art, on the other side of the world in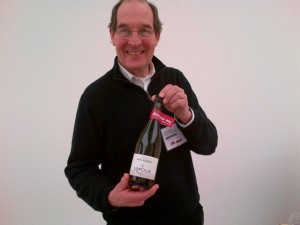 London's Saatchi  Gallery, doing a  portfolio tasting with one of our UK importers, Enotria.  Our blend, Le Limoux, has been selected as one of Enotria's 55 'discovery' wines.  Just this morning,  walking from Dr Sun Yet Sen's house towards Dongtai Road, we passed the local Saatchi & Saatchi office, a million miles away in every sense : a sweet spruced- up house, with what appeared to be a pop up kitchen in its garage.  Limoux, Le Limoux, and the Saatchi Gallery seemed a long way away …
Then we passed a slick wine shop in a slick trendy neigbourhood, and winking at us from the window was a range of Minervois wines from fellow Vinifille, Chateau Coupe Roses.  Now that's getting pretty close to home …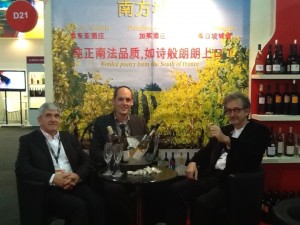 And so we continued going around in circles in Shanghai, mentally straddling continents until it was time to be penned up in its Convention Centre for the first Vinisud Asia wine trade fair.   Mas du Soleilla from La Clape, Domaine de Calet from the Costieres de Nimes, and Chateau Rives-Blanques from Limoux, all gamely diving into the unknown and possibly perilous waters of China's wine world.   With Jan A, my secret weapon, as interpreter.
And he does not think he has heard right.   Or understood correctly.  So he repeats the words just uttered by the young Chinese wine importer from one of the provinces, to make sure he has got it right.
"You are selling Domaine de Calet wines in your shop?" he repeats incredulously.
The young man nods affirmatively.  "That's why I stopped at your stand. I want to meet the owner".
Yvon shakes his head.  "Impossible!  I've never sold a single bottle to China in my life".
But he has, unwittingly and without knowing it.  Via unexpected and unimagined channels
Wine moves in mysterious ways, and today it seems to be taking us full circle.