Aftermath generally refers to after a disaster, and this was not one.  But the fact remains, we feel as if we have been through a storm: exhausted, but glad to be alive.  And the funny thing is, the harvest of 2013 wasn't even all that "difficult"; in fact, it was quite well behaved in that it allowed us to sleep through the night, and take the weekends off.  But it was stressful.  And we are glad it is over.  And now we are mopping up the aftermath, quietly recovering and chivying the grape juice into wine.  So far, so good – it's all going remarkably well, and at the beginning of the month, a couple of tanks and barrels' worth of wine had already finished fermenting.   The barrel cellar is like Aladin's magic cave, wonderfully perfumed with exotic  scents  pulsing quietly in that heavy, dark space.  Just delicious!  Outside, it is as if the vines know the game is up.  Summer has come to us belatedly, but the vines believe in autumn and are turning into stunning shades of copper and gold.  Their work is done.  Ours is just beginning.
Friday 1 November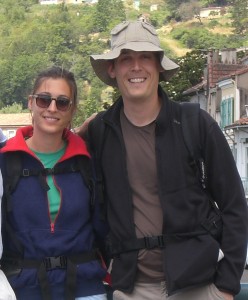 Jan-Ailbe in a complete strop and not nearly as smiley-faced as he is here on this photograph, having been pulled from his tractor yesterday by a laconic email telling him that his flight scheduled to leave today from Paris at 11h45 is actually going to be flying at 09h30.  Very sorry mate –  actually, if the truth were known, not even all that sorry mate – but you have two hours to pack your bags, get your gear and your act together, get yourself to Toulouse, get  yourself on the last flight, find a hotel in Paris, and be standing prompt and ready at the check-in desk by 07h30 this morning for your onward flight to Canada.  And oh yes, finish what you're doing, load that incoming truck, and don't forget to put away the tractor, please.
This was the brunt of the message from the organisers whose job it is to promote trade relations between France and Canada and who had arranged his travel.  Jan was furious.
But he is on his way, and arrives in Montreal about now, and in time, to participate in the Raspipav wine fair with his sister, who is flying in from Washington DC.
And at home, the other Jan is preparing to fly to Holland tomorrow, for another wine event.
But at least the 2013 wines are steadily sticking to their course and unhurriedly doing their own thing.
Saturday 2 November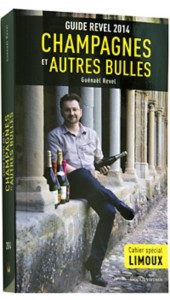 This is a picture of a Canadian fizz expert called Monsieur Bulles, and he is sitting under the medieval arches of the Abbey Saint Hilaire, where Benedictine monks were the first in the world to discover how to put the sparkle in their wines.  A sort of pilgrimage, you could say.
The result of his visit is a 70 page insert in his new 2014 Guide to fizz and other sparkling wines, all about Limoux.  His book will be launched next month in Belgium.
Of course we are pleased that our fizz has been included in this guide.
Just a bit puzzled about the tasting notes.
"We are in the presence", he said, "of a Crémant that is more authoritarian than charming – but with a nice personality none the less."
Exactly who at Rives-Blanques is he talking about?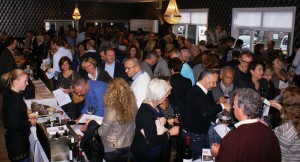 Sunday 3 November
Jan heads off to Holland for an Open Door tasting at Sjatoo, a small but perfectly formed wine and delicatessen shop in a historic Dutch town called Breukelen. They're not too sure how many people to expect.
"Maybe 100, maybe more".
Looks like a lot more.
Monday 4 November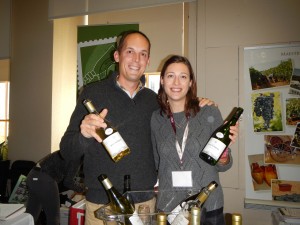 Jan-Ailbe and Xaxa really flying the Rives-Blanques flag high in Canada.  They're getting into the swing of things, complaining bitterly about how tiring it is to be on your feet all day … and all night.  Veronique Rivest, the No 2 Best Sommelier in the World comes by to taste the wines.  Xaxa admits to feeling quite "star-struck" and reports home how polite, and nice, and intelligent and considerate, and pretty, and clever, and multilingual the world's top female sommelier is …
Well, you have to be quite exceptional to reach that level.   And have the memory of an elephant.
Xaxa was pretty sure she would never have had a barrel-vinified mauzac before in her long, illustrious sommelier life.  But of course Veronique Rivest perfectly remembered tasting the singular Zacmau from the Gaillac region.
Wednesday 6 November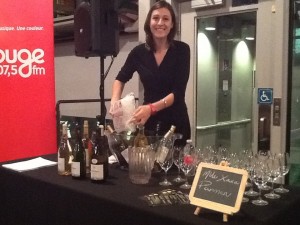 Jan-Ailbe arrives back home, leaving his sister to fend for herself.  Which she does very well.  Now on the Canadian trail, she's in Quebec city still talking, pouring, presenting wines.  And Jan-Ailbe's back on track, or rather, back on his tractor, ploughing furrows.
Saturday November 10
The crème of the Benelux
Michel is a big man, and there is a big smile on his face. He's offering us fresh orange juice, piping hot scrambled eggs, home made jams: Michel was once voted Belgium's Best Chef, no wonder he makes a good breakfast.
We are here for two wine events: one here in Dilbeek in Flemish Belgium, where the ex-Michelin star chef started up a wine company now headed by his son-in-law, Antony. The other is in a little town called Weert, in the South of Holland with Leon Colaris wines, a company we love dearly and have worked with ever since the very beginning. The breakfast at its Golden Tulip hotel isn't a patch on Michel's, though, so for sure Jan has pulled the long straw this time.
Michel is telling us all about how to make a proper crème brulée. Like the one he coached Antony with, when he became Belgium's Second Best Chef. Antony fumbled the fish, which is why he didn't get the full accolade. His crème brulée however, was brilliant … whereas the one made by the chef who pipped him at the finish was not nearly as good, it's all a question of the crust.
Making a good crème brulée is not as simple as it might seem, takes longer to explain than you might have thought,  so I leave for Weert, driving through a beautiful Breughel landscape painted in autumn colours, rather later than planned.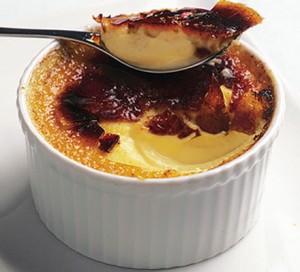 The Colaris tasting is a success, as it always is. It's also desperately cold in their cellars … as it always is. The best part of the day comes at the very end of it, when all the producers get together for a meal in a warm restaurant in Weert. For desert: a crème brulée
I look at it with new eyes.  Michel's instructions run through my mind.  I analyse the cold 3cm base. Have a good look at the crust. Eat it. Declare it to be delicious.
Another ex-chef comes and plonks herself down next to me. She is one of the few women in Holland ever to have been awarded a Michelin star. I ask what she thinks of the meal.
"First course: bought, not made. A disgrace, in fact.   Second course: really bad. What a bland soup!  Bah!"  She snorts in disgust.  " Third course, fine. But the crème brulée ….!"
What about the crème brulée?
"Dreadful! Absolutely dreadful! It's all a question of the crust … " she says, and then launches into a detailed account of how a proper crème brulée should be made.
Sunday November 10
Kindness of Strangers
When you are on the other side of the table, you get a different view of things. There they are, on the other side, looking at me and my battery of bottles, and here am I, looking at them looking at me. Some women peer peakishly from behind their husband's backs, ready to run. Or to follow. Women tend to be more frightened than men. But many men are too: some stand well back, behind an invisible line with  invisible instructions  to stand back until the coast is clear. They stand there looking as if they know why they are standing there like that. Half will move on, half will take a determined and daring step forward. Some will stab at a bottle and say "Can I taste that?" And then you try to relax them, make sure it really is the chardonnay they want to taste. And try to tell them a bit about the wine.  It doesn't bite, you know.  You don't have to be an expert, or know all the Bordeaux Grand Cru by name.  In fact, please don't recite all the Bordeaux Grand Crus to me, I hate  wine-snobs.
Why are so many people so frightened by wine? So many women just downright frightened, so many men simply afraid of losing face?  And why are so many people so stuffy about it too?
The good thing about this Colaris tasting is that most of these people enjoy their wine and don't feel threatened by it. What we call an 'educated' public. Which is how you find yourself having a truly animated 10 minute conversation with a grower of endives, for instance.
(Did you know most endives are grown in water? And the ones grown in soil taste much, much better? Nothing like terroir we always say)
Over the years, these people have almost become friends, clients whom we see every year. The first one to cross the start line this morning is one such.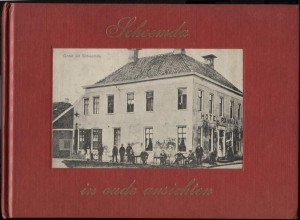 "Do you know of the Hotel Panman in a place called Scheemda?" he asks.
As it happens, I do. It was the hotel that belonged to Jan's great grandfather.  Now no longer extant (hotel and great grandfather alike).
And then with a flourish, he produces an old book with the Hotel Panman on its front cover. And gives it to me.
"I knew you'd be here again this year" he said, "and I thought you might like this".
No wonder I love, love, love this job.
Nothing, but nothing brings people together and defies time and distance as much as wine does.
Monday November 11
When we get to the Market Square in Brussels, the church bells are chiming in cacophonous oblivion of a lovely carillon tinkling out excerpts from the Sound of Music. Our restaurant is called the Guardian Angel, and it is: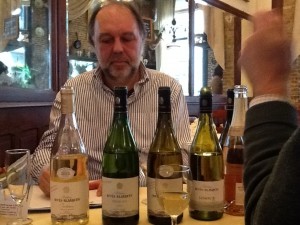 they have allowed us to line up all our bottles on the table before eating so that we can taste them with one of the country's top wine writers, Frank van der Auwera.
I've always adored this man's tasting notes, the freshest, most original, amusing, inventive, creative wine descriptions I've ever read in any language.
And now we know why, for sitting opposite us is the freshest, most original, amusing, inventive, and creative wine writer we've met in a long, long time.
Lunch was animated, interesting and memorable, and extended deep into the afternoon.  I was  reminded  yet again why I love, love, love this job so much.
Just a bit of a pity that "Red noses and black bellies" don't translate that well, though they do make great tasting notes.
Tuesday November 12
Zero!
Tasted the 2011 Crémant, which has been on the lees for  22 months and is now nearing bottling.  We tried hard.  We tasted it with 1,5 gm of sugar, 2 gm of sugar, 3 gm of sugar, 4 gm of sugar … and kept going back to the bare bottle: zero gm.  Amazing the difference added sugar can make.  With 1.5 gm added, the wine actually tastes more acid.  As soon as you get to 3 gm, you lose the floral and fruit aromas.  So Zero it will be.  And it will be lovely.
Wednesday November 13.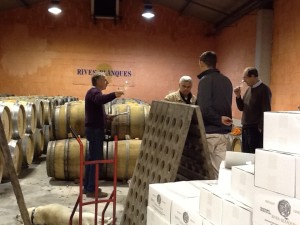 Some of the barrels are still fermenting, but they're all getting towards the end.  A whole morning spent tasting them;  they're shaping up nicely.   Then we attack the unoaked chardonnay and chenin for our Country Wine, first tasting all the elements separately, then tasting them together, then taking a bit of this out and putting a bit of that in.
The good news is, we can bottle!  We reckon this wine is ready to roll, and roll it will.  Rives-Blanques has been without its Vin de Pays d'Oc for four months now, and it really is time to open the tap again.
Monday November 18
On the catwalk
Boy, it's been gloomy: rain, rain, rain.  All mist and mellow fruitlessness.  Even our magnificent autumn colours have been washed out, leaves hanging limply from the vines in pale imitation of what autumn should be.
But Jancis Robinson's Autumn Collection puts the colour back into the picture.  She has chosen 44 wines from the Languedoc for the season … and one of them is our Le Limoux.  What a wonderful sequel to her Summer Collection, which also included our wines – proving, if proof ever were needed – how white is right, a wine for all seasons …
Monday 25 November
Going Dutch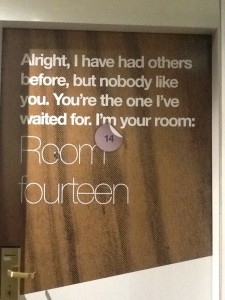 The door to our hotel room opens up on to the last weekend away from home this month.  Last week it was Belgium, the week before Holland and Belgium, the week before Belgium, and now … Amsterdam!  The sun is shining! The sky is blue!  It almost feels like a holiday.  We should have known from the message on the door that we were actually going down the rabbit hole.
Saturday night at the Supper Club: the word 'louche' springs to mind.  The waitresses wear tattoos, spiky hair, and moustaches, and not much else that counts.  The Maitre d' sports  generous swathes of black kaftan sufficient to cover his own generously proportioned self from head to foot.  There is a dancer, or is he an acrobat?, slithering around the floor or hanging from the ceiling, clad in a few flowing strips of  flighty white stuff.  He slides on to our bed (yes, our bed) where Tim Ford of Domaine Gayda is sitting (sort of lying) next to me, and brings his painted white face right next up to Tim's.  For a horrible moment, I think he is going to kiss him.  But no, tossing a backward glance from what appears to be a blind eye, he slithers off.  A masseuse wanders past, wondering if anyone wants a massage?
This is a dinner for the winemakers quite unlike any other we have ever attended.  There must be fifteen or so of us here, all lounging on this long bed, being fed (actually rather good) food and drinking each others' wines.  (It goes without saying the wines are great.  Tip of the week: Volker Raumland for really great German fizz.  Second tip of the week: Wagner Stempel for lovely Rieslings.)
The music gets louder as the evening progresses.  A large woman with a large voice sings "I wanna get laid".  The waiters are dancing on the serving table top, and Tim who runs his restaurant in accordance with European regulations, looks askance.  Just after midnight, we make a quiet exit.  The German growers  are in party mode and continue until about 2 am.  The Spaniards then set out to find another nightspot with a bit of action.  They don't go to bed at all, by all accounts.  No wonder one of them makes a wine called Mala Vida.
But the next day we are all present and correct for the presentation of a book written to commemorate the 120th anniversary of our mutual importer, host and friend, Pasteuning Wines.  Then there is a wine tasting for his customers which stretches on into the evening.
A couple present themselves at our table saying they had been to the vineyard three years before, and when they saw we would be here "we had  to come and say hello!"  That sort of thing really makes my day.
Then a young man dressed in a sharp suit with a sharp, fast look about him, a successful  football player I would guess, comes by and says  none of the wines he'd tasted so far were "his" sort of thing.  Not the Germans, not the Chileans, not the Spaniards, nothing, nada, niente.  In a word: niets.
So I offer him a Blanquette.
"No, that's not for me."
How about a Cremant to taste the difference?
"Not my sort of thing either. I don't think I like bubbles".
OK then, a nice chardonnay?
He sipped carefully and then said "Bah!" or words to that effect.
Well, I have the wine that was chosen as the special Wine of the Month for the KLM's business class this month …
"No" he says, firmly, "I really don't like this one either."
He shrugged his well-tailored shoulder and walked off.
That sort of thing really unmakes my day.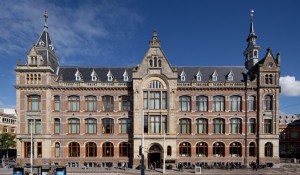 But we ended on a high note: dinner at the unbelievable Conservatorium hotel, recently renovated to the tune of well over one hundred million euro.  Nine courses all made to match nine of our wines,  immaculately served under the supervision of  the capable, competent, and caring Alvaro.  Each producer presented his own wine to the assembled group of customers, wine writers, television personalities – a faultless end to an extraordinary weekend.
…/to be continued