Sunday January 1, 2017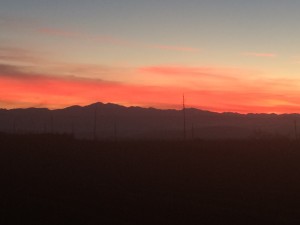 We hope for the best.  The first day of the first year burned itself out full of promise: shepherds' delight.  You can't help feeling optimistic, no matter what.   We  like re-phrasing Hubrecht Duijker's trademark comment: wine can help us forget the problems of the world, but we won't let the problems of the world help us forget a good bottle of wine:  today may be the beginning of year full of who knows what? but it is  the beginning of a new and exciting vintage… and we concentrate on that.  And the beautiful sunset so full of hope and promise.
Monday January 2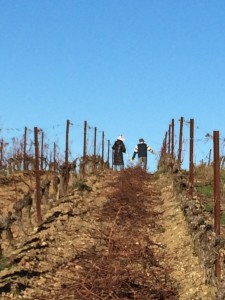 And vintage 2017 is on its way! Monsieur Lee first prunes the vines, then pulls the pruned wood off the trellises.  Madame Lee follows with a broom and sweeps all the cuttings into the middle of the row. Jan-Ailbe will follow on tomorrow and chop the dead wood into little bits and plough it back into the soil. The cycle goes on…
Go up to say "hello" to them, and wish them a happy new year even though I imagine it is the Year of the Cockerel they'll be celebrating later this month, and note that Monsieur Lee's face has settled back into place.  Nobody mentions the 14 July assault in Nice last year that afflicted him so badly and contorted his face into a frozen expression of horror.
Thursday 5 January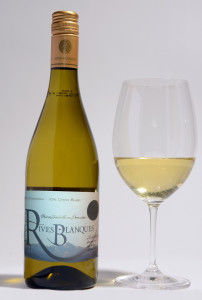 And Vintage 2016 is on its way as well!  Today the bottles on the line went round and round, round and round, round and round … and came out smiling!  The first of our 2016 wines was bottled today, in freezing conditions punctuated by a little light flurry of snow.  A couple of wine professionals who were here for a tasting, had a sip from the first bottle off the line, and immediately bought a couple of cartons.  Never had that before: metaphorically hot off the press, straight out of the oven, or whatever.  We're all thrilled: it's a Pays d'Oc with only with the absolute best juice in it, and you can taste the difference.  A really special moment for Jan-Ailbe, this celebration of the first wine of his first vintage.  Click on the picture for the video of what mise en bouteille is all about.
Wednesday 11 January
Speaking of which, Jan-Ailbe returned home today with a red-toothed smile reminiscent of Dracula.  He's on the panel of professional tasters who check the quality of all aspiring Pays d'Oc wines.  The Pays d'Oc statistics are quite mind-boggling: the number of wines sold under this label is bigger than the entire production of New Zealand, for a start – and is equal to half of Australia's production, and one third of America's.  That's an awful lot of wine. And 33% of it comes from our very own Aude, nearly all of the wines one of 58 single varietals – so our humble contribution of 24,000 bottles of chardonnay with just the tiniest splash of chenin blanc doesn't even count as the shadow of a ripple from a drop in the ocean.
(Pretty amazing actually, come to think of it, that our Pays d'Oc twice won the trophy as one of the six best white wines under this label …)
Mind boggling too, to think that every single wine labelled Pays d'Oc has been tasted and approved by an expert panel; in fact, according to Decanter's talented Andrew Jefford, they taste an average of 900 bottles a week.
Jan-Ailbe tasted about 20 wines for them today, and rejected five.  5 is what % of 20 times 900 per week times say about 48 weeks of the year = exactly what?  Not a clue, but an awful lot of wine down the drain, in any event.
There might be a lot of bog-standard bulk wines out there, but there is also serious quality control in a Pays d'Oc.  Pretty commendable, really.
Wednesday 18 January
Got in another three lucky-dip cartons of Vinifilles wines today, which we're selling in aid of a fellow Fille who was devastated by hail and lost her whole 2016 crop.  Not a grape left over.  Not a single bottle of wine to be made.   Sold four in as many days, let's see how fast these three go.
Monday 23 January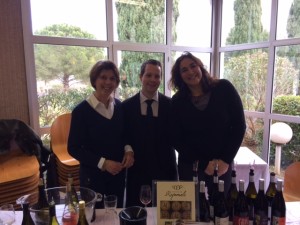 The female winegrowers of the Languedoc, those irrepressible Vinifilles, get together today at the Hotel School in Béziers.  As if we didn't have enough other things to do right now.  But this is a training session for the school's burgeoning sommeliers: we've thrown together a mini trade fair, and invited wine merchants and restaurants in the area to come and taste our wines.  The sommeliers can pour the wines and discuss them with the customers, while we look on.   Or squash them: don't think Alexis will soon forget being the ham sandwiched between Caryl and Valérie.
And then we give him a free rein while we have lunch cooked by embryonic chefs, served by wannabe restaurant managers.  It was actually all really nice, and worthwhile too.
Thursday 26 January
Vinisud coming up!  Only tomorrow, then we're off to our fringe events in Montpellier on Saturday.
Saturday 28 January
Gotta say, you've got to be a Vinifilles to throw something like this together.  Amazing buffet spread out as if by magic, white-clothed tables lined up in military precision, ice, icebuckets, black-suited sommeliers from the hotel school polishing up gleaming glasses to a high shine, crooners crooning in the corner … yes siree, a professional wine tasting quite unlike any other, designed and executed with aplomb and panache in Montpellier's wonderful Museum of Art.
Gotta say, there were lots of high points: an avalanche of oysters supplied by a friendly oyster farmer in return for  wine; a marvellous auction of old vintages for the benefit of Fellow-Fille in Pic Saint Loup who was wiped out by hail (three times € 1200 raised for 3 cases of six – pretty good, huh?); a fantastic buffet cooked, prepared or procured by all of us; and a great crowd invited and excited to taste our wines.  Pretty amazing.
Gotta say, you've got to be a Vinifilles to still be there at midnight, packing up the glasses, carting off the empty bottles, stacking away the tables, cleaning up the rubbish, and getting yourself together to face tomorrow at Vinisud, Montpellier's trade wine fair, and/or Millesime Bio, the organic trade wine fair the day after …
Sunday 29 January
We've just had  lovely meetings with a Pole and a Hungarian.  Also a great meeting of minds with some buyers from the USA.  Now we're talking to an Indonesian.  There are tables all around us, people seated talking, people walking talking, people standing around counter upon counter holding thousands of bottles, smelling, swilling, spitting and talking.  Montpellier's Exposition Centre has become a real  caravanserai.
This meeting has been planned in advance, timed to a T, with an importer who has specifically asked to see us.   He has already tasted our wines.  He says.  And he loves them.  He says.
Yes, because he is looking for sweet red wines at around € 1.50 each. We don't do red wines at all, and certainly not sweet red wines – though at a stretch we may possibly be able to sell him a bottle at € 1.50 … without anything in it, of course.
We end the meeting promptly but politely, asking if our favourite restaurants in Jakarta still exist (one does, and one doesn't) and head off swiftly for the next.  Same story, excepting that this one is looking for Blanquette at below € 3.50.  Oh dear.
And we think longingly of the Federer / Nadal match that we could be watching instead.
But the day picks up, as they do, and ends with another really good meeting, so we are satisfied.  A good day's work.