We hit the pedal to the metal this month. So does the weather: going flat out at full pelt. Some unwelcome little buds are appearing on some of the very young vines, ready to be decimated (at best) when the cold weather finally does come, while wisteria, tulips, and all manner of wild flowers are rushing along in solidarity. We trust in, and count on Nature to sort this all out.
For us too, it's all moving unthinkingly fast. This month we have tastings in Zurich, Montreux, Montpellier, and then the Big One, Vinisud.
Monday February 1.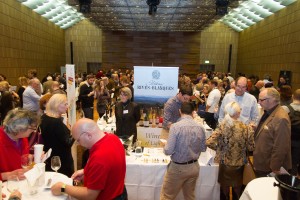 Zurich is nice. It has a lovely lake and a quiet, calm atmosphere. The Metropol is lovely too: established, elegant, quiet and calm. We set up our table with all our wines in its large and airy space, and are ready to roll: bring on the Zurchers!
One of the first to walk through the door is André Jaeger, Switzerland's top chef, and the father of fusion food. He was fusioning his food long before the word was even invented, a daring thing to do in this very traditional society with its excellent but very traditional kitchen. It paid off: 19 / 20 Gault-Millau points for his famous Fischerzunft for 20 years in a row, and then a resounding 20 / 20. It doesn't get any better than that.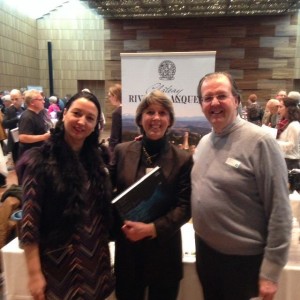 Nor can he. He is a wonderful, and witty person, exuding that air of quiet calm which seems to pervade this city and inhabit its population. The last time I saw André, we were both at the beginning of our professional lives: he has just retired from his, with astounding, resounding success. I am absolutely delighted for this delightful man – this wine tasting has got off to the best possible start.
Trouble is, it all ends there. Zurich's quiet, calm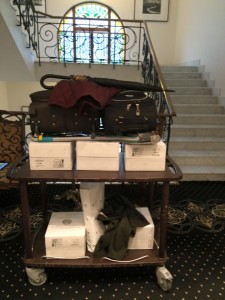 atmosphere steals into the room and converts itself into a heavy area of low pressure hanging over us like a pall. Positively the worst-attended wine tasting we have ever done. And that is very tiring.
We sigh and pack up up our bottles for tomorrow in Montreux.
Fortunately there's always a tomorrow.
Tuesday February 2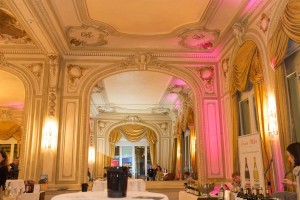 If Zurich is nice then Montreux is ultra-nice. The Hotel Majestic is splendid, elegant, quiet, calm. Impeccable service. High, heavily draped windows open onto a magnificent view of Lake Geneva. Today feels as if it's going to be good. Today cannot possibly be bad.
But if Zurich was quiet, then Montreux is ultra-quiet.
If Zurich was disastrous, then Montreux is ultra-disastrous.
A loud unified grumble swells into a crescendo which rolls over  this civilized, polite quietness in scandalised French accents. This is outrageous. These two trade tastings were arranged by the trade arm of the French government, and the wine producers are not impressed.  They outnumber the  buyers, and that is not the idea.  Not even here, in this lovely room overlooking that lovely lake.
So Jan and I sit down to a lovely dinner-à-deux looking out at Lake Geneva.  It is delicious. Impeccable service.  Great kitchen.  Lovely view.
Yes, there definitely are some ups to all these downsides.
Friday February 5
A food and wine blogger from Texas emails asking for the recipe of the famous Limoux desssert.
The famous Limoux dessert is called a Limos. Or "A Limoux" if you don't speak Occitan. Or a Limos de Capitoul if it's a really swish, hugely calorific one. It's the direct descendant of and alternative to the galette des roys, the puff pastry "King's Cake" filled with almond paste that appears around Epiphany in France (Belgium, Spain, Italy and other countries as well). It has a brief little life during the festivities, and then disappears until the following year – but hangs around forever in your increased waistline. The French consume about 20 million of them a year.
So I did a bit of internet trawling, and found out that the King's Cake originated in Roman times, in the third century BC, when the Romans celebrated Saturn, the god of grain and agriculture, in a Saturnalian fest of drink and debauchery. A round and golden cake made its appearance then, in which was hidden a white or black legume bean.
If a slave – who had been made noble for the feast days – found the bean in his slice, he was crowned King for a day, and then … put to death once the party was over. Not very nice.
These days, the youngest person in the room goes under the table, and from there calls out the name of whoever he chooses to get the piece that's being being sliced above his head. If that piece has a bean, or an ornamental charm in it, the person who gets it is king for the day – and has to buy the next galette. A soft alternative to the Saturnalia.
Each region has its own speciality and way of making the King Cake. In Limoux our Limos is a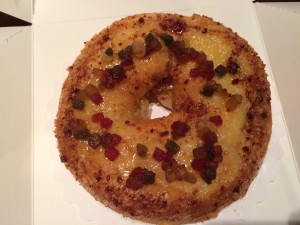 brioche, and that idea probably comes from 14th century Byzantine monks, who adopted a tradition of sharing a "cake of kings". But instead of cake, they made a brioche, and hid a little coin or trinket in it. At Epiphany, whoever got the lucky slice became the Chapter Master.
The King Cake that most of France eats, though, is the frangipane cake, a great puff of pastry filled with almond paste, butter and sugar, attributed to Pompeo Frangipani, Marshal of France under Louis XIII in the sixteenth century. The Italian marquis invented a perfume made from almonds, and his pastry chef was inspired to use it as a flavouring for the cream in the cake. Catherine de Medici, second wife of Henry II, then imported the recipe to France.
Over time, the bean inside the cake became a porcelain bean, though these days, almost anything goes: there's a baker in Calvados who advertises that two of his galettes des rois have a solid gold bar worth € 400 in them – possibly inspired by the famous fairytale, written by Charles Perrault in 1694, in which Princess Donkeyskin looses her ring in the dough.
So I went to visit our local baker who makes the best and the worst of King Cakes (best for content, worst for calories) but they were too busy selling their King Cakes to talk me through it. This is the closest recipe I could find, and if anything renews my respect for the Limos, this is it:
Gâteau des rois aux fruits confits, the Limos de Capitouls (King's Cake with Candied Fruits)
Ingredients:
1 lemon, 1 orange
50 g sugar, Sugar crystals for decoration, Candied fruit
50 g butter, pinch of salt, 25 g rum plus rum for macerating fruit, 50 g water, 250 g orange flower water, 250 g flour, 2 eggs plus egg yolk for brushing, 10 g yeast
Candied fruit
Mix zest from 1orange and 1 lemon in 50 g of sugar.
Slowly bring the zested sugar to the boil with 50 g of butter, a pinch of salt, 25 g of rum, 50 g of water. When it reaches boiling point, add 250 g orange flower water, and leave the syrup to cool slightly (to 40 degrees)
Beat together 250 g of flour, 2 eggs and 10 g baking yeast that has been disolved (in about 100 ml of warm water)
Knead gently, slowly adding half the warm syrup, allow the flavours to blend, then add the remaining syrup slowly, still kneading. Knead about 15 mins in total.
By now the dough should be quite elastic. Leave it a couple of hours at room temperature to double in size.
Break it down and put in the refrigerator for 12 hours.
In the meantime, macerate your candied fruits in rum for 12 hours (and drain before using).
Then (the following day) make  a ball out of the dough and roll it gently until you get a sort of crease in the bottom. Leave it to rest, then turn upside down (crease downwards)
Roll out with a rolling pin, and then shape it into a crown.  Pierce the top, and tap  it with your wrist as you turn the crown around around.
Then gently stretch the crown until it is 24 cm wide. Put on baking paper, flatten it gently with your fingers, leave to rest for 3 hours, brush with egg yolk, decorate with some chopped up candied fruits and sugarcrystals, and cook for 20 mins.  If the oven's a bit hot, then put a piece of baking paper on top of it.  Then when your brioche is done, carefully cut it in half through the middle, fill with pastry cream and candied fruits – don't forget to throw in the trinket.  Put the top half back over the bottom half et voila ..
Good luck with it …
Sunday February 14

Valentine's Day.  For some.
The girls in the family head off to Montpellier at 10h00, to help set up the Gazette café – a really cool place – for the Vinifilles pre-Vinisud candlelight wine tasting.  The boys set off a couple of hours later to set up our stand at Vinisud, and then head off to another cool Montpellier place, La Panacée for the Outsiders pre-Vinisud wine tasting.  We are flooding Montpellier in Rives-Blanques wines.  Montpellier is in real danger of drowning.
And then we all tiredly meet up at our hotel well after midnight, to catch a couple of hours of sleep before an early start to Montpellier's Exposition Centre.
Wednesday February 17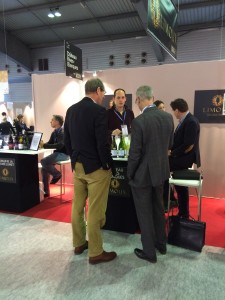 We emerge, blinking in the sharp sunlight, from the Parc des Expo in Montpellier, where we have been locked up since Monday with over 1,750 other winegrowers from the Mediterranean region and some 32000 prospective buyers from all over the world. This is the biggest trade fair in the region, and that is not to be sniffed at: the region represents 53% of our planet's  wine production, and 63% of its wine commerce.  (So there.)
Our share of those figures is too microscopic for contemplation, so fair enough: we have a very small stand (for very big people).
Back home, our cleaning lady is thrilled to see Jan on TV, and that is par for the course: our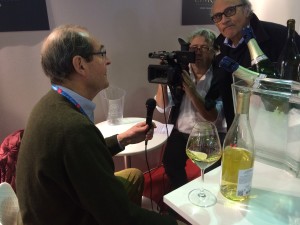 contact with the outside world for the next few days is destined to be  through a screen, no two ways about it.
We have been doing this trade fair ever since 2002, and though our stand has grown no bigger in the interim, our wines  certainly have. We had only one wine at the time, and it hadn't even been bottled yet. Consigned to the farthest, bitterest, darkest and coldest corner of the building, we were still sticking  photocopies of as-yet unprinted labels on it,  as the  doors to our first Vinisud  opened.
Today's a different story, thank goodness.
I go over to the region's dedicated tasting area, where buyers can taste the wines  away from the patter  of the producers, to check that ours  are at temperature. La Trilogie 2014 has been chosen as one of the eight 'iconic' white wines representing the Languedoc, and it looks pretty impressive through the window of the temperature-controlled display unit housing it, standing there in splendid insulation, like a trinket in a Tiffany vault.
The man sipping, spitting and swirling next to me jabs a finger in the bottle's direction.  "That's good" he said, "it's the best one here."
"Yes" the Sud de France lady confirms, "everyone says that."
I could have hugged them both.
Monday 22 February

Trilogie is flying high at the moment.  Just got a review from the Guide Hubert, curated by the famous Pierre Casaymayor with Nadine Adenis, another great taster, and they have given Trilogie 2013 the highest possible grades: five wine glasses.  Their star system is wine glasses.  Red wine glasses, but never mind.  They call la Trilogie "the Tenor of the Year".
That's the French way of saying 'star' – but  'tenor' is nice because it implies a wine endowed with song.  Certainly makes us sing.
Sunday 28 February
Gentle rain falling gently, while we quietly recover from all the frenetic activity of the week.  Jan's been out from dawn to dusk on his tractor (the old one, as is befitting)  going up and down the rows of vines chopping up the pruned vine wood lying on the ground there, while Jan-Ailbe has been out from dawn to dusk on his  tractor (the new one, ditto) going up and down getting rid of weeds, and Erick has been out there from dawn to dusk lowering the wires that will be raised to support the vines when they start flowering and flourishing. All this fast and furious  activity in slow motion just so that we can be ready when the rains come.
And thank goodness they came.
…/to be continued.