Saturday December 3
Every one has heard of the FT.  In Holland it translates into a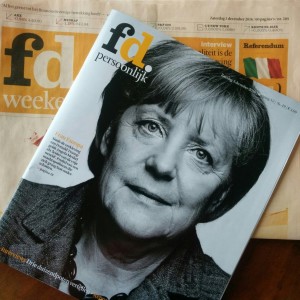 look-alike  FD, the country's leading business and financial newspaper, printed on the same characteristic pink pages as its English cousin. And the FD's Saturday edition comes complete with a resplendent glossy weekend magazine, today's  with Angela Merkel's face all over the cover.  Happen to like and admire Frau Dr. Merkel, but we skip over the accompanying in-depth and undoubtedly hugely interesting article on Germany's Chancellor to find this: a most wonderful review of our mauzac, Occitania, by a talented chef turned winewriter called Hilary Akers. I mean really  wonderful (right here).   Mrs Merkel looks us straight in the eye, unblinkingly inviting us to share the problems of the world with her, but instead we follow the FD's former winewriter, Hubrecht Duijker's advice: a good wine can help you forget the troubles of the world.  But never let the troubles of the world allow you to forget a good wine …
And this particular wine has just received a review that quite drives all other thought out of my mind.
Tuesday 6 December
The butcher is bemused by the suet.  His repertoire very much follows a straight line drawn from sausages and salamis and patés and pig's trotters and cow cheeks, to hearts of all sizes,  sundry brains and that sort of thing, but he's floored by the suet.  What's it for? he asks, with undisguised curiosity.
Christmas pudding.
Oh.
A heavy silence cloaks his counter, as he busily wraps up the suet with concentration before saying brightly, "When the mountains are so clear, you know it will rain in three days time."
The mountains have been blindingly clear for the whole week, and the three days keep being pushed back.
"Oh?", I say, "the old people tell me that the weather on the first of December will prevail throughout the month". (It is prevailing too.)
The silence deepens.
"Christmas pudding, you say?" he says passing over the packet.
And now we both have something  to think about.
Sunday 11 December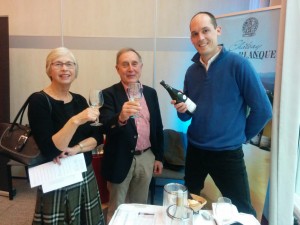 Son Jan Ailbe and daughter Xaxa are together in Amsterdam right now, pouring our wines at a tasting organised by our Dutch importer, Wijnen Colaris.
Jan leans across the table to shake hands with one of the guests.
"Hello!" he says, "Jan Panman".
"Hello!" says the gentleman, "Jan Panman".
Jan thought this man was just copying him.  So did Xaxa, watching with bemusement.  But no, this was indeed Jan Panman.  Another Jan Panman.  One of apparently four in the world.  And one  whose great Grandfather turns out was Jan-Ailbe's great great Grandfather's brother.
Also called Jan Panman.
Small family, big world.
Tuesday 12 December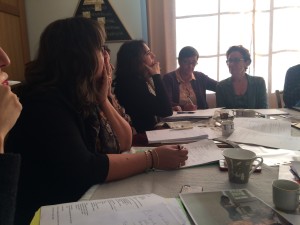 Gorgeous sunrise reminds me that it's a always a good thing to be out and about and on your way well before 07h00.
Now we're belting down the highway to Nimes, which is practically in the Rhone Valley, and when we get there the sun has already found its feet in the sky.
Chateau Beaubois is one of the Vinifilles properties.  An impressive driveway leading up to several houses,  with the solid waters of the étangs lying flat out on the horizon,  and an olive  grove alongside the vines  next to a swish tasting room.  This is an all-day event: the annual Vinifilles Christmas meeting.
And it's serious stuff.   But not for too long because there's an amazing lunch waiting for us at the two Michelin star chef, Jerome Nutile's,   restaurant le Mas de Boudan.  Never had a meal like it. Simply amazing and utterly stunning combinations of flavours, textures, colours and sensations. Delicious. No other word for it.
Jerome stuck his head around the door, cautiously, and probably only to chivvy us along from a safe distance,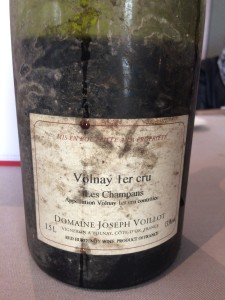 but lunch was riotous and lasted longer than he did: until 5 pm, a record for these hard-working women.
Some of the girls brought along special wines to accompany the food. How's this for something special: a 1999 magnum of Volnay 1 Cru by Jospeh Voillot?  Lunch was actually in very real danger of never ending.
But no such luck.  Back to Chateau Beaubois to finish the meeting, and put together cartons of mixed Vinifilles wines.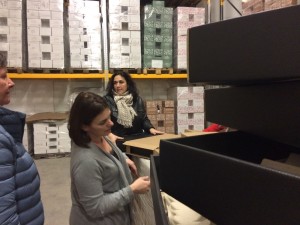 Which we will be auctioning off to help a Vinifilles who was wiped out by hail this year.   More on that coming up …
Then we drove the two and half hours back, marveling at the sun setting brilliantly in a bright moonlit night.   It had been a very long day.
Friday December 17
Truffle market today in Villeneuve de Minervois, organised by the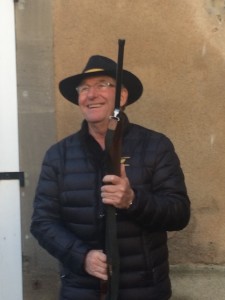 Trufaires de Vilanova de Menerbes, if you want to be totally correct. The crowd was determined, and the truffles were few: only 4 kg to go all round.
But you can't get to them until the Trufaire with the rifle fires the start gun, and the rope between the truffles and the buyers is lowered.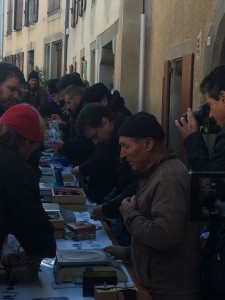 The whole thing was over in about five minutes.  I emerged triumphant, victoriously clutching the very last truffle.  Not a particularly beautiful truffle, but a proper truffle none the less.
Half of which will be grated into our mashed potatoes, and the other half locked up in the fridge with a clutch of eggs.
Tuesday 21 December
Well, if la Revue du Vin de France likes it, then it must be good.  Very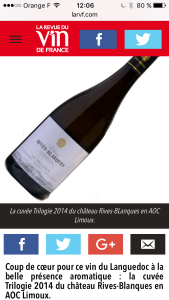 pleased to see that they chose our master blend, La Trilogie 2014 as their coup de coeur of the day.  Just before Christmas, which is nice timing.
Thursday 23 December
Down to the last Coffret de Solidarité, the mixed Vinifilles wine case we put together about two weeks ago.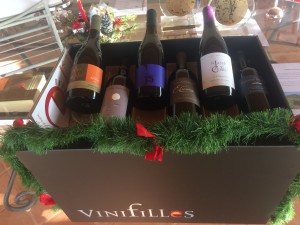 It's a really nice gift for Christmas, and the good thing is it's good, it does good, and it tastes good.  All the proceeds go to Mas Théleme, the Pic Saint-Loup vineyard which was wiped out by hail on the eve of their harvest.
The mere thought sends shudders down our spines, but you don't have to be a winegrower to realise that this is probably as close to the end of the world as you can get.
Christmas Day
Xaxa made the little Christmas video embedded in this label.  We are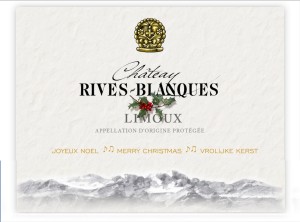 glad and grateful to be together as a family.  To have a Christmas cake with suet from our butcher.  To have mashed potatoes with truffles from Villaneuve de Minervois.  To have a wild venison provided by friends.  To be able to enjoy all this with the fruit of our labour and the wines made by our friends.  We are lucky indeed and count our blessings.
…/to be continued (probably next year)