November was Autumn.  December was …?  Well, we are not too sure.  The autumn colours have faded, the leaves have fallen from the vines. The ground is dry, dry, dry.  The nights are frozen, the early mornings are white with frost, the days are warm and sunny. Very warm.  Very sunny. And not a drop of rain in sight.  This year has been a year of breaking records, and December may also end up as yet another statistic: the dryest, or perhaps the warmest, in x number of years …
We can expect our Christmas to be merry, but there's no way it will be white.  Unless we're talking about the wines, that is.
Friday December 4
The trademark line of palm trees at our entrance comes down.   Have we done the right thing?  Olives go up in their place, with a couple of Lilac d'Inde for a splash of colour.  We'll see …
Monday 7 December: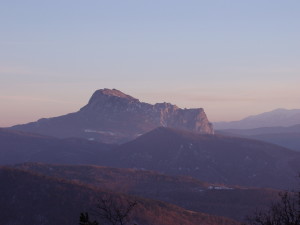 So the Mayor of Bugarach, a certain Monsieur Jean-Pierre Delord, has stated that his village has rooms to spare for refugees. (As do other towns, like Limoux, he points out, succinctly.)
The interesting thing about Bugarach is that it is known as the Magic Mountain, because its geological layers are all upside down.   It lies, as the crow flies, exactly between the peak Rives Blanques in the Pyrenees and the eponymous vineyard Rives-Blanques at the foot of them, and so we are always interested.
Bugarach was once famous for the hats produced there by repatriated POWs who were sent from that village to fight the Franco-Prussian war, and learned, during their enforced time there, how to makes those hats.
It is apparently also responsible for the name of Jules Vernes famous Captain Bugarach – unless he, like it, was simply named after the Bulgarian Bogomilis…
Above all, Bugarach is known for its legends – and its legends are legion indeed. Leonardo da Vinci, errant noble Hapsburgers, Nostradamus, Steven Spielberg and sundry others have all had something to do with this place in one way or another.  And Mayans.  And UFOs.  Or so they say.
Yes indeed, this cave-filled mountain was deemed to be the only safe place on earth when the Mayan calendar turned the page on an era, which it did in December 2012.  People said it would be the end of the world.  All manner of prophesiers, new-agers, neo-hippies, and possibly even Mayans turned up in their droves to be saved that day by spaceships, either sent from 'abroad', or just secretly housed all along in Bugarach's mysterious and cavernous interior.
"I can understand," the mayor told our local newspaper yesterday, "that people are fearful of what they don't know.  But if refugees come here and fill our empty houses, that won't be the end of the world, now will it?"
Friday 12 December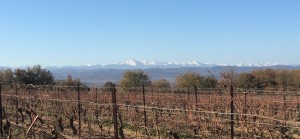 Startling good weather continues. This can't be right. Forecast next week is for 23 degrees. Life is indeed a beach when you're pruning in a T-shirt.
And the pruning has started, a bit earlier than usual – but then everything has been earlier than usual this year. It's painstaking work, entrusted mostly to Monsieur Lee, who is very fast. He does about a hectare, for that read 4,400 vines, in a week. Each one individually addressed.
Jan-Ailbe has come up with his Theory of Vine Vigour, which makes him believe we have too many vines per hectare. We need less, he says. He has shot off reams of reports to The Management, that is, his father, substantiating this claim. It goes completely contrary to what The Management believes. To what anyone around here believes, for that matter.
The temperature at the dinner table soars to way above those 23 degrees forecast for next week.
The Mangement is pulling out its hair, which is a pity, because The Management doesn't have all that much hair to spare.
But in the end, Jan-Ailbe gets his way. He being allowed to plant one hectare at a density of 4000 vines, and another hectare for comparison purposes, at 5,000 vines.
Which means, I suppose, that Mr Lee will still be pruning about one hectare per week.
Saturday 13 December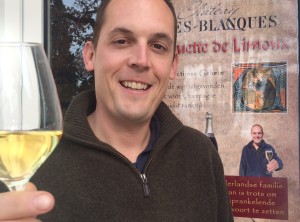 Speaking of the devil, that same Jan-Ailbe sets off today for a Open-Door tasting in Holland organised by one of our importers there.
This is a little tricky.   Holland really likes our chardonnay, Odyssée – but we have none to sell.  Not a drop.  Absolutely sold out, dry as a desert.  And we won't have any until May next year, when the 2015 vintage comes on line.
It's a problem.  But had you told us ten years ago we'd have this problem, we wouldn't have believed you.  And actually, it's not a nice problem to have.
Tuesday 15 December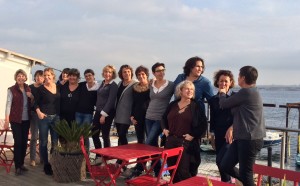 What is nice though, is this: lunch on the edge of the Med in the company of the rest of the Vinifilles, the association of Languedoc women vintners.  This is a fun and feisty group, a meeting of minds and wines … and definitely a force to be contended with.
It is quite difficult, though, not to be distracted by the sight of the oyster farmer paddling out to pick our lunch.
We also talk about the seminars we'll be having, the trips to visit other winegrowers in other regions … there's not shortage of plans and planning.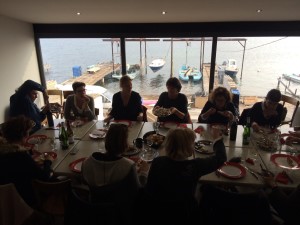 Then we have lunch.  Absolutely delicious.  Conversation relaxes and follows a different rhythm.
"I'm not his banker!" some one says at the end of the table.  She's referring to a wine merchant to whom a couple of the 'Filles sell their wine.  "Oh no, if he doesn't pay within three months, that's it!"
"Do you know what he told me?" another 'Fille rejoins indignantly, "he said that I couldn't be a halfway decent winegrower if I had the time to phone and chase up unpaid bills!"
A brief bitter silence.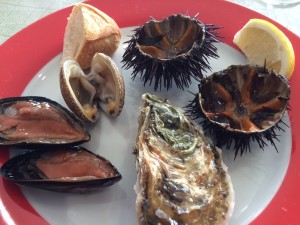 "And this after eight months!" she added. "He said I should be working in the vines, not wasting my time in the office."
It's good to be able to discuss these problems with other people.
And above all, it's good to be able to laugh together.
And to eat well, of course
Friday 18 December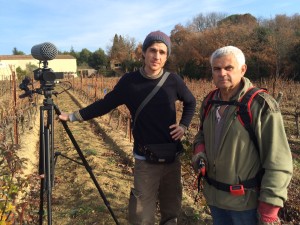 Monsieur Lee is steaming ahead.  He is on the last of the fields with grapes for our still Limoux wines, most of them pruned with a descending, waning moon and a rising tide.  But some not.  You have to make compromises, some times.   We find him pruning the chardonnay for Odyssée.
"It's not normal" he says, indignantly. "How can it be so warm?  It's December!  And I'm in a T-shirt!"
We next stumble on Jan-Ailbe, who is roughly pruning the mauzac that will be replaced.  This is so that the plants are easier to take out.  Waning, descending moons and rising tides are irrelevant in this case.
And just in front of the office, Eric is pruning the Garden of Eden.  In the company of Sébastien, , with his camera.  He is doing a TV documentary about the descendants of the great leaders of the wine revolution in the Languedoc in the 60's, of which Eric's father Jean, known as the Lion of the Corbieres, was one of the most prominent players.  It will be aired in the spring.  Sébastien is glued to Eric nearly the whole day long: no wonder, there are long and fascinating stories to be told.  We'll be watching that spot with interest.
Monday 21 Dec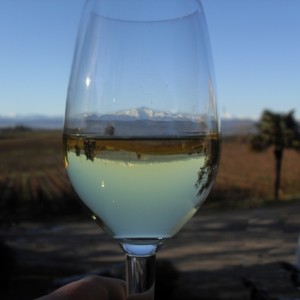 This morning we did the dosage of our 2014 Crémant. A doddle.  It needed just one gram of sugar, which is basically nothing.  Two was too much, zero was not enough.  One  gave it just a little something extra.
 Then we blended the chardonnay for our Pays d'Oc, the easy-drinking wine that  I like to call 'simple but not stupid'.   A choice of chardonnay and chenin blanc, from tanks filled with the wine of grapes picked on different days lines itself up before us.   Simple, you'd think, but it took us – that is, the whole family, plus Erick, plus our blending Consultant, plus an outsider –  the best part of two hours. The result can be either too fresh, or too round, or not fresh enough, or too aromatic, or not long enough : like Goldilocks, there's palpable relief when you hit the blend all can agree is 'just right'. So that was a good morning's work.
Then we did a blind-tasting, to amuse – and educate – ourselves.  First, while the taste was still fresh in our mouths, of other Pays d'Ocs made by Limoux producers to see how they measure up against ours, and vice-versa.   Then we blind taste a range of appellation Limoux wines: what we didn't know is that Jan slipped in three Rives-Blanques wines.   At the end of it, we make our comments.
Incredible unanimity about No 7: everyone thought it was the most superior of the wines, the one they liked the best. The very woody No. 1 was the least liked, 'like kissing Pinocchio' someone said.
My comment was that it was heartening to see that a number of the wines showed a real sense of place; there was a definite commonality of spirit between Nos 6, 7 and 9.  "Limoux has an identity" was the conclusion.
Then Jan unveiled the bottles.  The least liked, No 1,  was not  Rives-Blanques – relief!  The best one, No. 7, was –  hurray!  And so were 8 and 9 – double hurray!  Now that's what we call "Terroir",  a distinct identity.
All together a good start to the week.
Monday 28 December
Unusual warm weather continues.  Unusually dry.  "Not normal!" Mr Lee splutters, "not normal to be in a T-shirt!"  He's making good progress, now pruning the old chenin blanc vines, making hay while the sun shines, so to speak.
Then he tells us a story.  He had a dream when he got home after work on Saturday. He was tired, and lay down for a rest.  He had hardly fallen asleep when someone  tapped him on the shoulder.
"Mr Lee" the stranger said, calling him by his name "you are working at Rives-Blanques?"
"Yes" Mr Lee replied, "but who are you?"
 "I have nothing to eat," the stranger replied.   "You didn't give me any food.  I was also working there."
So Mr Lee, who is a Buddhist, brought an orange and a bowl of rice for the spirit, and left them for him on the ground by his car in the chenin field today.
Thursday 31 December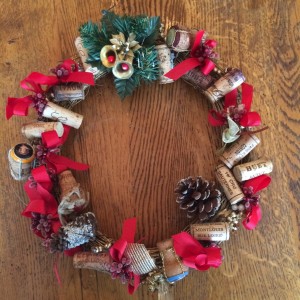 So today's we'll raise our last festive glass, and over the weekend we'll take down all the decorations: real life starts again on Monday.
Some highlights: a lovely South African pinot noir given to us by Tamlyn Currin, Jancis Robinson's righthand woman,  called Iona; a blend of mediterranean and atlantic grape varieties typical of Limoux red but made in Canada by Hidden Bench, an interesting Jura that fooled us all in a blind tasting, from Domaine de la Pinte made from the grape Melon à Queue Rouge, some fabulous Burgundies (chapeau Nicholas! at Domaine Michelot) and a terrific newly-discovered Clos du Breuil in the Loire by Francois Chidaine.  The fizz fave fluctuated between a lemony English Nyetimber  and the biodynamic French  Bedel with its oxydised notes.  And the finishing touches … Lafaurie Peyraguey in Sauternes, and Quinta do Noval in Portugal.  Wow!  What a wonderful Christmas that was.
And you see, it doesn't always have to be Limoux.
It doesn't even always have to be French …
Resolution for next year: discover more.  Drink more good wines from more different places …
……/to be continued next month