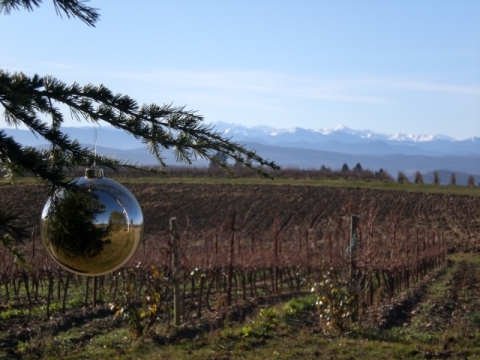 The last barrels have finished fermenting, and all the grape juice has now turned into wine. The vines know that the game is over: their leaves turn gold and then drop, one by one, to the ground. Birds swarm overhead and prepare to migrate. Suddenly the weather is colder, and a warning chill blows down from the Pyrenees. All the signs are that the year is drawing to an end … as it is.
Dec 1 Monday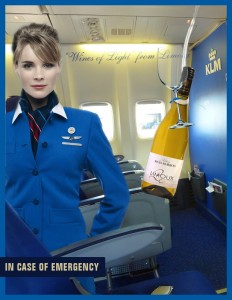 We are not making enough fuss about this. How absolutely great it is that our blend of Chardonnay, Chenin and Mauzac called Le Limoux has been selected for the Dutch Festival on board KLM's World Business Class TransContinental flights. Blasé? No, not at all, just not enough time to sit down and shout out about it! So this month it will be there, the first time ever in the history of aviation that this particular blend has taken to the skies. Would love to know how it tastes at 60,000 ft … but unfortunately as we don't travel World Business Class, I guess we never will …
Tuesday 2 December
Just got a copy of the Belgian wine writer Frank Van der Auwera's guide to the Top 300 wines under € 10 in Belgium – and very pleased to see that our Chardonnay-Chenin has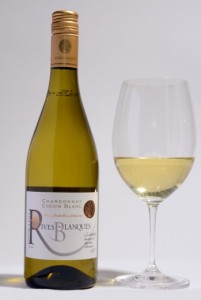 been awarded his highest accolade, an 'Oscar'. He calls the wine an 'aroma box', and I must say, tasting it today, I had to agree.
Mind you, we haven't tasted it for about four months here, because it's been sold out and we couldn't even keep back a case for ourselves. Jan-Ailbe hunted high and low, and finally found one lonely bottle hiding in the guest refrigerator. That's the trouble with this wine, it begins to come into its own just when we don't have any, and there is none left to drink.
The good news today is that we finalized the blend for the 2014 chardonnay-Chenin. And boy do we need it! Huge relief all around. No fiddling, no faddling, no adding a bit of this for 'rondeur' or a bit of that for 'gras' or a bit of some other cuve for 'fraichure' – no. This one just fell into place. We simply put the tanks of all the wine originally destined for our Chardonnay-Chenin together and tasted it.
The result?
An aroma box.
Thursday December 4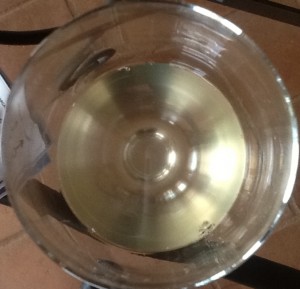 Slaving away at the computer when Jan walks into the office with a glass.
"Taste this" he says.
It is delicious.
It is the chardonnay-Chenin. The real thing, in that instead of being a test tube made up of proportionate percentages, this the result of the real-live, genuine, for real blend. In other words, what's going to bottled.
Saturday December 6
There's a lot of polemic in Holland about the 'Black Peter' who traditionally accompanies their beloved Saint Nicholas on December 5. In Belgium, however, he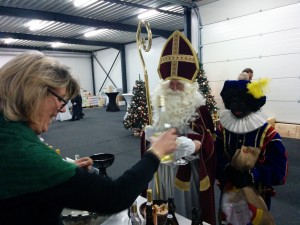 appears on December 6 … at breakfast, in a very basic Ibis Hotel in a place called Hasslet. Then later in the day Xaxa and I meet the pair again, at the wine tasting of Justin Monard Pro Vino. And although we don't know it today, tomorrow we will see them again …
Sunday December 7
It's very nice, the new office of Justin Monard Pro Vino. But it is very cold. Xaxa and I have had three days standing on frozen feet, pouring our wines. Not only for St Nicholaas, but also for all of our importer's customers. On our left, The Burgundian, la Chapelle and on his left, the Other Burgundian Chateau Machelot. They both make excellent Chardonnays. Usually, in the old days and at the old place, the Burgundians were at a safe distance on the other side of the room, and we were normally placed between Sancerre (now on our right, as in the past) and Alsace, for example. But anyway, now we are a cosy coterie of chardonnay on the left as you walk in.
So a number of people come up to us and say, "Can I taste your Macon?"
Well yes, of course you can excepting we don't have it. We are Limoux. Macon is not on our label. You must step to my left if you want a (rather good) Macon.
Most do. But some stay, encouraged by a quick quoting of Jancis Robinson's salutary words (You'd happily pay twice as much for Odyssee if it had Puligny on the label). Then they face the double attack of mother and daughter, and are ground to the ground before being released leftwards.
"So you see, a Limoux chardonnay can never be a Macon because we have different terroir, different conditions, different climates," we conclude. "A Limoux may be qualitatively as good as, but it is not and cannot be a Burgundy."
By which we mean, don't only judge a wine by the label.
We usher them leftwards, saying to them and Pascal in one breath, "Now here's a good Macon. But of course, it can never be a Limoux …"
Trouble is, neither the visitors nor the winemaker seemed to have any idea what we were talking about. We thought we were being hugely amusing.
Thursday 18 December
We did one of our family blind-tastings in the kitchen today, this time our own chardonnay and mauzac, straight from the barrel.  The aim was twofold: to see if we could tell the difference between the wines whose fermentation was kicked off by their own natural yeasts, and the ones where we added commercial yeasts to the get the show going.
There was a difference in taste, yes.  But which was better?  The jury is still out.  We'll taste them again in a month.
Tuesday December 23
Bruno dies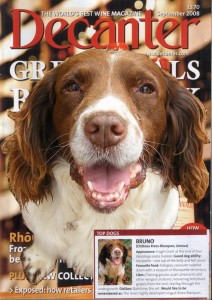 Bruno died today. Our much-loved, loving and lovable Springer Spaniel, aged 17 years. A great gundog: valiant, courageous, brave, strong. A gentle companion. Possibly the most written-about dog in the wine world.  And the best salesman Rives-Blanques ever had. Someone once wrote in our guestbook: I love your wines, but I love Bruno more. His winning smile won everyone over. We shall all miss him so very much.
There never was a better dog.
Thursday December 25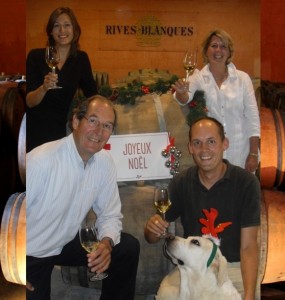 As a result, a bit of a sad Christmas for us.  But now Bacchus gets into the picture.
…/to be continued