Jan and Caryl Panman's
award-winning "Wines of Light" from their single-estate vineyard in the South of France
from cellar-door to you … with love from Limoux!
We thought you might like to know the latest good news: you can buy some of our wines at our cellar door prices in the USA! Delivered from us to you, with love from Limoux.
This special service in partnership with www.winevip.com, kicks off with two exclusive wines, made from hand-picked grapes, with extreme care.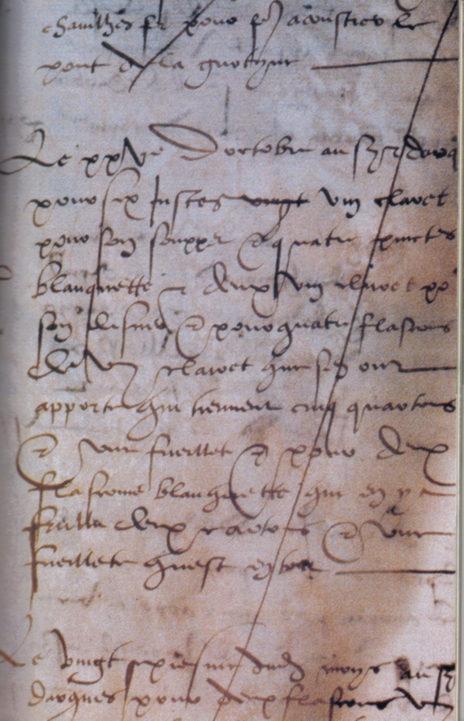 One is Blanquette de Limoux, the world's oldest sparkling wine, which pre-dates Champagne by over a century; this medieval document, written in the early 16th century proves the point. Whether by divine inspiration or just sheer good luck, the Benedictine monks in our local monastery were the first in the world to make their wine sparkle … way before Champagne was even a twinkle in Dom Pérignon's eye.
The main difference between Blanquette and other sparkling wines is the grape : it's made from mauzac, a historic grape that has been growing in our hills for over 700 years. Mauzac is not related to any other grape variety on earth, so no wonder you've never heard of it. To see what some of the world's most famous wine critics say about our Blanquette de Limoux, (and also our other wine on offer, Le Limoux), please click here.
And by the way, it was Thomas Jefferson's favourite sparkling wine as well!

The other wine also has some mauzac in it, but no bubbles. If you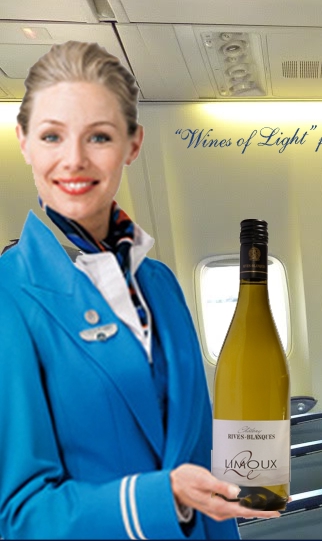 are flying World Business Class on a KLM transcontinental flight next month, you'll be able to enjoy our Le Limoux. Otherwise, the only other place you can get this unique blend of chardonnay, chenin and mauzac in the USA is right here. Le Limoux's got attitude at altitude, but it's equally good before a meal, with a meal, or after a meal at ground level as well. And as far as food-pairing possibilities goes, well … the sky's the limit.
Wine VIP will get these wines to you at our cellar door price plus €50 transport costs per order of 12 bottles, or 6 bottles of each.
If you have visited us, we hope you will not have forgotten our stunning location in the foothills of the Pyrenees, just a stone's throw from two World Heritage sites and the secret to the da Vinci code. If you have not, then please do: a big welcome from a small vineyard in the world's biggest and most exciting wine region awaits you! Plus a whole lot of award-winning white and sparkling wines that have won applause from the most respected wine critic* near you.
And as a last resort, there's always www.rives-blanques.com for a quick arm-chair visit.

Please let us know if you enjoy our wines, or if there are any others you might like to have included in a future shipment. And please feel free to pass this news on to anyone who may be interested!
With a big merci and vinous best wishes to you

*such as Robert Parker, Wine Spectator, Wine Enthusiast, Jancis Robinson, Decanter …