If July was hot, then August came hotter on its heels.  But we are not complaining: never before have we turned the page of the calendar from the one month to the other while the vines were still growing.  Veraison, when the grapes change from a hard jade green to a softer, luminous, slightly transparent colour, will take place towards the middle of the month – almost a month later than 'usual' (what ever 'usual' is meant to mean).  There is little we can do about anything at this stage, except hope for good, hot weather.    Which we are doing, energetically and wholeheartedly.  And also stripping away the leaves from around the grapes, so they are exposed to the sun and the wind.  As for us, we've had quite enough of the sunshine at this stage,  thank you …
Monday August 5
At Sea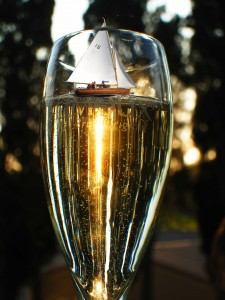 So instead of selling Blanquette we head over to Ireland to sail Blanquette,  dinghy No. 16 of the Ette class, clinker-built with a cheeky little bowsprit.
You can always be reasonably sure that Ireland has its weather still.
Son Jan-Ailbe, ably aided and abetted by his sister Xaxa,  takes over the helm at Rives-Blanques, and we each wish the other smooth sailing …
.

Tuesday 6
Framed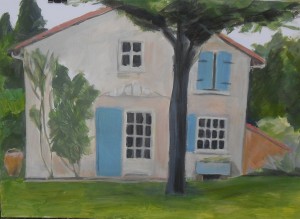 We find nothing but blue skies and sunshine in Ireland. But at home it is so hot that the intrepid Wijnand van Asperen, and his  group of aspiring and inspired artists, decide not to go into the vineyard to paint the vines.   In fact, they don't get much further than the house, the driveway… and the tasting room. Even so, the results were great albeit less vitis viniferous than usual.
.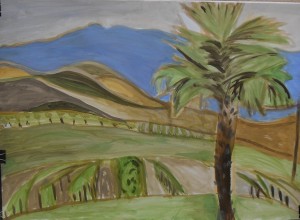 Excepting for this picture, which shows a nice view of what we can see from the airconditioned comfort of the tasting room.
Thursday 8
Double Dutch

 A big burly Dutch driver parks his big burly truck in the courtyard and steps into the tasting room mopping his brow.  He has come to pick up some pallets of wine. Jan-Ailbe loads them into the truck, while Xaxa chats with the him in the tasting room.
 "Your wines are quite good, I think?" he says.
"Delicious" she agrees.
"Yeah, I've heard about them, but I've never tasted them."
"Would you like to?" she asks.
"Yeah, I love a good red wine."
"Sorry, we only do white".
"Oh".
There's a minute's silence, and then he picks up the conversation again.
"Are they very expensive?"
"It depends what you mean by "expensive" Xaxa replies. "This one's about €12.00"
"Yeah, that's expensive," he says. "Really expensive."
Another break in the conversation. Then he ventures:
"Could I taste it any way, please"
"Of course" she says, and pours him a little shot of our chardonnay, Odyssée. "This is a white wine for people who like red wines" she says.
The big burly truck driver held the stem of the Riedel glass delicately between thumb and index finger, and took a small sip. He swirled the wine around in his mouth, and spat it out. He took another sip, and swallowed it.
"I really, really like that" he said, "but you know, it's way too expensive for me.  I usually get my wines for around €5.00 from the supermarket.  You understand?"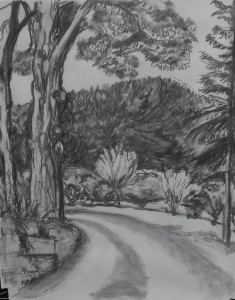 Xaxa  understood.
He ambled off to his truck, and sat there for a few minutes, as truck drivers do. (They are only able to start up the engine after it's been stopped for a stipulated time.)  And then he climbed out and returned to the tasting room.
"I can still taste that wine in my mouth. It is delicious!" he said.  "Can I buy two bottles of it, please? For special occasions, you know?"
A small and unexpected sale – but for Xaxa, it was the sale of the day, to see this big, burly truck driver who only drinks red wines drive off down our driveway with two bottles of our Odyssée on board.
Wednesday 14
The Green View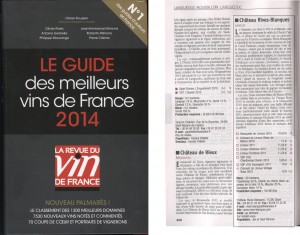 Everything about this wine guide to the Best Wines of France is wholly commendable.  The famous 'Guide Verte' is probably one of the most reliable, solid wine guides in the country.  Published by the La Revue du Vin de France, you can always be sure of recognising the wines you know, and discovering good wines you don't.  So of course we're delighted to be included amongst their top 1300 vineyards in the country, again, in the latest 2014 edition, out today.  Good, concise tasting notes on the wines …
But less so on the people, a "British couple from the financial world, who have poured their passion and their means into Rives-Blanques".    True, the passion remains undiminished (though the means don't), and although Jan never was an Englishman, he's prepared to be one, if that is what they want.  We have lived at Rives-Blanques for longer than we have ever lived anywhere or in any country in our whole, long married life,  but of course, we will never be French, and can understand why perhaps a nationality has to be attached to us (no matter which one).  But it's the 'financial world' that gets  me.  How long does one have to be a winegrower before one is a winegrower and not an ex-banker?
Monday 19
Monday Blues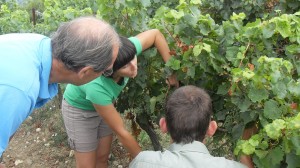 We spend the entire morning with Celine from the Chamber of Agriculture in  the vines.
 "It's going to be a very small harvest" she says. "You've lost a lot to the hail".
 Don't we know it. We are feeling the pain. About 50% of our top chardonnay down the drain. And just to exacerbate the situation, veraison has hardly even started, when the grapes soften and start ripening. Never, ever has this happened so late. We are in uncharted territory, and not even Celine, who sees all the vineyards in the region, can quite see how to navigate these waters.
"If we get more rain, then there might be real trouble. The subsoil is so wet that the vines are still growing, and the grapes can't ripen."
Thank you, Celine, we know that too. The grapes are still as hard as marbles. When will they have the time to ripen before the cooler days and cold nights settle in? We know that vines usually have a way of sorting themselves out, but this year it looks like a real challenge.
We are all saying 2013 will be an excellent year for the sparkling wines, but what about the still wines?  We all shrug our collective shoulder, there really is little you can do about it.  Time will tell, the proof will be in the pudding, so to speak. And the vines usually sort themselves out …
She seizes a leaf and shows us the cicadelle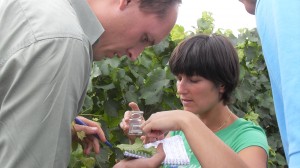 verte hopping around. He is minuscule, but magiscule in evil intent. Then her eagle-eyes alight on a Chrysop, which is so small you really can't see it without a microscope. "The sign of biodiversity" she says happily, "a well balanced vineyard. This little fellow eats up the spiders".
Really interesting, but on the whole a thoroughly depressing morning.
Tuesday 20.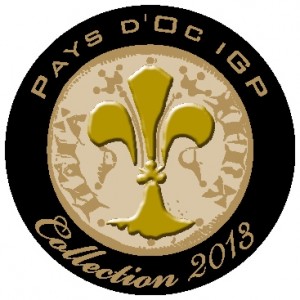 "I've sold out your chardonnay-chenin" the email shouts. "Please, please get me two or three more pallets. Surely one of your other customers doesn't want to keep his reservation?"
Sorry, my friend, the less of our country wine we have, the more people seem to want it.
We are pulling our hair out. I haven't tasted our chardonnay-chenin country wine in months.   Imagine a pub with no beer, then you will have an idea of how we feel.  It's wonderful when a wine flies, but it is not wonderful not to have enough of it – just hate letting down our customers.
Then the Head Office of the Pays d'Oc organisation fires off a multitude of emails to us all copied to dozens of people and all marked URGENT!!!
The 12 bottles of your chardonnay-chenin for the French press conference arrived broken, please replace before the 23rd!!!
We are still waiting for 50 bottles of your chardonnay chenin for our press conferences in Holland, England and Germany, please get them to us by the 23rd!!!
Apparently the 100 bottles of your IGP Oc had an accident in the warehouse, please can you replace them? Urgent!!
Our transporter then confirms that the pallet of 150 chardonnay-chenin bottles they collected two weeks ago for the Pays d'Oc were  destroyed in an accident. And as a result, we have nothing but nothing left. Not a single bottle for a single person.
So much for the kudos of being selected as one of the six best white country wines of the Languedoc. Not much use to anyone if it does not exist.  All we have left to show for the fact is a big, beautiful medal.
Saturday 24
We inspect the vineyard again today.  Veraison on the way, that's one thing at least.  Sky scowling overhead.  Little drops of rain now and then.
…./to be continued.