This is the stay-at-home month when concentrated effort is what we're concentrating on. The vines are pruned, their branches securely tied, and we wait and watch the next step: buds breaking through the old wood of the vines. Once life starts moving, it starts moving fast. The cool weather and  rain we have had so far this year – 264 mm to date (not counting December of course, usually the wettest month of all) as against an annual average of 600 mm – has slowed the vines down a bit, while also setting them up for a shotgun start once the sun comes out. Inside the winery, the 2012 wines continue their quiet contemplative maturation in the barrels, preparing themselves for bottling in a month or two. This month we'll finalise the blends, and that's the big challenge.
Monday April 8
Star-studded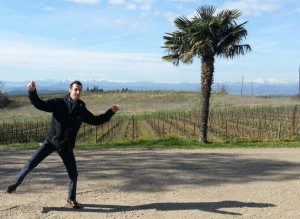 This is the fabric of a nightmare for a mediocre cook: guests to be fed include a 1-star Michelin Chef, the sommelier of a Michelin 2-star restaurant, the sommelier of a Michelin 1-star restaurant, a couple of gastro-publicans, and a pair of food/wine experts. That's today and tomorrow. Later this week, we have a three star restaurant coming for lunch.
Really a great crowd. Make note to dine at Midsummer House in Cambridge when its dancing sommelier Richard Burton is inspired to perform. As he was against our horizon. (But the question is, will he dance without the horizon?)
 And the more pressing problem of the more imminent meal still remains.
 We take the easy way out: wild asparagus, which are not terribly nice and are probably not meant to be, it's more the idea of them that appeals, and a local cassoulet (arguably ditto). But at least they are local – where else in the world would you be served wild asparagus (not terribly nice) … or a cassoulet for that matter, even if you are a stellar chef?
 And of course local goats cheese (indescribably delicious) which we serve with local honey (ditto).
Chef, however, does not like honey.
Sunday April 14
Jack Sprat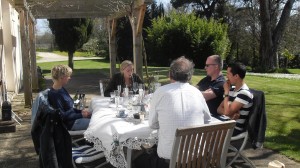 And amazingly, the sommelier who matches the world's top wines with top dishes prepared at one of the only two 3-star restaurants in Holland, does not like goats cheese!
 Pity she and Chef are not around the same table at the same time.
And that puts paid to today's comparative tasting of goats cheese from the LowLands (Reypenaer) with our local Aude valley cheeses – and delicious local honey, of course. Paired, naturally, with our mauzac.
But the aspargus (not wild) were okay, and the home-made patés, sausages and salamis from our local butcher in Cepie even better.
And the sun shone and the mountains smiled down on us, so what else could one want?
Monday April 15
We continue in restaurant mode. News filters through that our favourite hotel organisation, Logis de France (the chef is always the owner, so you can usually be pretty sure of a pretty good meal) has awarded a silver medal to our chardonnay, Odyssée
Tuesday April 16
Habemus Trilogie!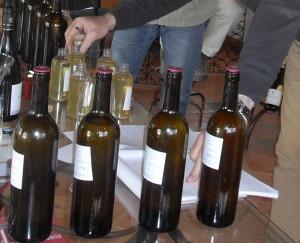 Really big day today. We've lined up bottles with wines taken from all the 'best' barrels. There's mauzac with and without natural yeasts, there's chardonnay from new barrels, one year old barrels; there's chenin blanc from different parts of different parcels, and now we're going to try and make the magic happen.
 After two hours, I have to stop and go for a walk. Pierre continues undaunted, still absolutely sure that the blend four blends back is better than the one we've just done. But not quite as good as the one we did two blends before that.
Last year we couldn't find the je ne sais quoi that makes something unusually outstanding, so our 2011 vintage went without a Trilogie. But this year, this year … this year, we might just have it. We are only a whisper away, a prayer away, a little tiny hair-breadth away – and then everyone breaks into smiles.
"C'est bon, ca" Erick says, with uncharacteristic enthusiasm.
We all agree. La Trilogie 2013 has been defined. A moment of celebration and smiles.
We pile into the butcher's restaurant in Cépie for a relaxed lunch (tasting is hungry business): more foie, more salami, more paté …
But no goats cheese and no honey.
18 – 20 April
The writing on the wall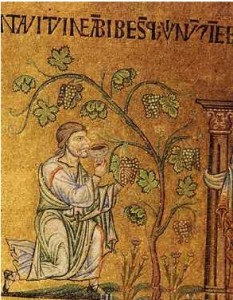 We walk into St Mark's Basilica in Venice, and raise our eyes in amazement.  Even if you've seen this mosaic ceiling a hundred times before, it remains a source of wonder.  And the first thing we see, just to the right of the entrance is this: Noah celebrating his survival of the flood by creating a vineyard, and then enjoying the fruit of his labour.  And with Biblical expediency, managing to do both at the same time.
This particular scene of an event that took place over 2000 years before the birth of Christ, was made in around the 13th century, we were told.  Which goes to show how long wine has been  part of our lives – and part of our art.
It makes us want to get back to our own vines.
Monday 22 April
Limoux à table.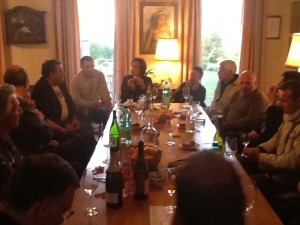 There are some 20 Limoux winegrowers sitting around our table in the kitchen, and right now they're all talking at the same time.
Hmm, lacks a bit of acidity comments the militantly 'natural wine' guy, known for his fizz without bubbles, as he tastes ours.
Medals, do they help sell the wines? another asks plaintively.
Imagine you were van Gogh … someone is saying.
Blanquette? Pouf! We should change the name! One of them tries to gain the floor, and is shouted down: You should never throw away history!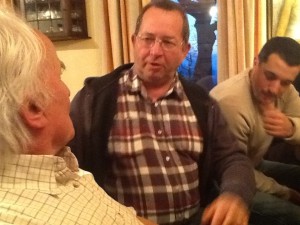 There's a lot to talk about and this is a fairly historic moment: wine growers getting together to seriously discuss how they can best protect and promote the quality of their appellation. And to meet each other, some of them for the first time. And to share and taste each others wines.
Sounds simple and logical, but this hardly happens anywhere.
Good to see it happening in Limoux.
Thursday 25 April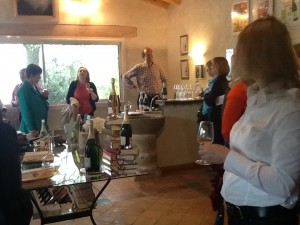 It's overcast and a bit dank, must remind the Irish of Ireland,  as a busload of Dublin wine lovers comes to a stop at Rives-Blanques this afternoon.
Ireland's intrepid First Lady of Wine, Monica Murphy, intrepidly leads the troops onwards and upwards into our tasting room.
Always love having the Irish here – and it's not just because of our Corkman Jan Ailbe and our Kerryman Bruno – it's because they're so … well, nice.  And fun.  And these were all nice and fun, and knew a lot about wine as well.  And they liked our wines very much too, so that made us like them even more.
Tuesday April 30
Going Dutch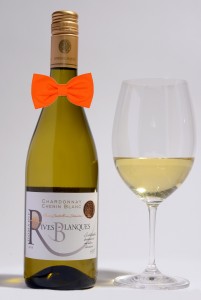 A big day for the Dutch today: April 30 has always been known as 'Queen's Day' but today it is "King's Day",  as Queen Beatrix abdicates in favour of her eldest son.
And guess which wine won the right to be served at the Queen's Day/King's Day reception at the Dutch Embassy in Paris?
Well, we always have called it our 'Noble Country Wine', this chardonnay-chenin Vin de Pays blend.
And proud it is too, to be orange today.
At the same time, a leading Dutch wineblog called Wijnkronieken came out with a super article about us and our wines, nicely timed to round off the celebrations … and end the month.
…/to be cont'd next month