Every month we say this is the best month to be at Rives-Blanques.  Well, April really is.  The place is redolent with wild flowers, birdsong, and  vines full of burgeoning  buds and bonhommie.  It's  a 'wish you were here' postcard from paradise, signed by mountains singing on our horizon and the smile of a brilliant sun overhead.  Just the ticket.  The month gets off to a hot start – highest temperatures recorded since 1894 – but April is April, and you just never know.  What we do know is that we'll be bottling the last of our Pays d'Oc country wine, and getting down to the final blending of the Limoux appellation wines.  Limoux itself is gearing up for the world's second largest auction of barrels of chardonnay this month, after the Hospices de Beaune.  And that's a party and a half.  And on the 10th, we have another:  the Night of the Blanquette, which rings the death knoll for this year's Carnival … because even the world's oldest, longest, and longest-running carnival has to come to an  end at some point.
April 1 2011
No fool, this.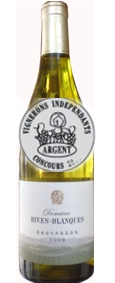 So this is a good start to the month: a silver medal from the Competition of the Independent WineGrowers of France, for our sauvignon blanc, Sauvageon.
We call it the 'wild one' because it is a bit of a wild card – a sauvignon blanc that expresses itself in a really original and unpredicted way: as Jancis Robinson said, "a million miles from Marlborough" … or in the words of Gault Millau "a completely different vision of sauvignon."  But even wild ones like a bit of recognition now and then …
Thursday April 7
"Oh, it's always like this", we say, flapping our arms at the huge panorama spread below: neat symetrical rows of vines heading downhill to the house, while above and beyond them, snowcapped mountains lie supine against the morning sky.  A fresh breeze plays brightly and lightly against our faces.  I have to say, I've seen it a thousand times before, but it still is breathtakingly spectacular.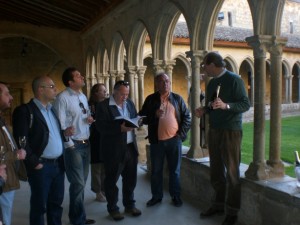 This is the first visit of the sales team of one of our importers.  Twelve of them have come to learn about Rives-Blanques and its wines, and boy, what a view we've spread out for them.
But first, a visit to the monastery of Saint Hilaire, where its Benedictine monks  were the first in the world to discover how to put bubbles in their wine, a fitting place to begin a visit to paradise.
Sunday April 10
The Party's Over
It started at the end of January, and today it ends with both a bang and a whimper: the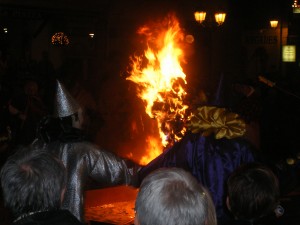 world's longest, oldest carnival. Tonight the Carnival dancers dance their last, slow, soporiphic, mesmeric dance between the four cafés on the four cardinal points of Limoux's Place de la République, and then sink to the ground to hear the judge's verdict.  As always, it  is guilty as charged, and the King of Carnival condemned to death by fire.  Quite a bloody business this, even though the King is a mere effigy and the verdict is the same, century in, century out; yet the scene is surprisingly sad and moving.
The people of Limoux take their Carnival seriously, as did their parents and grandparents before them .  It costs time, money and a whole lot of committment to be a part of it.  For the rest of us, it remains an enigma – as it is meant to be, for Carnival is for the Carnivaleers, and nobody else.  Now it is over, and you can feel. regret hanging heavily  Until next year, that is, when the world's oldest, longest and longest-running carnival again gets into what the rest of us both dread and welcome: its stride.
Thursday 14 April
Put a label on it

Email from America asking us to take ten cases off a pallet awaiting shipment about two hours from here, and put them on another pallet also going to America, but to another part of that great country.  With, of course, a different back label that has neither been approved nor  yet even been printed on each of the bottles contained in those cases.  By tomorrow latest. That was Tuesday.  No way!
On Wednesday Jan was down there, sticking on freshly printed back labels.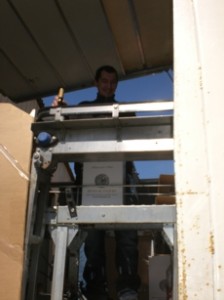 So that was yesterday and now today we find ourselves again being confronted by a label.  It's bottling day: everything has been so well planned that it is impossible anything can go wrong.  A magnificent morning spreads out against the sky like a dream.  The stars and moon have consipired to arrange themselves into a propitious pattern for this traumatic event in the life of a grape.  It's all going swimmingly … until we realise that wrong labels are going on the wrong bottles.  Irretractably, irrevocably, irrepressibly,  going round and round the bottling line and then into  firmly taped-up cartons.  Oh no!
Oh yes.
A whole pallet-full.  That means 600 bottles to be relabelled tomorrow, by hand.
By these hands.
Friday 15 April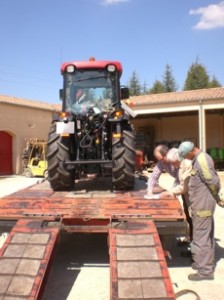 Don't get between me and my Ferrari-red, airconditioned, extra wide-tyred soil-friendly tractor!  With an inboard computer and an impressive number of gearsticks.  Just arrived today, to replace our 20-year old Massy Ferguson.  Also red, but rather less Ferrari like.  Eric and Jan are both dying to get in and go for a spin.
Caryl doesn't  even get a look in.
(And then the mechanic comes back to explain the workings of this magnificent machine, and promptly goes and breaks its hydraulic whatsit)
Sunday 15 April
The Party's On Again …
That's Limoux in April, a mad house.  No sooner one party over than the next begins.  This weekend it's the wine CoOperative's famous Toques & Clochers auction of barrels of chardonnay, the biggest in France after the famous Hospices de Beaune.  Saturday is party day – 70,000 people come to town for the biggest street party ever.  The atmosphere is great:  food and wine on every corner, bands on every street, and the sun shining with all its might – and no drunkness in sight.  Whatever you may say or think about the CoOp, they certainly know how to put on a good party.
Then some of those partygoers dig deep in the their pockets to buy barrels of chardonnay this afternoon.  We tasted them this morning, at 9 am, before breakfast: characteristically oaky, but with good acidity.  A group of hotels including the Dorchester and the Plazza Athenee paid top dollars for theirs: € 12,500 for a 225 l. barrel of chardonnay.
All told, the 120 barrels of chardonnay plus two of red wine  brought in € 618.000 – a 13% increase overall over last year.
Our interest isn't completely disinterested.  In the middle of Rives-Blanques for reasons that no one alive can remember or even knows, one plot of vines belongs to someone else.  He is a grape-growing member of the Cooperative, and his field, lying cheek-to-jowl with our own top chardonnay field, is one of the top fields chosen by the CoOperative for  the Toques & Clochers auction.
This barrel was snapped up by a Dutchman, who walked off with a total of some  25 barrels in his pocket, the single biggest buyer this year.  Limoux is swimming … but Holland may well sink under so much chardonnay.
Tuesday 19 April
Steaming Ahead.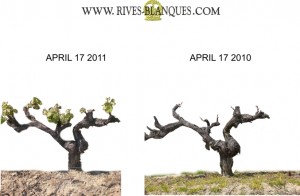 Lots of shaking of lots of wise heads.  We've had the hottest first fortnight in France since 1800-something, and the vines are proof of it … galloping ahead at a great pace.
"We'll be harvesting by mid-August", they're saying, "it will be like 2003″.
The vines have a way of sorting themselves out, so we're not duly worried … yet.  But this photograph taken of the same chenin vine  on the same day this year and last year, speaks volumes.  Which is fine, excepting that if the famous Ice Saints hit us early next month, then we'll be snookered – too far gone to do anything about it.
Wednesday April 20
An Odyssée Moment

So now we have the results of what is supposed to be the world's biggest wine competition: the 57 year-old Concours des Grands Vins de France.   The judges  would have had 11,043 bottles to taste if we hadn't added to their burden by sending in a couple of ours as well.  Is biggest best?  Are wine competitions worth it at all?  The answer has to be No – though it's okay as long as you win something.
So we're happy enough that of the 29 medals doled out to the white wines of Languedoc Roussillon, two were for our Cuvée de l'Odyssée: the 2008 and the 2009.
Just a bit of a pity that both wines are already out of stock.
Thursday 21 April
An Inspector Calls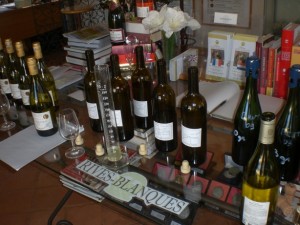 But how were we to know?  Today was a day (actually, a day and a half) dedicated to tasting our 2010 wines.  Anything else was irrelevent, unimportant, totally secondary.  In short, of no interest at all.
But first we taste the last four years of the Pays d'Oc under screwcap.   Really can't complain, the wines were still pretty fresh, though the 2007 suffers a bit from reduction.
Then on the big business, trying, testing, tasting different blends of different barrels. It's all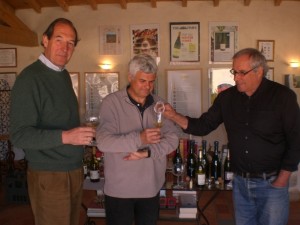 very exciting, but most exciting of all is the new Cuvée this vintage has given us.  But that's a secret.  We all have our favourites: Georges is blown away by the chardonnay, Odyssée.  I love the Sauvignon, but Jan doesn't, he's all for the chenin, Dédicace.  Eric, as usual, keeps his thoughts to himself.
It's been a good morning's work, and we are very pleased: with ourselves and with our wines. Pleased, but tired.  And hungry.
And there's a mountain of work to do: phone ringing mindlessly, emails piling up, desk submerged.  But we close the door firmly and go and have some lunch.
And come back to find an impatient customer waiting for us.  Oh no! Leave us alone!  Not today!
He was a wine-loving travelling salesman from Lyon.  Or so he said.  So he seemed.  But he wasn't. He was an undercover inspector from Qualité Sud de France, just making sure that we give all due love, attention and concern to our visitors.
Which of course today we didn't.  He probably got the worst reception we are capable of giving.
But … we passed!
…/To be continued.