Friday 2 June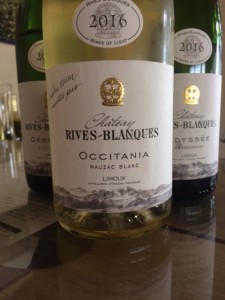 Today and yesterday, two "fruit days" in a row, descending, waxing  moon, a mix of rising and ebbing tides: not the very absolutely best days in the world for bottling wines, but by no means the worst by a long, long shot either.  Besides, there wasn't much choice.
And we're very happy!  Voilà the new 2016 Occitania, made of mauzac!  We've been out of stock for months and months, and it's lovely to have 13,000 bottles of it back again.
And voilà the new Dédicace 2016, made of chenin blanc!  That's been out of stock also, and it's great to have it back on board as well.  We've got about 4000 bottles of that – but the fact is, most has already been sold (to The Wine Society in the UK).
And welcome to the new Odyssée 2016, made of chardonnay! Another 23,000 bottles on tap, perfectly timed, just as we're running out of the 2015.
So it's been a good day's work.
But where's the Trilogie and where's the Le Limoux?
Nowhere.
2016 gave us some fantastic chenin blanc, and great chardonnay and mauzac. But it  just didn't have  the space for La Trilogie and Le Limoux in it.
Saturday 4 June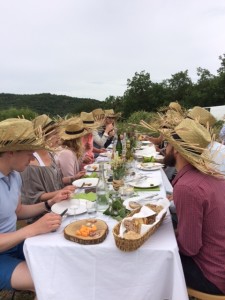 A lot of panic looking at the sky, looking at the horizon, and then looking at the sky again.  But the picnic party organised in the vineyard for our importer in Amsterdam, Pasteuning, went off without a hitch.  The accordionist played his accordion, the cook cooked her cooking, the wine did its thing in close harmony with the surrounding vines, and everyone enjoyed themselves.
And the first drops of rain fell just as we were leaving the table.
Wednesday June 7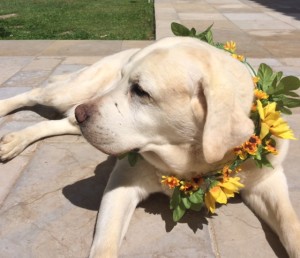 Someone at Rives-Blanques has a 70th birthday today!
And someone else at Rives-Blanques has a 70th birthday today!
And they're both still fighting fit and raring to go.
Happy 70th Bacchus!
Happy 70th Jan!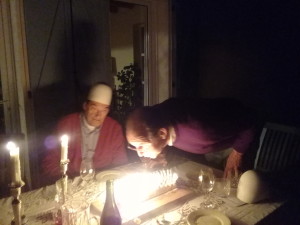 Saturday 10 June
We celebrate Jan's birthday with a trip through Bordeaux, starting at the Lascaux Caves, descending down into the new Cité de Vin in Bordeaux, then on through Medoc ending up in beautiful Saint Emilion today.
I raise my glass to my late father, whose birthday it is today.
Jan and his brother raise their glasses to their father, who died on this day.
And then daughter  Xaxa steals the show.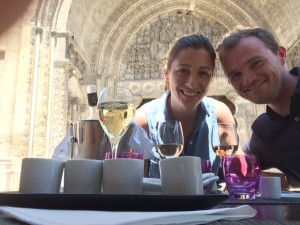 "We would like to tell you that we are getting married" she says, squeezing the hand of the Canadian boyfriend who has already become such an integral part of our little family.
Father bursts out into smiles of joy.
Mother bursts out into tears of joy.
And we splash out on a bottle of Bollinger 2009.
Wednesday 14 June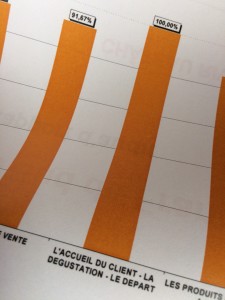 Well, beat this.
In the post we get a report from the "secret visitor" (I call him Inspector.  Let's call a spade a spade, or as the French say, "a cat a cat") who visited us last month.  He came on a motorbike and didn't look at all like an Inspector should look. Which, let's admit, was a bit sneaky of him, if not downright inspectorish.
Caryl was slaving over a hot computer, so Jan tasted through our wines with the so-called visitor.
At the end of it all, the gentleman confessed that he wasn't what he said he was.  He was a 'secret visitor' … ergo, Inspector, representing the Sud de France organisation
And the report gave Jan 100% for the way he was received!
It's true.  In black and white, signed and sealed.  With a pretty graph to illustrate it.
Clever clogs, Jan.
But they penalised us for not having all our products on sale.  Which is a bit unfair, considering that they were sold out, and all he had to do was come a couple of weeks later …
Friday 16 June
Today the female vintners of the region get together at the Atelier des Vignerons, our local wineshop on the main square in Limoux, for a tasting.  Guitar music and tapas.  Lots of visitors.  Vinifilles dressed to the hilt like Spanish ladies.  And tomorrow morning we do another tasting at Chez Julien, the wonderful Carcassonne caviste who sells the most delicious cheese in the world, at the same time. But this one's in mufti.
And then Jan-Ailbe collects me and we drive to Bordeaux for Vinexpo.
Monday 19 June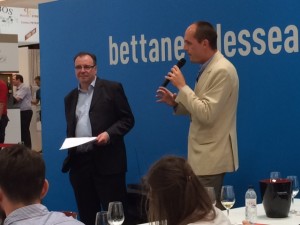 I think the last time I did Vinexpo, the big Bordeaux wine fest, was in 2003.  It was the hottest year in living memory.  Champagne corks exploding all over the place. People fainting all over the place.  Air conditioning breaking down all over the place.  Everything just awful.
And this time was also the hottest in memory – since people's memories don't go beyond 2003. But at least the air-conditioning held out – at the Fair, but not in my little hotel room.  Bordeaux boiled.  And so did we.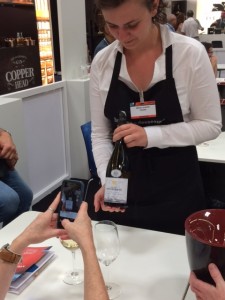 We were on the stand of Bettane and Desseauve, the two famous French wine writers, who treated us royally by including La Trilogie in their masterclass on the Grand Sud ('just love this freshness' Desseauve reiterated).
He invited Jan-Ailbe to join him on the  podium to say something about the wine.
And Caryl was interviewed on TV and said all the wrong things (I don't think this is the right sort of Fair for a small vineyard from the Languedoc), but he didn't seem to mind …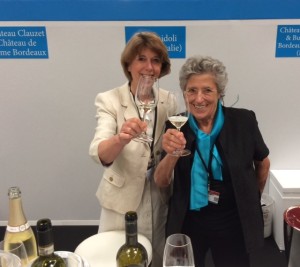 And we made friends with a nice Italian producer next to us, Roberto Damonte who gave us a carton of his wines on leaving, and with the superb Tuscan next to him, the iconic Maria Elisabetta Fagiuoli, who makes biodynamic wines in San Gimignano … and with the amiable Belgian next to her, with his two chateaux at Saint Estephe  … so actually, yes,  on second thoughts, Vinexpo is a great event for a small vineyard from the Languedoc.
Tuesday June 20
Very funny Tuesday Tour today.  At first no one talked to anyone, which is really unusual.  There was a clutch of English people and an almost equal sized clutch of Dutch., plus an absolutely adorable smiley baby. People always make friends during our Tuesday Tour – even without absolutely adorable smiley babies on board.
But no, this was threatening to be heavy going.
Until one idle, possibly even indifferent question leads to another, and we discover that one of the Englishmen is actually a long-expatriated Dutchman, whose family came from the same small village that the father of the absolutely adorable smiley baby comes from.
What's more, they're probably related.
Wednesday 21 June
The heat is horrible.  For us, not for the vines. Flowering is over and done with, and it's gone very well.  Now the vines are pushing ahead, running the marathon towards to harvest and clearly trying to set a record.  Will this be another early harvest?  Maybe, but it's still too soon to say.
Tuesday 27 June
Hail!
…./to be continued next month