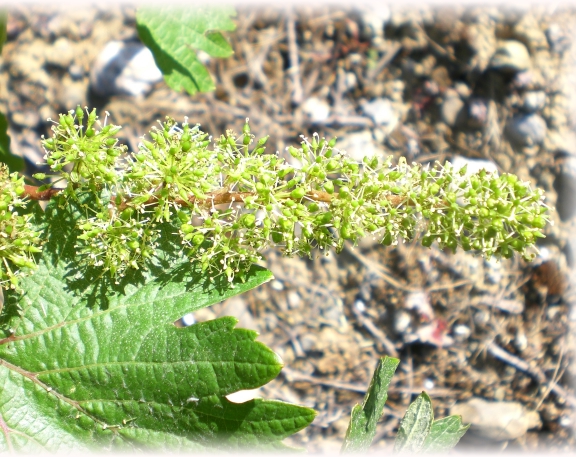 It all crowds in on us this month. So far this year, life has been quite complicated: either too dry or too wet; either too cold or too hot – now the time has come to get our act together and do the Goldilocks thing: "just right". The month opens on cue with brilliant blue skies but the weather forecast is glum. It promises to continue grim and grimy. The big event is the flowering of the vines, and we keep our fingers crossed for that: the most crucial, important, vital event in the life of the vine. And by extension, in ours too. For that we need brilliant sunshine and dry breezes. The other big event is the bottling of our 2009 wines – and we are keeping our fingers crossed for that as well. There are always things that can go wrong, and often they do. Almost always, in fact. On June 19 there is a tasting organised by Vinifilles in Sète: a little light relief against all the other nerve-racking fingers-crossed events of this month …
Tuesday 01 June
Bingo!
The very first of the first chardonnay vines start flowering today.
Wednesday 02 June

This is pretty amazing, very Belgian in as much as we know what "very Belgian" is. On the face of it, it is a house – a very nice, neat and well-cared for house, albeit with a distinctly domestic demeanour, right in the middle of a field. Just down the road there's a busy highway lined by industrial depots and warehouses: not the most obvious place to start looking for a Michelin Star restaurant. And right in front of us, blocking the road, is a courting couple of lovely plump pheasant, dangerously close to a very famous kitchen.
This is the Eyckerhof, and you can find it at the end of a field in Bornem near Antwerp – and it is absolutely fabulous. The chef, Ferdy Debaeker has won loads of awards (Bocuse Bronze, Escoffier prize, etc) but today he wins the Rives-Blanques award for 'best wine-pairing chef'. The meal is fantastic: tiny little meringues, as small and bright as wild strawberries, that go puff in your mouth with an explosion of goose liver; white asparagus miraculously dressed in a green watercress coat designed by el Buli (with our chardonnay-chenin, can you believe? I couldn't … and it was great); and then there was the cuckoo. Not the nice fat pheasant we had half hoped for, but a Cuckoo.
Cuckoo?
The menu says Mechelse Koekoek, which must mean Cuckoo from Mechel, just down the road. We ask, just to be sure. The people at our table nod: yes, it's a cuckoo. It looks surprisingly large and lavish on our plates, not at all cuckoo-like. Though who knows what a cuckoo looks like, famous for being heard but not seen? Not until today, that is.
But does it actually say cuckoo? We ask the Belgians sitting with us.
Yes, yes, it says cuckoo.
Cu-ckoo-cu-ckoo? We chime.
They nod.
There's a little linguistic misunderstanding here. This cuckoo is a special locally bred chicken and thank goodness for that. Very succulent. And delicious with our La Trilogie.
Then the King's cheese supplier steps up and gives a talk about how cheese generally goes best with white wines. In this case, the Rives-Blanques chenin blanc Dédicace. Here's a man after our own heart.
No wonder we love Belgium. We love the interest the Belgians have in food and in wine. We love restaurants like this that produce the most amazing wonderful food in the most unlikely places. We love these epicureans who travel miles to come and eat, drink and appreciate. And we love the talented chefs who design the meals to match our wines – five courses made to measure to five white Rives-Blanques wines: all white, not a red in sight.
This is the second night in a row we've had this same meal, and this time it's broken the sound barrier. We're really happy … in fact, we could happily face a third night.
Until we see a glass of red wine being carried across the room at the very bitter end of the evening.
Bitter,indeed.
Thursday 3 June
Nine Years in a Row!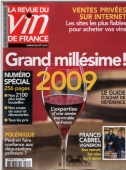 We have great admiration for La Revue du Vin de France whose tasters and writers are rigorously professional and very, very competent. That is why we are so delighted to see our Cuvée Occitania (mauzac) featuring large as life in their roundup of the Best Wines of 2009, amongst the 'grandes réussites' of the year. This is good news that borders on the brilliant. And better still, the fact that this is the ninth consecutive year we have been included in this rigorous selection. Surely a record of sorts.
La Revue du Vin de France points out that the conditions of the 2009 harvest were tricky in the Languedoc: a wet winter and spring followed by a dramatically dry summer with less than 10mm of rain over 5 months. This led to reduced yields, but also meant producers had to tread very carefully between picking too soon or picking too late.
Like most observers, they agree that Bordeaux 2009 will be 'legendary' – and in fact, red wines across the board throughout the country were superior. Excepting for the Languedoc.
The best Languedoc wines are the white wines grown at high altitude – and particularly those from Limoux. In fact, ten of their top twenty wines came from Limoux.
The respected magazine accuses the new generic AOC Languedoc (which does not include Limoux) of wines with over-maturity, dilution, bitterness or too much tannin: in short, "wines that shine by their extreme banality" they say.
Friday 04 June
In the Pink with Purple Pages
Why didn't I think to call our Odyssée 'patrician'? That's exactly what it is, really the right word — and it's in Jancis Robinson's Purple Pages, coined by her staffer, Tamlyn Currin. Or what about the Blanquette, 'a cool sunlit breeze'? Brilliant!. Truly spot on. Great tasting notes on Rives-Blanques wines, one of the Estranhiers (Occitan for foreigner) at http://www.jancisrobinson.com/tasting_articles/ta201005051.html
And then there's more up on the Purple Pages: about the Vinifilles, a group of female winegrowers in the Languedoc, ranging from big corporations to small biodynamic properties, a rainbow coalition of the bold, the bright and the beautiful at http://www.jancisrobinson.com/tasting_articles/ta20100429.html
Saturday 05 June
In hot pursuit….
The mauzac following on fast. And the young and middle-aged vines of chenin blanc also flowering. Just the oldies dragging their feet.
Monday 07 June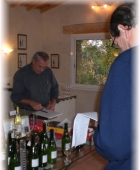 "Ah, mysterious", Georges said. "It's mysterious … so distinguished …élégant." He sighed happily.
Unfortunately he wasn't talking about me. It was the Dédicace 2009, our chenin blanc – the one we're dedicating to our neighbour, for helping us out during the harvest. But that's another story.
Today we tasted all the 2009 wines for the last time, before they go into the bottle. It was a treat. It's true what they say: 2009 was a great year, particularly for Limoux. Now the trick is to keep the wines that way right through the bottling …
Thursday 10 June
Past the Start Gun
Today the old chenin vines started flowering. Now the whole vineyard's on the job. Weather has been iffy, to say the least, but today looks a lot more encouraging. It could almost be June in the south of France
Sunday 12 June
40 ml of rain in two hours! No one has ever seen anything like this before. And one heart-stopping minute of hail.
Tuesday 15
Getting fed up with this. Dire, dreadful weather. But less rain and wind damage to the vines than we had feared.
Thurs-Friday 17/18 June
Flower Power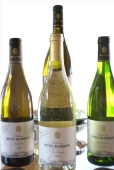 There is just so much you can cope with. In this case: cartons, capsules, corks, bottles, labels, all with the correct and corresponding barcodes, lot numbers and so on. Then there's the wine as well. Which has to be bottled, corked, capsuled, packed and palleted with all the correct and corresponding above.
But on top of that, there's the weather. Damp weather can complicate the labelling. Stormy weather can upset the wine. Rainy weather can upset the bottlers. A descending moon is best, a fruit day is better, and you don't want to be bottling the wine at a time when the vine is flowering. So they say. As if we didn't have enough to worry about.
"And where do you suppose the Trilogie back-labels might be?" Jan asks in a carefully neutral voice just three days ago. The Trilogie back-labels were where they should not be: just a dream in my computer, overlooked in the course of our scrambled departure for the USA last month.
The local printer may not be the greatest in the world, but there are times when he comes up trumps. Trilogie back-labels arrived last night, literally hot off the press. This was one of those times.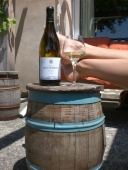 The undescribably bad weather we've been having decided to hold a ceasefire, as from 08:00 early Thursday morning. So far so good. Things are beginning to shape up. Maybe we will escape this bottling without major mishap.
30,000 bottles of our top barrel-fermented wines take two days to be bottled. And they come through it smiling, up on their feet and running. We're exhausted at the end, but also smiling. Nothing went wrong, as far we can tell and all the 2009 wines are safely in their cartons, the right way up, bottled, corked, capsuled, labelled, packed and paletted. Should we put it down to two Flower Days in a row? If you would like a brief introduction to the bottling line, please click here,
As for us, we're putting our feet up and enjoying the fruit of today's labour.
Saturday 19 June
Seaside Saturday in Sète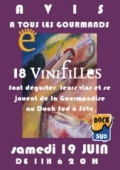 There is a maritime jousting match going on outside in the Canal. Two large man-propelled boats approach each other, with the object of knocking the other's passengers overboard. There is something of a Dragon Boat race about it, taking place exactly exactly at the same time on the other side of the word. But we're not in Hong Kong: this is Sète, a picturesque port in the heart of the Languedoc. And we are in the Dock Sud Art Gallery alongside the Canal, pouring wine under the benevolent gaze of the lady on our invitation card, now hung larger than life in a trio of different poses over our heads, a fat lady triptych, ode to a chocolate-eater.
If there is one thing the Vinifilles can do, they can throw a good party, and this is it. The whole of Sète, or anyway, the whole Arty Set of Sète, is here, tasting our wines. As the day progresses – and it is a long day – they progress too, from tasting to drinking. From a commercial point of view, this is an utter waste of time. Finally, after even the jousters have given up and gone home to dry off, and night has fallen, and the music from the café next door has grown ever louder, we begin to pack up. A lady from Sète, with alarming purple hair, and dressed in a flamboyant red skirt with lots of beads, asks me if I've enjoyed myself. I say I have, and actually I have. I ask her if she has enjoyed herself. She has. Very much. I remember her as the one who asked particularly interested questions about how the wine was made. But now she says something particularly interesting, "I only came because you are all women winemakers. Men make wine so unapproachable. Take a look around you, there are so many women here. It's been wonderful to be able to talk to you all".
So perhaps it wasn't a complete waste of time after all.
Monday 28 June
A whole week of wonderful weather behind us! And boy did we need it! The vines have passed from flowering into fruitset, and this is when we need what we've got. Fingers crossed.