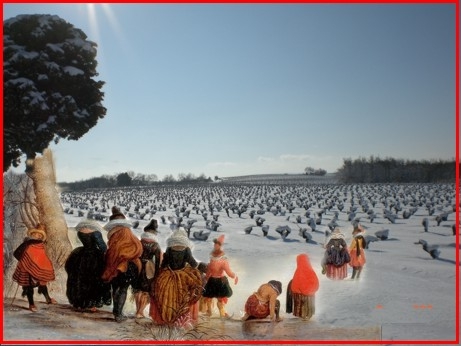 We had it all this month, even before the month was fully underway: unbearably minus-zero cold, and then suddenly balmy and unseasonably warm. In a sense, more of the same of what we've been having the whole year long. And so therefore, cold again, QED. And then snow. But the wines continue their deep contemplative sleep undisturbed in their barrels by the vagaries of the weather. Undisturbed, that is, until Jan gets in there and gives them a jolly good shake-up, as you will see if you click here. We have started tasting them on a regular basis, already separating the best barrels from the rest, noting the ones 'with potential', the ones that 'need watching' and the ones that are 'really doing very, very well indeed', as if they were a bunch of school kids. And there are a couple of genuine star pupils amongst them too. One wine, however, is already ready: it's the country wine which has spent a couple of months maturing in stainless steel tanks and will be bottled very early on in the near year, like a good resolution. Outside, the leaves have dropped from the vines, and they can be pruned now. So if we were hoping for a quiet period, it is not going to be December. But what we hope for everyone else as well as for ourselves, is that this will be a White Christmas … as far as the wines around the tree are concerned.
Monday December 6
Wine Enthusiastic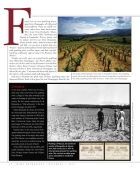 The December issue of the American Wine Enthusiast carries some interesting pictures in its article about fizz for the festive season. They show some workmen planting a field with Mauzac grapes about fifty years ago; that field is our field, in fact, it is the field in the picture at the top of the page, and it was planted by the family who originally owned the first commercial 'Maison de Blanquette' in Limoux, Veuve Tailhand. There are also some old labels showing that the wines from this house were already winning medals in 1912 – that's a cool one hundred years ago. So it's a good thing they also mentioned that the Blanquette de Limoux from Rives-Blanques, the fizz made from those very same Mauzac vines, is (still) one of the best …
Saturday 12 December
Hanging in the Louvre
"It is like falling in love again" the famous wine producer from the Loire said, "You are married I suppose, Madame?"
Madame supposed she was.
"Then you know. You know you shouldn't. But it is irresistible. Your head tells you No! You say to yourself, 'No! Don't do it, you have so much to loose, you shouldn't.' But you cannot fight it."
The object of his rapt attention was standing a little apart from the crowd, the only bottle from the Jura on a table standing stiffly to attention under the important weight of so many famous Bordeaux names. And an overwhelming number of Loire and Burgundies as well.
"I am astonished how many bad wines there are here", he continued – rather astonishingly, considering the combined number of Parker points just waiting to be poured and counted. "But this …"
He looked at me a little sadly. "You do not like the colour?"
Well, it was oddly tawny and oily, like a light port or a Banyuls – but pretty enough.
"Interesting" I murmured. The winespeak way out.
He got down on his knees and took a photograph of the bottle. "I think this is wonderful" he said, "so pure, so clean, so fresh, so unspoilt. When you drink it, it feels as if it is actually doing you good …."
"I hope Madame is not offended by my frankness?"
No, in fact Madame is hugely entertained. Not often do you see a famous-name Loire producer brought to his knees by a mysterious Jura. I take a glass back to my table and ask the others what they think of it.
Odd colour … spicy … cinnamon … medicinal … not quite my cup of tea.
What you could call "Interesting". So to speak.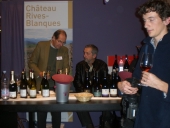 Oh well, one man's wine is another man's brine. No absolute truths – but we knew that all along.
We are at Le Grand Tasting in the Louvre, organised by France's celebrity wine-tasting duo, Bettane and Desseauve. One is portly and penguine-like, the other debonair and urbane, but so linked together are they that there is a real risk of addressing one by the other's name. The two rooms devoted to this glittering wine fest are divided into the Grands Crus, for which read every Burgundy, Bordeaux, and Loire wine you have always hoped someone will give you instead of actually having to buy yourself, and the Grands Vins, an upsizing name for everyone else… including Rives-Blanques, Mas de Soleilla, Clos des Fées, Gayda, and a mere handful of hopeful others from our region, valiant representatives of the Languedoc, scattered amongst the glitterati. Right now we are having a cocktail dinatoire, courtesy of Messrs Bettane and Desseauve, after a long and hard day on our feet talking and pouring our wines at this most exclusive and elegant of Paris salons. The crowds have been incredible, snaking all the way around the Louvre's famous Pyramid – but now the crowds have gone and the producers can taste each other's wines.
This is the best part. This, and the chance to talk to the others about how they make their wines.
And the meal afterwards, with good wines and good company.
Sets you up on your feet ready to face another day. And explains why you always go back for more.
As the big name from the Loire said, "it is irresistible … you cannot possibly say No."
Friday 17 December
Two of the Top 300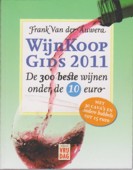 We have never met Mr Frank van der Auwera, but we would certainly like to. The delight of seeing our wines included yet again in his best-selling wine guide to the best in Belgium is hugely increased by the tasting notes he writes. It is always enjoyable to read nice things about yourself … but nothing quite whets the appetite like a seductive tasting note. Vintage Rose gets an Oscar from him, for its microbubbles that bound nervously … its impressions of strawberries fresh from the ground … so fruit-full and clean .. with a heart of red stonefruit … so citrus fresh. Yum yum. Just reaching for a glass of it when I take another look at his notes for our Blanquette: ripe structured smells of peach, apricot, cox appels and nougat … creamy and exciting … loads of white pear, white apricots, nectarine and pear follow …a perfect, fresh mouthfeel.
Can't you just feel those little bubbles bounding over your tongue?? Time to close the office now …
… and open one of those bottles.
Monday 20 December
Diamed if we do, Diamed if we don't
No closure to the great closure debate. Yes, corks can give cork taint. No, Diam doesn't give cork taint. Nor do Screwcaps. But can they give other things, and if so, what? The man from Diam looks stonily across the desk at us. His lawyer ditto. We return the compliment. We want acknowledgement that the part of our 2006 vintage bottled under the guaranteed-no-cork-taint Diam was spoiled by this cork: so spoilt, in fact, that we recalled three pallets from abroad in order to protect our name and our reputation. And they won't give it. So we continue looking stonily at each other and resolve that more laboratory tests will have to be done. Difficult, when you don't know what you are testing for; when all you know is that it definitely is not cork taint. But what is it? Diamed if I know.